This page describes the contents of an issue of Washingtonian magazine. Subscribers get exclusive early access through our print and digital editions. Most of our feature stories are later published online and linked below.
Buy a Single Issue
Subscribe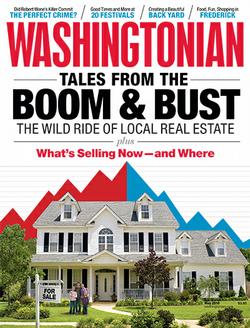 Volume 45, Number 8
Cover Story
Tales from the Boom & Bust
We've gone from bidding wars and packed open houses to short sales and foreclosures. Here are stories—from homeowners, lenders, real-estate agents, and others—about the rise and fall of the housing market and how it changed Washington. Plus: what's selling now—and where. By Mary Clare Fleury, Marisa M. Kashino, Emily Leaman, Luke Mullins, Denise Kersten Wills, and Eric Wills.
Photograph by Matthew Worden
Features
How a Virginia entrepreneur revived Thomas Jefferson's dream of a native American wine. By Todd Kliman

The Washingtonian's Green Awards honor those who protect our environment and who teach others the importance of eco-friendly living. By Leslie Milk

Ready, Set, Go!

These 20 spring and summer festivals are our favorites for a fun day trip or a weekend full of good times and good food. Edited by Sherri Dalphonse
Robert Wone worked late at the office, then went to spend the night at a friend's house. Ninety minutes later, he was dead from mysterious stab wounds. The three men in the house with him that night are going on trial, but no one has been charged with the murder. Wone's widow keeps going with the help of friends, faith, and the memory of the love of her life. By Harry Jaffe
Capital Comment
A cow on the roof—and other good college pranks . . . What does OpenTable say about you? . . . Inside the cupcake craze . . . Does DC face a future without pandas? . . . Good Washington reads . . . The sisters behind Molly Ivins's Kick-Ass Wit . . . Funny faces on Capitol Hill . . . Mystery man in the Post newsroom.
Profile Unleash the Fury.
Real Life Mark Fondersmith is helping to shape legal history. Benefits Good times for good causes in May.
Where & When
American Buffalo at Studio . . . Sycamore Trees premieres at Signature . . . Dave Matthews at DAR . . . Ramsey Lewis Trio at the Warner . . . Allen Ginsberg photos at NGA . . . Marvin Hamlisch and the NSO Pops celebrate Sondheim at the KenCen . . . The Washington National Opera presents Hamlet.
FOOD
dining out Who needs freeze-dried foie gras? Capitol Hill's Bistro Cacao excels the old-fashioned way. Plus—a fresh look at the Jockey Club and a preview of interesting restaurants on the horizon.best bites Dining on a shoestring: pan-Asian to savor . . . Road-testing Thomas Keller's fried-chicken mix . . . Who makes the best macarons? . . . Great pickles . . . Frugal Foodie dessert . . . What's hot—and not.