This page describes the contents of an issue of Washingtonian magazine. Subscribers get exclusive early access through our print and digital editions. Most of our feature stories are later published online and linked below.
Buy a Single Issue
Subscribe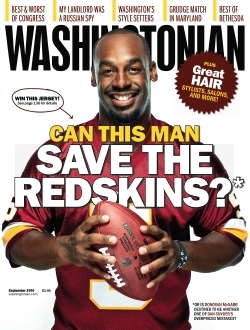 Volume 45, Number 12
Cover Story
Donovan McNabb comes here after winning in Philadelphia. He brings a powerful family history and a leadership style President Obama could learn from. Can he make the Redskins winners? Don't bet against him.
Photograph by Simon Bruty

Features
Best & Worst of Congress

Who's the smartest member of Congress? The hottest? Top aides on Capitol Hill tell all.
Five-year-old Kamron Wells was shopping with his grandfather in a Fairfax supermarket. He wandered outside. And then he was gone. By Cindy Rich.
Four years ago, Martin O'Malley tossed Bob Ehrlich out of the Maryland governor's mansion. Now Ehrlich wants to return the favor. By Susan Baer
The author was surprised to find out he'd been renting his apartment from a Russian agent. But what he learned next revealed more than even the FBI may know. By Michael Gaynor
Starry Night

We followed this year's best-dressed Washingtonians for a night on the town. Fall fashion has rarely looked so glamorous. Edited by Jill Hudson Neal
Capital Comment
Pros and cons: Fenty vs. Gray . . . In search of charismatic megafauna . . . Clerking for the Supremes . . . Crime scenes for sale . . . Good Washington reads . . . Chris Core's lessons from Larry King.
Profile Homegrown singer Mary Chapin Carpenter on passing the hat in the old days, surviving a crisis, what she thinks of American Idol, and more. lone shark He's not old enough to play in a casino, but alone in his parents' basement he's won millions playing Texas Hold 'Em.i think i hear you Seth asked the author to help him write about being deaf, but their experiences couldn't have been more different. Would they find common ground?Real Life The spine whisperer.benefits Good times for good causes in September.
Where & When
Cirque du Soleil at National Harbor . . . Masterworks at the Phillips . . . Renée Fleming, Lang Lang, and the NSO . . . All's Well at the Lansburgh . . . Merle Haggard at the Birchmere . . . Festivals of all kinds.
FOOD
dining out Kimchee quesadillas? It works at DaMoim, a restaurant in Annandale's Koreatown that gets fusion right. Plus—a talented chef reemerges in Silver Spring, and terrific Neapolitan pizza comes to Falls Church. best bites Real hot dogs, Windy City style . . . Cork's oil-cured tomatoes . . . "Either/or" with Tamesha Warren . . . Maple-bacon latte? . . . Ginger ale with snap . . . Silver Diner goes locavore . . . Where to get fresh oysters.how sweet it is Taste sweet wines from Virginia against France's great Sauternes? And pair them with all kinds of foods? Be ready to be surprised.