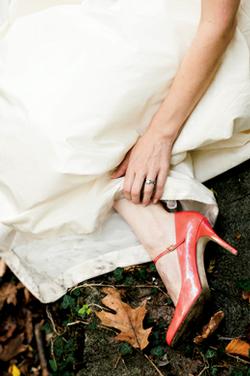 Say the words "wedding etiquette" and a few images come to mind. Demure, white wedding gowns. Formal receiving lines. Champagne toasts.
But today's brides don't have to be outdated to be polite. Traditional rituals like tossing the bouquet, performing a first dance, or cutting the cake have become optional, and many wedding customs have disappeared entirely.
"Sometimes couples forget that their wedding is a celebration of the two of them," says planner Sara Bauleke of Arlington's Bella Notte. "If it's something you would not normally do, don't feel pressure to do it on your wedding day."
Certain rules have survived the test of time—and for good reason, says DC planner Jodi Moraru. "Etiquette today is about treating your guests with respect."
With that in mind, here are five etiquette rules that experts say should never be broken:
Rule 1: Hand-write all 'thank you' notes.
In the age of e-mail, Facebook, and text messages, handwritten notes have become the exception, not the rule. But when it comes to thanking your guests for wedding presents, writing a note "is where old etiquette kicks in," says planner Carol Marino of A Perfect Wedding in Fairfax. "If someone was nice enough to send you a gift, you have to send them a handwritten note."
Rule 2: Keep gift registry information off the wedding invitation.
A wedding invitation or save-the-date is not the place to promote your registry. "Asking for presents is always a no-no," says planner Sydni Greenblat of Kensington's Rave Reviews. Instead, include the address of your wedding Web site and post your registry details online.
Rule 3: Invite both halves of the couple.
'Whether you know them or not, whether you like them or not, you can't split up committed couples," says etiquette expert Anna Post of the Emily Post Institute. It's also important to be consistent with your guest lists. Anyone who is invited to an engagement party, shower, bachelorette weekend, or any other wedding-related party must be invited to the main event as well.
Rule 4: Say "no" to a cash bar.
"If you invite someone to a party, you cannot ask them to pay for their own drinks," says Marino. "Period." On the other hand, proper form does not demand that couples offer a full bar—or preclude a dry wedding. Looking for a way to trim costs? Consider a bar with only beer and wine. If there's a little wiggle room in your budget, add a signature cocktail or Champagne.
Rule 5: Greet and thank all of your guests.
Although receiving lines have fallen out of fashion, the idea behind them has not. "Your guests have taken the time to come—many of them from afar," says Bauleke. "All you need to do is say hello and thank them." To make sure they greet every guest, many couples stop by each table during dinner. Make sure to visit the tables with out-of-town family and older guests first."
This article appeared in the Summer/Fall 2009 edition of Bride & Groom. To receive a complimentary copy of the current issue, click here.
Subscribe to Washingtonian
Follow Washingtonian on Twitter
More>> Bridal Party Blog | Wedding Guide | Wedding Vendor Search