This page describes the contents of an issue of Washingtonian magazine. Subscribers get exclusive early access through our print and digital editions. Most of our feature stories are later published online and linked below.
Buy a Single Issue
Subscribe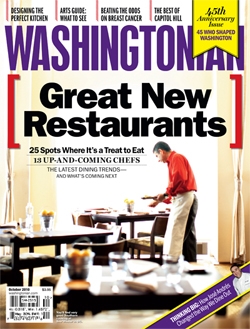 Volume 46, Number 1
Cover Story
Great New Restaurants

25 places that are making the Washington dining scene better than ever. Plus—13 up-and-coming chefs, the niftiest dishes, the latest dining trends, and what's coming next.
Photograph by Scott Suchman

Features
Fall Arts Preview

Arena Stage opens its doors again, and artistic director Molly Smith has a lot to smile about. By Leslie Milk; The costume department at Arena's new home dresses everyone from monarchs to cowboys. By Sophie Gilbert; and Can't-miss shows and concerts of the new season.
José Andrés came from Spain at 23, became the area's celebrity chef, and changed how we dine. As his empire expands, why doesn't he get the respect he thinks he deserves? By Todd Kliman.
As one of the world's best engravers, he has made a good life "digging ditches in steel," and the new $100 bill will bear his last portrait. Plus, high-tech ways to stop counterfeiters. By Judy Holland.
From 1965 to 2010, these people helped make our region what it is today.
Capital Comment
Secret handshakes in Congress . . . How DC stacks up in the dating department . . . Can Cat Ommanney really be British? . . . Defending lawyers and other villains . . . Crimes and punishments at the Washington Post . . . Filling Ben Bradlee's shoes?
Profile Frank Kameny on standing up to the federal government, gay life in the 1950s, the truth about Marion Barry, and more. politics Digging for dirt.Real Life Digging into the past.
Where & When
Comic Margaret Cho (above) at the Warner . . . Yo-Yo Ma at the KenCen . . . Chuck Berry at Strathmore . . . Ken Ludwig's latest at Signature . . . Stella, O'Keeffe, Man Ray, and more at NGA . . . Festivals celebrate spy films, food, art, literature, and science.
health
My Breasts, My Choices Her mother died of breast cancer, and her sister battled it. Here's how she explored the risk factors and the mammogram controversy and then decided what to do. Plus—66 top doctors to turn to when the diagnosis is breast cancer.
Life
travel Here are good places for music and dance: Buenos Aires and Austin. Reader deals Easy fall getaways.
Home
dream kitchens What local architects and interior designers buy for their own kitchens, hot trends in cabinets, countertops and more, and high-tech appliances that save water, energy, and time. Plus—top designers and good stores for everything a kitchen needs.best of capitol hill Along the tree-lined streets of historic Capitol Hill, you'll find one-of-a-kind bars, sidewalk cafes, and DC's oldest farmers market.Luxury Homes The Kalorama house where Top Chef was filmed goes for $3.6 million, and Redskins first-round draft pick Trent Williams buys in Ashburn.
Pets They're the underdogs of the feline world, with a reputation for bringing trouble. But black cats can make good pets.
First Person Penmanship says a lot more about ourselves than a text message.