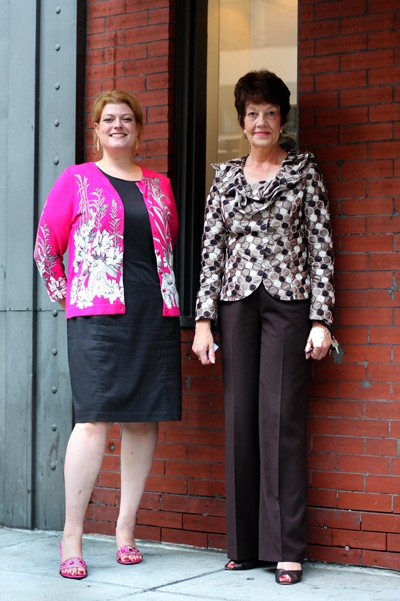 Who: Alicia Arnold (left) and Maggie Hayes.

Where: Tiny Jewel Box near DC's Dupont Circle, where both women work.
Alicia, I just love how you've matched your shoes with your cardigan. "Thank you! I had a 1960s Samsonite train case that I had to carry into work today, and it's hot pink. So I matched the accessories to the case."

Love your earrings as well! "They're 18-karat gold, made by an Australian company, with little diamond accents."

How's work? "Work is going very well. I just started two weeks ago."
Maggie, can you say anything about your ensemble? "My mother told me, 'Never wear more than two colors.' "
And is that your dressing philosophy? "It is, absolutely. She was very classy."

Where did your blouse come from? "Filene's."

Do you like to shop anywhere else? "I always look for quality, and a good bargain. These shoes are from Neiman Marcus Last Call."

Brooke says: Walking along Connecticut Avenue, a hot-pink flash caught my eye from across the street. Upon closer inspection, I loved how the pinks and browns in these women's outfits complemented each other.

Subscribe to Washingtonian
Follow Washingtonian on Twitter
More>> Shop Around Blog | Style | Find a Spa