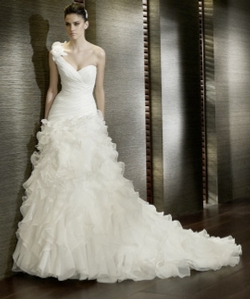 Finding a wedding dress involves a lot of hardships and obstacles. In my case, it included I-495, Spanx, I-95, corsets, Route 50, zippers, and HOV lanes. And I found out Columbia, Maryland, is a lot farther away than I thought. Despite these hurdles, I managed to have many wonderful experiences and find my perfect dress.
As I mentioned in my last post, I had picked out one dress that I had to try on—a gorgeous one-shoulder Allure gown. I tried to keep an open mind about other dresses, but I couldn't rest until had I tried on that one. And guess what? It looked terrible on me. The cut was all wrong for me, and my curves became a liability, not an asset.
It was a little sad but also a blessing in disguise because I had to look at other styles. In the process, I learned it's best to pick a dress that works for me now, not one I'll have to work to look good in. And I realized that white won't necessarily make me look like a marshmallow with a veil. I knew my mom and sister were coming in early September to help me choose my dress, so in late August I finally narrowed it down to three styles that I liked.
At Ellie's in Old Town, the sales lady Toni helped me find a lovely Casablanca gown that was $1,200. I thought the layering of fabric on the dress made it elegant, and it looked fantastic on me.
Antoinette at I Do I Do pointed me toward a more traditional Alfred Angelo gown. I was surprised that I liked it so much, but it was a beautifully crafted dress with a great bodice and a dropped waist that was flattering. It was $899, although I later found out that the Alfred Angelo store in Springfield sells the dress for $849.
Distinctive Designs in Maryland had my favorite dress by far: A San Patrick gown that was very similar to what I had originally envisioned, and it looked nice on me. San Patrick is part of the Pronovias line—a Spanish design group that knows how to highlight the best parts of a woman.
When my mom and sister saw me in the San Patrick gown, they were surprised by my nontraditional choice, but they knew that this was the gown for me. And I lucked out on the price—Nataly at Distinctive Designs offered to sell us the sample gown at a discount.
I was happy I could finally say yes to my dress, and I got to share a wonderful experience with my mom and sister. Tune in next time when I share our engagement-photo-session experience.
Dress Shopping Tips from the Budget Bride :
• Think about how the dress will look after alterations. Generally, a dress can be taken in five dress sizes before it changes the shape. This is important if you buy a too-big sample gown like I did. Also, think about the hem line. If you're short like me, hemming the dress can also change its look.
• Make a timeline. Before you sign a contract, know all the important dates—when to schedule alterations, how many you'll need, and what day you can pickup your dress.
Subscribe to Washingtonian
Follow Washingtonian on Twitter
More>> Bridal Party Blog | Wedding Guide | Wedding Vendor Search