This page describes the contents of an issue of Washingtonian magazine. Subscribers get exclusive early access through our print and digital editions. Most of our feature stories are later published online and linked below.
Buy a Single Issue
Subscribe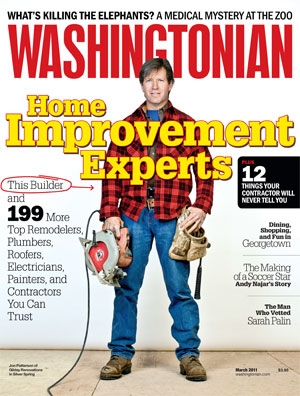 Features
After conquering Wall Street, the global news giant founded by New York City's billionaire mayor is betting that Washington is the next hot media market. By Shane Harris.
When a young Asian elephant at the National Zoo died, scientists began to unravel a medical mystery. Their work could help decide the fate of the endangered animals. By Emily Leaman.
Andy Najar is the nation's best young soccer player, and his overnight success raises questions: Who is he? Where did he come from? And why don't more American kids grow into players like him? By Luke Mullins.
While covering the White House, photographer Brooks Kraft snapped candid shots of the large Secret Service apparatus that surrounds the President.
A.B. Culvahouse has spent years in the most powerful circles of Washington—White House counsel, head of one of the nation's top law firms—but he's likely to be remembered for one decision. By Marisa M. Kashino.
Need a good plumber, painter, or roofer? Whether you want to remodel your kitchen, put up a fence, or replace your furnace, here are 200 people you can trust. Plus, expert tips on working with contractors—and keeping repairs at bay. By Sherri Dalphonse.
Departments
The 39th annual Washingtonians of the Year celebration honored men and women who make our community a better place to live.
11 Capital Comment
The amazing Foer brothers . . . 8 BR, 11 BA, 13 FP—$15.5M . . . David Brooks's brain—and other good Washington reads . . . Tracking a power law firm's decline . . . Reconstructing Ronald Reagan's fateful day.
Everything India at the KenCen . . . Crafts at the Renwick . . . André Previn at Strathmore . . . Synetic's King Lear at the Lansburgh . . . St. Patrick's Day fun, kite festival on the Mall.
When tragedy hit, writer Roger Rosenblatt and his wife stepped in to help raise their three grandkids. He talks about finding solace, being a listener, how to tell the stories inside you, and more. Interview by William O'Sullivan.
Abraham Lincoln's inauguration 150 years ago began a period that would change Washington forever. By Adam Goodheart.
The 1970s are back—at least in the spring fashions found in many area stores. By Jill Hudson Neal.
131 It's on the House
There is such a thing as a free lunch—plus free cocktails, wine, desserts, and other discounts for readers this month. By McLean Robbins.
A historic neighborhood, Georgetown has memorable restaurants, one-of-a-kind shops, and beautiful period homes.
153 Dining Out
Small plates go Vietnamese on Capitol Hill. Plus—Red Pearl brings Szechuan and Cantonese cooking to Columbia, and a new pastrami spot hits Bethesda.
162 Best Bites
Cookbooks and kitchen fun . . . Great tacos to go . . . Who makes the best whoopie?
166 Benefits
Good times for good causes in March.
With indoor pools, helpful classes, and personal trainers on staff, retirement communities help seniors stay active. By Marilyn Dickey.
Caps owner Ted Leonsis and philanthropist Adrienne Arsht sell for very big money.
When a four-pound Yorkshire terrier disappeared on the eve of a big snowstorm, family members thought they'd never see her again. By Katie Knorovsky.
Questioning the impact of her nonprofit work, Susi Wyss quit—and found her voice. By Robert Fulton.
In 1964, she was a Beatles-obsessed teen with a pen pal in London. Decades later, they met. By Cheryl Kravitz.