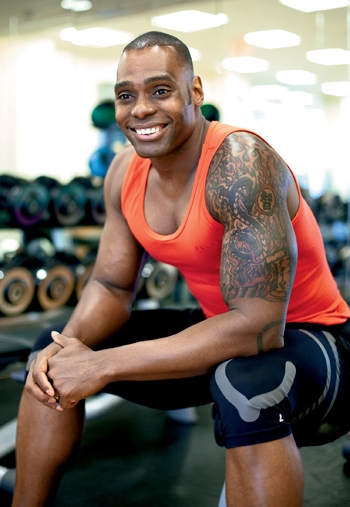 The Expert: Mark Jenkins
Chief trainer at the Mandarin Oriental
How long before their wedding should a bride and groom begin working out for the big day?
I'd like to see people start five or six months ahead of time, but if not, then at least two to three. And here's the reason why: you can get something done in 30 days, but the margin for error is very slim. If you wait too long, you'll be anxious and nervous about it. Anxiety raises cortisone levels and that makes it harder to lose weight, especially in the lower belly. Worrying actually makes you fat.
What's most important, losing pounds or toning muscle?
I recommend a combination of diet, cardiovascular work, and strength training. It raises your chances of having a successful transformation. If you're hippy, for example, and you lose weight, a lot of times it makes your top look a lot smaller, which is counter-productive. If you use weight training to round off your shoulders, it'll give you the effect of losing 20 lbs instead of just 10 lbs.
Brides often get serious about getting in shape before the wedding, while grooms sometimes have a "take-me-as-I-am" attitude. Is one healthier than the other?
It's just as important for the groom to get in shape as the bride. It's good for your marriage because healthier people tend to be happier people. It's a good way to go into a marriage, the two of you working together to stay in shape. Teamwork always works better. I think it's much more important for health reasons than for aesthetic reasons.
Women have much more skin showing at weddings, but grooms—in suits or tuxedos—can cover more of their flaws. What areas would you recommend grooms focus on as they get in shape?
Men are usually looking to pump up their "beach muscles." They mostly just want to make sure they don't have man-boobs on their big day! But I always tell guys to think of the whole picture. Don't ignore the legs. You'll look better all over. Besides, working the legs boosts testosterone, and it keeps your sex drive up.
Subscribe to Washingtonian
Follow Washingtonian on Twitter
More>> Bridal Party Blog | Wedding Guide | Wedding Vendor Search