This page describes the contents of an issue of Washingtonian magazine. Subscribers get exclusive early access through our print and digital editions. Most of our feature stories are later published online and linked below.
Buy a Single Issue
Subscribe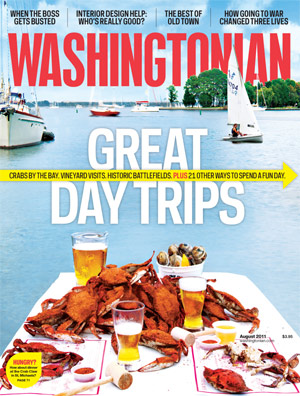 Cover Story
Pick your pleasure: Eating crabs at water's edge. Biking scenic back roads. Cool canoe trips. Friendly wineries. Plus — 12 other fun ways to spend a day.
Edited by Sherri Dalphonse
Cover Photo of the Crab Claw Restaurant by Ron Blunt
Features
Amazing advances in technology — plus extraordinary courage and determination — are helping these wounded warriors make their way back. By John Pekkanen
For ambitious young achievers, a job on Capitol Hill can be a dream come true. But what happens when you work for an Anthony Weiner or a Bob Ney? Here are survival stories from the front lines of scandal. By Marisa M. Kashino
These are what come into play in the moment when Carol Guzy takes a photograph. The camera in front of her might seem like a shield, but it doesn't protect her from what she sees. By Harry Jaffe
Haunting reminders of the Civil War are everywhere in Washington. Here are ten places where you can walk in the footsteps of heroes. By Adam Goodheart Plus — eight day trips along hallowed ground. By Laura Parker
Interest in the Civil War can go far beyond reading books and visiting historic sites. Here's a look at a dozen reenactors and why they love embodying characters from this turning point in our nation. Photographs by Cade Martin
Departments
Capital Comment
The First Duffer's golfing buddies . . . DC pols in hot water . . . Six good summer-vacation reads . . . Who's afraid of the big Bay Bridge? . . . The last Post Watch — thanks mostly to Marcus Brauchli.
Where & When
Shakespeare Free for All at Harman Hall . . . Denyce Graves, Mary Chapin Carpenter, and other area favorites at Wolf Trap . . . Bruce Hornsby's Joyful Noise . . . Anything Goes at Tobyâ's . . . Anton Chekhov via Australia . . . NASA art at Air and Space.
Brigid Cleary on finding yourself by becoming other people, tumbling on your entrance, and picking yourself up. Interview by Sophie Gilbert.
Bruce Duffy made his name with a great novel he wrote nearly a quarter century ago. Will his latest book revive his reputation? By Tim Warren.
Dream Weekends
What's better than a cool getaway by the bay or in the mountains? One that comes with free golf, free spa treatments, or free hotel nights. Here are seven exclusive travel deals. By Alice Shapin.
The disease has affected him more than just physically. It's changed his entire perspective on who he is and who he was. By Kermit Moyer.
The charming streets of historic Alexandria are lined with stylish boutiques, one-of-a-kind restaurants, cool art spaces, and lots more. Edited by Mary Clare Glover.
Dining Out
Arlington's Mala Tang is a genuine East/West collaboration that really works. Plus — going whole hog at Poste and Palena in DC, an ambitious addition to Bethesda dining, a taste of the Big Easy in DC, and lobster for the masses.
Best Bites
Philly cheesesteak — in Washington . . . Spicing up summer . . . Best barbecue . . . Where to learn about beer . . . Tasty places on the Eastern Shore . . . Road-Testing Pops . . . Proof, Sidebar, and Fire Works Pizza.
Taking a public-speaking class can help you overcome nerves and get your ideas across. By Gwendolyn Purdom.
A yoga retreat would be good for some mother/daughter bonding. What she didn't expect was her daughter's transformation. By Diana Morgan.
Making a splash with color and where to get eye-catching art, accessories, rugs, lighting, furniture, and more. Plus — design trends and 43 experts who can make any room beautiful.
After selling for $4 million in DC, pundit Tucker Carlson buys for $2 million.
Ways to keep your dog safe in the great outdoors. By Marisa M. Kashino.
A musician discovers the healing power of song. By Gwendolyn Purdom.
I was just saying I liked her by giving her my fraternity pin. Our parents had much more in mind. By Norman I. Gelman.