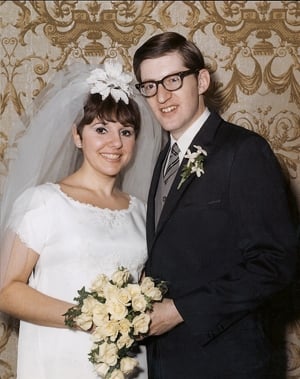 There are a few things a girl never forgets. A first love or first kiss come to mind. Your first wedding, too, should be a high point, though you never can tell how these things will pan out. I'll certainly never forget my wedding day, but how could I? I've spent years in therapy talking about it, playing it out, dragging it over the proverbial coals.
More than 40 years later, I'm still married to the guy who stood under the chuppah with me, but I see my wedding day differently. The truth is that hindsight isn't exactly 20/20. It blurs some images, sharpens others, and erases some details altogether.
I've done my best over the years to fixate on every affront, error, and egregious action committed by family, friends, and wedding vendors on that fateful day. I can still recite the gory details and explain the ways things should have happened if only someone had been on the job. Never mind who the "someone" was—it just wasn't supposed to be me!
Speaking of jobs, let's discuss the rabbi. Obviously, his is an important gig, as these things go. It just so happens that early in his rabbinic career, my rabbi performed my in-laws' wedding nuptials. Evidently it was a focal point of his career, because he went on endlessly during my ceremony about that day. It was so bad that I was tempted to shout, "Hey, Rabbi Gordis! The bride is here. Remember me?"
One small thing that turned out to be a happy coincidence after all: The pre-wedding period is still the only time in my life that anxiety caused me to lose my appetite. I dropped a few pounds without frantically dieting, and although I have attempted to replicate this many times since, I've never had the same success.
Strangely, a few wedding-day mishaps are now among my fondest memories. Benjamin and I were married at the Plaza in New York. When we checked in, the hotel gave us a honeymoon suite that was larger than our first apartment. There was only one problem—I had to take a regular elevator to get to the room where the ceremony took place. There I was, so very young and full of excitement in my gown and veil, clutching my bouquet, on the elevator with a bellhop, a couple of tourists, and all of their luggage. "Don't step on her train, Irving," the woman warned her husband. I can still hear that lady's voice. Irving did not step on my train.
One guest—on my husband's side, of course—showed up at the wedding with an unexpected date. I assume somebody found her a place at a table for the seated meal. I was horrified at the time, but it didn't impact the event.
I remember, too, that many voices were raised over guest lists and seating charts before the big day. I'm sorry that some of my relatives had their feelings hurt when they didn't get invited with their children and their children's children. I also regret that my husband had so many relatives, period, but since I wouldn't have recognized any of these people if I passed them on the street, I'm not that sorry.
There are a few little things time has forgotten: Every bite of food, the exact color of the flowers on the tables. I don't remember any of it—except for when the band played the Cornell alma mater instead of the requested Syracuse University alma mater. That's hard to forget.
There were good things that turned out to be wonderful in retrospect. I love the way I looked that day—very '60s and very happy. I still adore our wedding album with its awkward, too-posed pictures that captured a clueless, joyous couple who had no idea what the future would hold.
And there is a big lesson learned that day: Lots of stuff can go wrong at your wedding (as in life), but with luck, you'll get one part—the groom part—right. Benjamin and I just celebrated our 43rd anniversary. That was a day I won't forget.
This article appears in the Summer / Fall 2011 edition of Washingtonian Bride & Groom.
Subscribe to Washingtonian
Follow Washingtonian Bride & Groom on Twitter
More>> Bridal Party Blog | Wedding Guide | Wedding Vendor Search