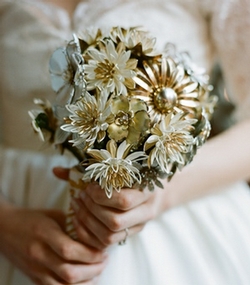 We've seen brooch bouquets on the national wedding blog scene for a while now, but they've only recently become a major trend in DC. We love how they last forever, creating an instant family heirloom, and particularly fell for the gold-flecked version spotted at Annie and Brendan's DC wedding, photographed by Kate Headley. The bride made this bouquet herself, but we found several ways you can get the look for your own wedding day.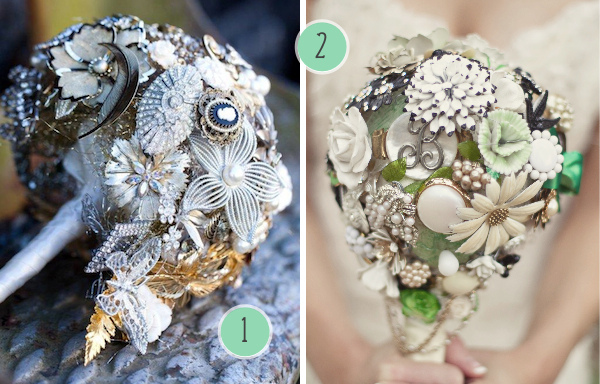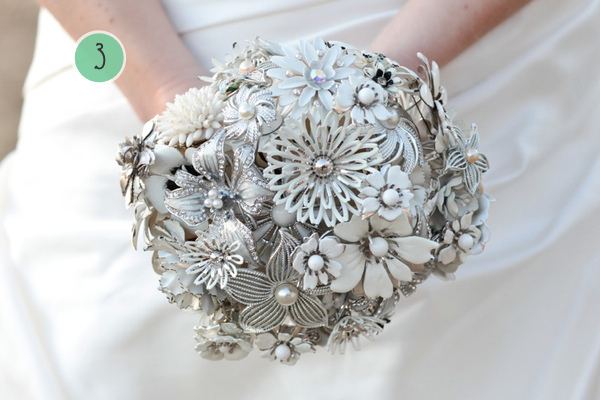 1. Most florists can create brooch bouquets, usually with jewelry you provide. It's nice to incorporate family jewels into the bouquet but if you don't have any, flea markets or eBay can be a great place to find brooches. Bouquet by Intrigue Design and Decor in Annapolis, photograph by Elizabeth Ryan
2. Etsy is another great resource for these gorgeous bouquets. Jen Rose Diehl of The Ritzy Rose created country star Miranda Lambert's brooch arrangement, a medium-sized custom bouquet. Diehl will source the brooches for you, and her bouquets cost $575. Visit The Ritzy Rose's Etsy shop for more details. Photography by Amanda Doublin
3. Another Etsy seller, Marie Jenkinson of Lionsgate Designs, also creates custom brooch bouquets. Given the resurgence of white bouquets in DC weddings, we're all about this white-and-silver design. Her bouquets start at $250 for a small arrangement that's five to six inches across. Visit Lionsgate Designs's Etsy shop for more details. Photograph courtesy of Lionsgate Designs.
Have you spotted a wedding-related item you'd like our help sourcing? E-mail me at kforrest@washingtonian.com and I'll do my best to help!
Subscribe to Washingtonian
Follow Washingtonian Bride & Groom on Twitter

More>> Bridal Party Blog | Wedding Guide | Wedding Vendor Search