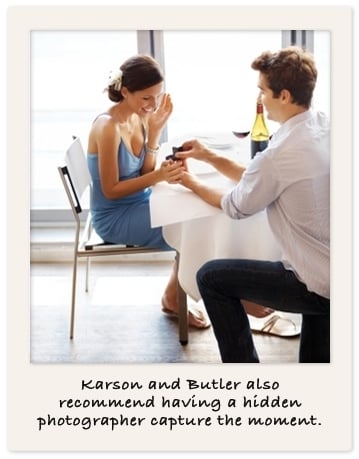 Aside from planning weddings and social events, twin sisters Amber Karson and Emily Butler of Capitol Hill's Amber Karson Events also help guys plan creative and unique marriage proposals. Here are their top tips:
Know Thy Bride
"The first step is really thinking about the bride's personality and focusing in on what her dream proposal would be," says Karson. "Is she shy by nature or the life of the party? Answering this question is a good starting point on whether you want to plan something private or in front of a crowd. For example, if she's super shy, proposing in a restaurant in front of a lot of people is probably not a good idea."
Pay Attention
"Is your significant other always asking you to step it up a notch in the romance department?" asks Butler. "The proposal is the perfect time to showcase your romantic side."
Make it Original
"A bride doesn't want to have the same proposal story as her best friend," says Karson. "Infuse your personality and interests into your proposal. For some people that means dinner and a movie at home, for others its something more elaborate."
Make it Unexpected
"The element of surprise is important," says Butler. "If you never go out to dinner and you have a super-fancy dinner planned, she might suspect something is up. Even if you have a romantic vacation planned, don't wait until the last night to propose—she'll be anticipating it the whole week!"
Incorporate Family and Friends
"Private proposals seem the most common, with a small dinner or party component with the couple's friends and family taking place afterward," says Karson. "Especially if you're very close to your family, it's nice to include them after a private proposal."

Savor the Post-Engagement Bliss
"After getting engaged, wait a few weeks before diving into wedding planning," says Butler. "Enjoy life together as an engaged couple before discussing dates, venues, and colors. They'll be plenty of time for those conversations in the months to come."
Need an Example?
"One guy wanted to propose to his art teacher girlfriend and we helped him develop his proposal idea," says Karson. "He ended up having a small gallery they frequented hang a piece of her art. On their way to dinner, they casually strolled into the gallery. When she eventually saw her own art piece hanging on the wall, he dropped on one knee and proposed. It was so perfect and so personal to the two of them."
Do you have a great proposal story? Let us know by e-mailing kforrest@washingtonian.com.
Subscribe to Washingtonian
Follow Washingtonian Bride & Groom on Twitter
More>> Bridal Party Blog | Wedding Guide | Wedding Vendor Search