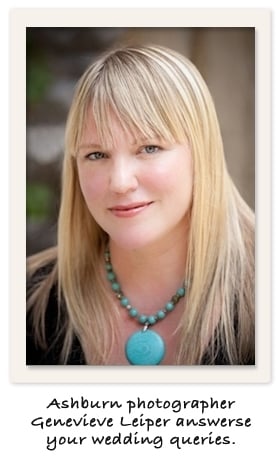 Ashburn wedding photographer Genevieve Leiper has photographed tons of gorgeous weddings, and has been featured in several publications—including Washingtonian Bride & Groom!
Today, we're featuring the first half of her answers to your tough questions, the rest will go live tomorrow.
WEDDING DRESS COLOR DILEMMA

Question: I've picked out a dress that comes in both white and ivory, but I can't decide! The wedding is at sunset in a garden/beach setting in Akumal, Mexico. What do you think looks better in pictures?
Leiper says: "You should pick the color that looks best with your skin tone because you will be photographed in a lot of different lighting situations all day. Don't pick the color based just on the sunset—either color would look beautiful."
• • •
QUESTIONS TO ASK A PHOTOGRAPHER
Question: I'm meeting with a few photographers for the first time to hopefully choose one for our wedding next year. What types of questions should I ask them?
Leiper says: "It's important to get an idea of how the photographer will handle your wedding, so I would ask them how they approach photographing weddings. Are they unobtrusive and photojournalistic or do they like to get in the middle of everything and stage different images?"
"I would focus more on the personality of the photographer, rather than his or her answers to specific questions. It's important that you like your photographer, because he or she will be the vendor you will see most on your wedding day. If you're not comfortable around him or her, it will show in the photos."
"Also, be sure to take a close look at the photographer's images. Ask to see albums of a full wedding, start to finish, not just a collection of the photographer's best shots. Do the photos make you feel like you're at that couple's wedding or does it look like every other wedding album you've ever seen?"
• • •
PORTRAIT SESSION SCHEDULING
Question: I'm trying to schedule my wedding day and was wondering how long a portrait session (couple, family, wedding party) typically takes. Is it best to take photos before the wedding or during cocktail hour?
Leiper says: "The timeframe really depends on how many family formals you would like. Portraits can take up a good amount of time so I would leave 45 to 60 minutes for them."
"It's become more popular for couples to see each other before the wedding to do the formals because they don't want to miss their cocktail hour. Other couples want the big surprise at the ceremony and would prefer to do formals during cocktail hour. Talk with your photographer an decide which option is best for you."
• • •
ENGAGEMENT PHOTO SHOOTS

Question: Do you recommend an engagement shoot so that the couple gets comfortable with their photographer and in front of the camera? Or do you think that if the photographer is really good, it shouldn't be necessary?
Leiper says: "The photographer you hire should be good enough to photograph you on your wedding day without doing an engagement portrait session. But if you have your heart set on it, use it as a way to get to know your photographer more, get more experience in front of the camera, and end up with some nice pictures of the two of you to share with family and friends. You may even need images for your save-the-dates or invitations."
Subscribe to Washingtonian
Follow Washingtonian Bride & Groom on Twitter

More>> Bridal Party Blog | Wedding Guide | Wedding Vendor Search