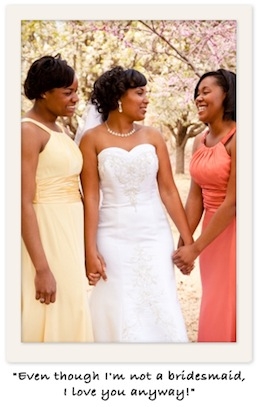 My future daughter-in-law didn't ask my daughter (her fiance's sister) to be a bridesmaid. My daughter doesn't seem to mind, but I'm pretty hurt. Do I speak up or let this slide?
Your daughter may be secretly thrilled that she doesn't have to buy a dress she doesn't like and probably won't look good on her. She may not relish the prospect of participating in bridal showers and the bachelorette festivities. Being a bridesmaid for anyone but your nearest and dearest can be an overrated pleasure.
Do you have a wedding etiquette question for Leslie? E-mail kforrest@washingtonian.com and we'll get you the answer!
Subscribe to Washingtonian
Follow Washingtonian Bride & Groom on Twitter
More>> Bridal Party Blog | Wedding Guide | Wedding Vendor Search