On their first date, Johanna and Solomon watched a lunar eclipse while sharing hot chocolate at Starbucks. All photographs by Terra Dawn Photography
After a romantic Christmas Day proposal, Johanna and Solomon decided to marry at the Mimslyn Inn in Luray, Virgnina, near where Johanna's grandparents lived while she was growing up. The decor for their October 24, 2010 wedding reflected the season.
"Our theme was autumnal," says Johanna of her wedding. "Both Solomon and I associated fall and fall colors with our maternal grandmothers and wanted to build in ways to remember them on our special day. We worked in a color palette ranging from ivory to brown with a lot of maroons, reds, and oranges and some accents of yellows and gold."
To emphasize the color scheme, the bride wore an orange dahlia in her hair, the flower girls carried baskets of fall leaves, and the ring bearer held a ball of grapevine, leaves, and berries.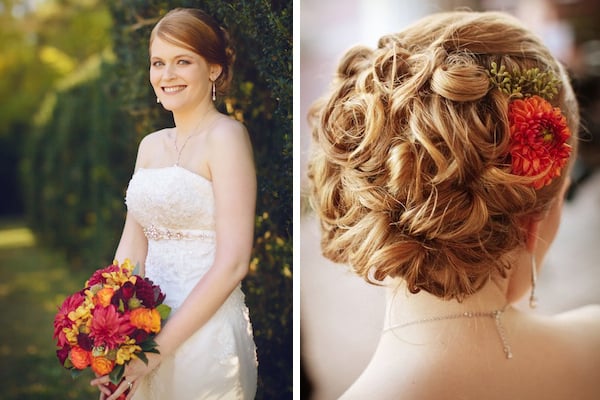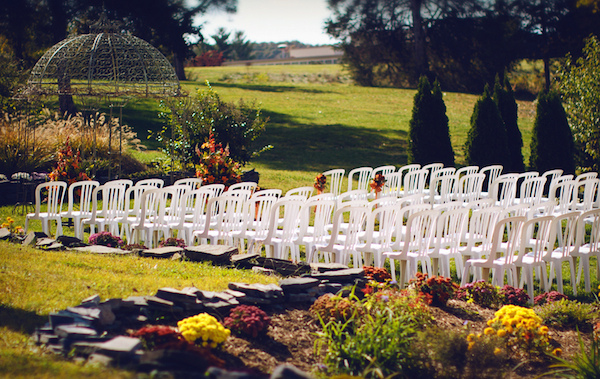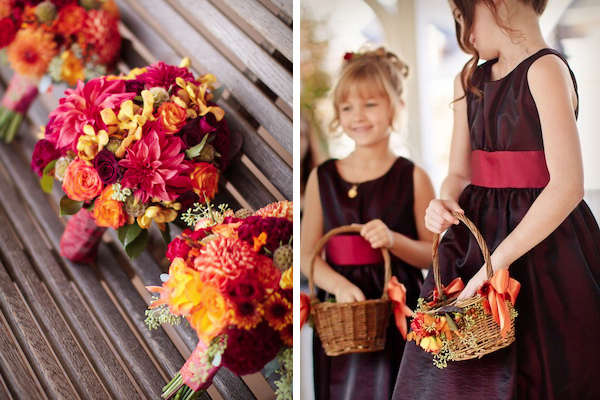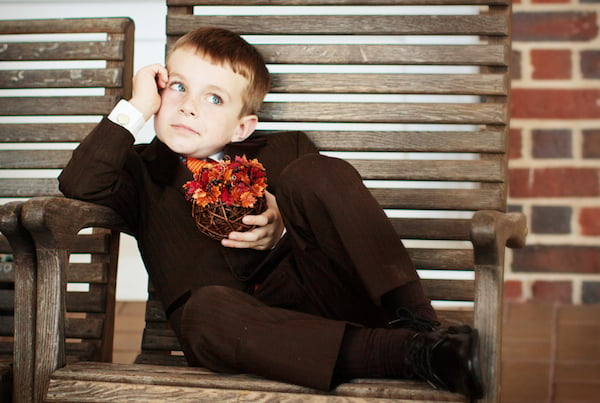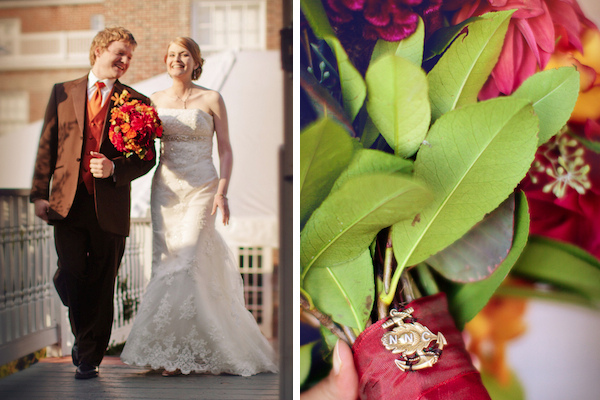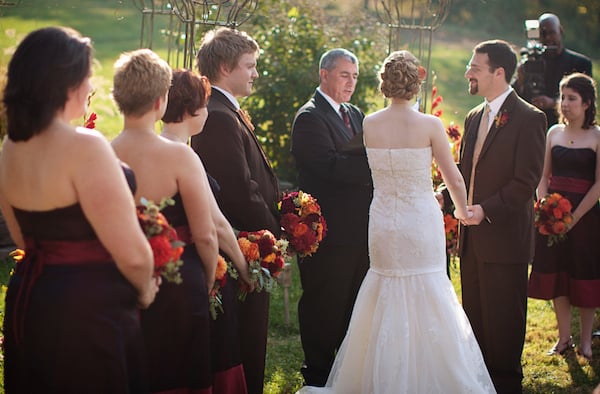 At the ceremony, held in the garden behind the Mimslyn Inn, Johanna processed to "Diana's Song" by Antje Duvekot and the couple recessed to "Let's Get Married" by the Proclaimers.
The newlyweds and their 110 guests enjoyed cocktail hour in the lobby and on the porch of the inn, then headed inside for the reception. Table centerpieces featured small floral arrangements of roses, coxscomb, berries, seeded eucalyptus, and an assortment of orange flowers, all placed inside a small pumpkin. At each place setting, guests were gifted with a very meaningful favor: a small jar of honey from Johanna's brother's apiary.
"Several members of Johanna's family keep or have kept bees, so we wanted to include something that had always been a presence in her life," says Solomon.
The couple performed their first dance to "Diamond" by Stephen Kellogg and the Sixers. After dinner, guests enjoyed an almond and pumpkin wedding cake.
"We wanted a classic, elegant wedding cake, but with an autumnal twist," says Johanna. "Our cake had four tiers in a clean, off-white fondant, but instead of a classic spray of flowers, we had a spray of autumnal fondant leaves."