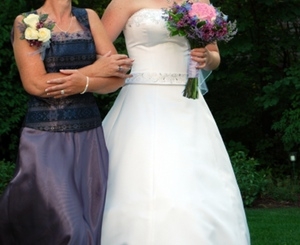 My daughter and I have been having a debate: Do mothers of the bride and groom typically carry a bouquet during a wedding ceremony? I think yes, my daughter says no.
In days of yore, the mother of the bride used to wear a dowdy dress, low heels, and a floral corsage. Most of us were thrilled to give up the corsage along with the rest of the outfit. Some mothers do carry a small nosegay or a single flower, but it tends to be awkward. You're coming down the aisle on the arm of an usher or with your daughter. Which hand holds the flower? And what do you do with it while you are greeting your guests, let along balancing a celebratory drink during the cocktail hour? At least a corsage kept your hands free.
Let your daughter carry the bouquet, while you carry the pride in helping her pull off the wedding she wants.
Do you have a wedding etiquette question for Leslie? E-mail kforrest@washingtonian.com and we'll get you the answer!