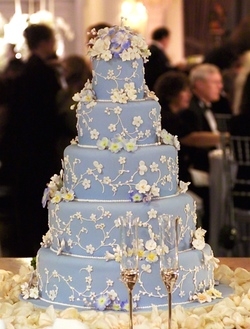 Cake shopping might be one of the most fun parts of wedding planning, but it's not all sugar flowers and buttercream. Leslie Poyourow of Fancy Cakes by Leslie shares what you need to know before choosing your wedding-day confection—she recommends nailing down your wedding cake two to six months before your wedding.
– Try to bring your fiance to your first meeting with your baker. If not, make sure you can answer the following questions for both you and your significant other:
– What are your favorite flavors?
– What do you want the cake to look like?
– What cake flavor do you want to cut into in the bottom layer?
– What cake flavor do you want the top of your cake to be?
– Do you want the design to be traditional, contemporary, eclectic, etc.?
– Know your venue, setting, and the formality of your wedding.
– Have an idea of your budget.
– Bring color swatches to share your color scheme with your cake baker.
– Bring a photo of your wedding gown (you can share this with your baker privately so your groom won't see!).
– Bring photos of flowers you're hoping to use on your wedding day.
– Know if your caterer is preparing an additional dessert, and if so, what that dessert is, so there's no conflict of flavors.