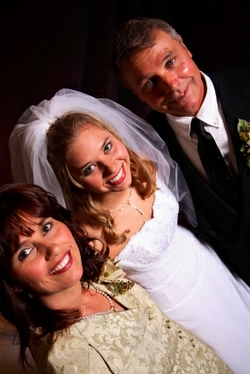 My fiancé and I are from opposite sides of the country, and to accommodate wedding guests who couldn't attend if we held the wedding and reception on just one coast, I've been considering holding two receptions. Would this be inappropriate? If I do opt for it, should I put both events on the invitation and let guests RSVP for just one?
Couples from different states, coasts, countries, or cultures often have two receptions to make things easier for guests. Typically guests are invited to one or the other (meaning separate invitations), with the exception of immediate family and very close friends. One absolute rule: Even if close friends and family go to both parties, they only have to give you one present. And yes, there are brides who thought they were entitled to two gifts.
I'm newly divorced, and my daughter is getting married. We're Jewish, and usually the father and the mother of the bride walk her down the aisle—but things are so tense between my ex-husband and me that I can't bear to walk down the aisle with him, even though my daughter really wants us to. What should I do?
You are walking your daughter down the aisle, not the lower-than-pond-scum cad you recently divorced. You don't have to look at him, touch him, break bread with him, or toast his good health. But if your daughter wants the two of you on either side of her, you should make the effort. Besides, you don't want to give him the satisfaction of thinking he matters enough to keep you from your daughter's side.
Do you have a wedding etiquette question for Leslie? E-mail kforrest@washingtonian.com and we'll get you the answer!