Fairfax native Tania first met Rafael, who grew up in Brazil, through mutual friends. A year and a half after they started dating, Rafael staged a romantic proposal, surprising Tania in her hotel room while she was on a business trip to Denver.
"When I opened the door to the room, I saw a man on his knees looking at the door with some music playing in the background. I couldn't help but scream out of fear that I had entered the wrong room, and I started to turn around to head out," says Tania. "I very quickly realized that it was Rafael waiting to propose to me, and the tears of joy began to stream."
Six months later, the pair wed at the Newseum—a venue selected because of the sweeping views of the city from the eighth-floor terrace. "We wanted our wedding to be contemporary, one-of-a-kind, and chic," says Tania.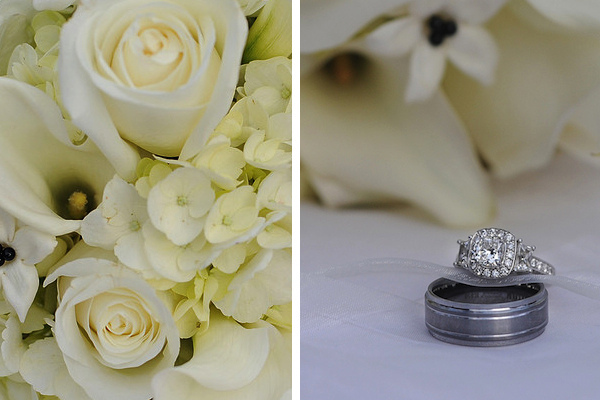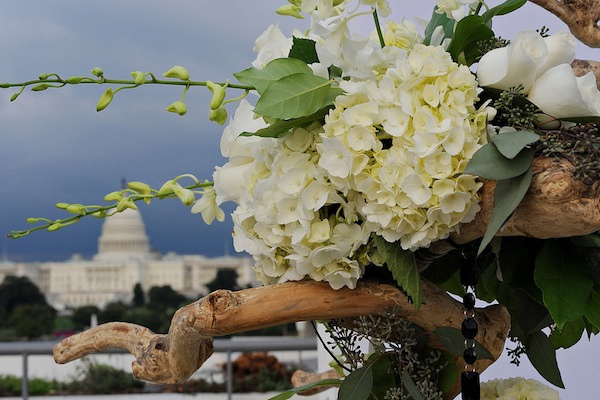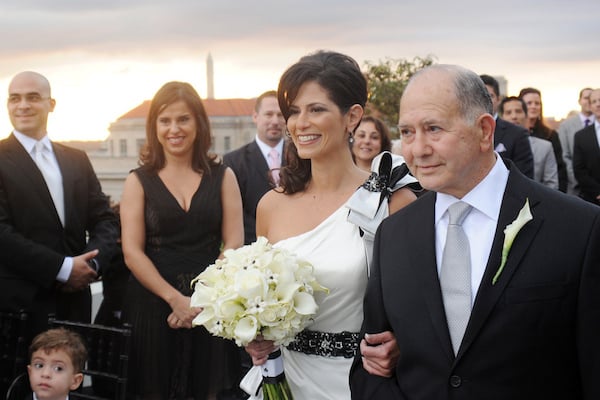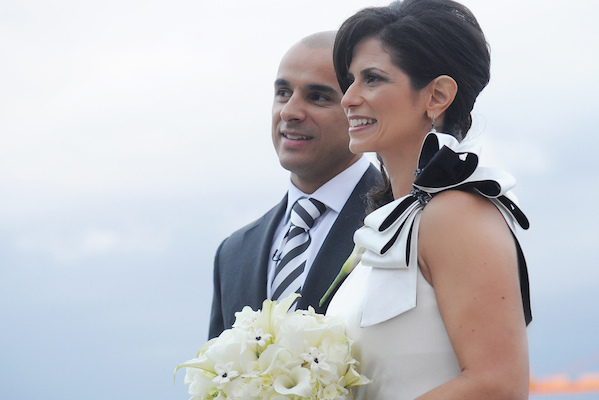 At the evening ceremony on the balcony, special readings included "The Art of a Good Marriage" by Wilfred Arlan Peterson and "I Love You" by Roy Croft. The recessional was set to "You Are the Best Thing" by Ray LaMontagne.
Afterward, Tania, Rafael, and their 60 guests enjoyed cocktail hour featuring Brazilian drinks and food in honor of Rafael's home country. Escort cards were attached to pairs of Havaianas flip-flops (made in Brazil), so attendees could trade their shoes for more comfortable footwear. "We knew our guests' feet would need a break from all the dancing!" says Tania.
At the reception, each table was named for a different DC landmark, and the table numbers featured a photo of the couple at each historic site. Guests were asked to write a note to the newlyweds on the back of the photos.
Dinner consisted of Asian- and Italian-themed buffet stations­. Highlights included braised beef short ribs and shrimp-and-tomato risotto. Instead of a wedding cake, coconut and chocolate cupcakes from Baked & Wired were served for dessert, along with chocolate-covered strawberries, cheesecake ice cream cones, and vanilla pudding shots.
Rafael and Tania performed their first dance to "Make You Feel My Love" by Adele, and at the end of the night, they exited the reception amid a sea of sparklers waved by family and friends.
"My favorite part of our wedding day was that all of our disparate groups of friends were able to meet for the first time and then have fun like they'd known each other for years!" says Tania.