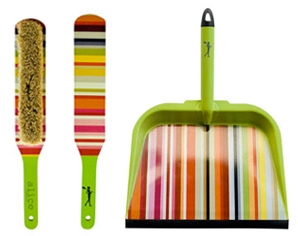 Rainbow Dustpan and Brush
You may earn yourself an (arguably well-deserved) mean look for buying Mom cleaning supplies for this holiday, but this colorfully striped dust-pan-and-brush set is too cute not to suggest. If nothing else, it'll look great hanging in the laundry room.
Dust brush ($26) and dust pan ($26) at alicesupplyco.com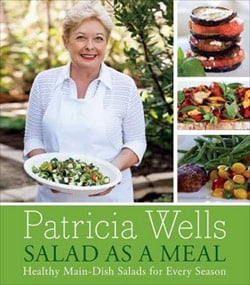 Salad as a Meal
Christine Myskowski, owner of the Occoquan cookbook emporium Salt & Pepper Books (profiled in our March issue), recommends Patricia Wells's latest recipe collection. We think this is a brilliant idea. Not only are these salad meals perfect for enjoying outside in the warm weather, but they'll also help Mom slough off those last five pounds she's always calling you to complain about. Recipes include Crab Salad With Lime and Avocado and Poached Turkey Breast Salad with lemons, capers, cornichons, and mint.
$34.99 at Salt & Pepper Books (703-491-4411)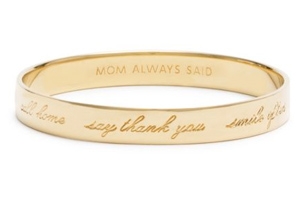 "Mom Always Said" Bangle
"Say thank you" . . . "Call home" . . . "Smile often" . . . "Mind your P's and Q's." Okay, so our Mom never specifically said any of these, but she probably tried to convey the message. Let Kate Spade help the lady you learned everything from wear all her good advice right on her wrist.
$58 at katespade.com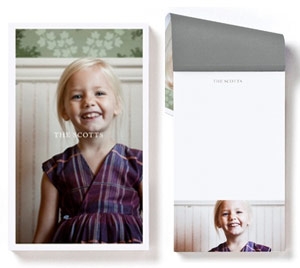 Customized Photo Notepad
Pinhole Press takes a typically tacky concept (when was the last time you gave Mom something like this—fifth grade?) and executes it in a truly sophisticated format. Make the gift grow up even more by using a vintage photo of her and Dad (during the pre-children golden years, perhaps?) or scenery from one of her vacations. We also like this skinny orange list pad, too.
$10.99 to $12.99 at pinholepress.com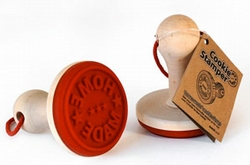 Homemade Cookie Stamp
Help Mom advertise the elbow grease she put into those oatmeal-raisin humps of gooey goodness with Charles & Marie's "Home Made" cookie stamp. Now there will never be a question about whether her treats were baked with love or picked up from Whole Foods on the way home from work (as if you ever doubted her).
$24.70 at charlesandmarie.com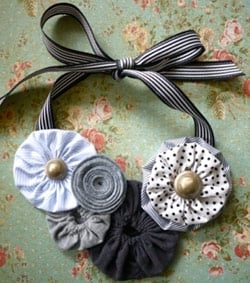 Evie Necklace
A more crafty, DIY take on those edgy, glittery bib necklaces you've been rocking since winter, this fabric flower necklace will blend in nicely with all of Mom's navy basics. Every item in Mayfly Designs' Web store is handmade-to-order, so the chance she shows up matching some other mom at the next book club/PTA meeting is slim to zero.
$38 at mayflydesigns.com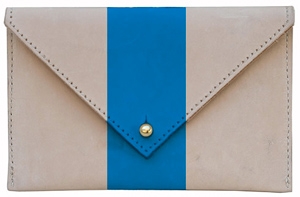 Clare Vivier Pochette
Is this little envelope not the most adorable little preppy thing you've ever seen? Coupons, grocery lists, spare change—who cares what Mom puts in it? She's going to look super-stylish when she pulls it out of her purse. (P.S.—If you're looking for a more practical gift, this kelly-green weekender bag is one of our all-time faves.)
$104 at seevivier.com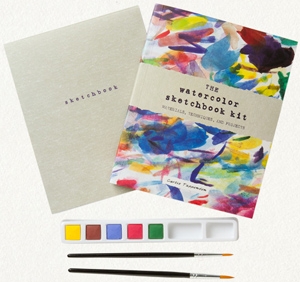 Watercolor Sketchbook Kit
If Dad's treating her to a weekend away from it all, why not supply her with something beyond the standard book or magazine to entertain her while she's in the mountains? This painting pad (beautiful cover, no?) comes with technique instructions, five watercolor blocks, two paintbrushes, and a 96-page sketch pad. She could also save it for fun when the grandkids visit.
$24.95 at shopterrain.com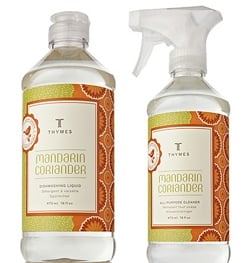 Mandarin Coriander Cleaning Liquids
Yes, we know—more cleaning supplies. After we specifically warned you about dirty looks from across the brunch table. But, but, but. These herby-citrus-scented products are beautifully packaged, and the hints of orange will cover any less-than-sweet odor Mom may encounter in the kitchen. If she's doing chores anyway, why not make the process a little more pleasant?
Dishwashing liquid and all-purpose cleaner, $9.50 each at thymes.com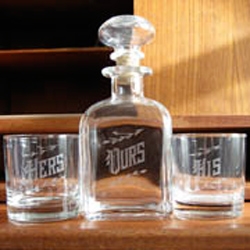 Ours Decanter Set
As the description says, the couple that drinks together stays together. We though the mother decanter set was a little much, but this couples version—complete with an old-fashioned-font engraving—is too cool to resist. If she's the type to enjoy throwing back a good Scotch (and we certainly salute her if so), figure out whom she most looks forward to doing it with and adjust the gift accordingly. (The set comes in his/hers, his/his, and hers/hers variations.)
$98 at love-and-victory.com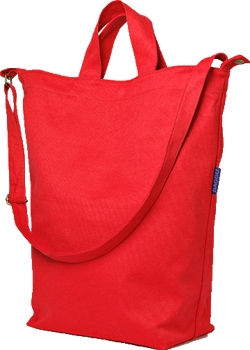 Duck Bag
Just when we thought Baggu had cornered the market on stylish grocery carryalls (DC bag tax, how we love/hate you for making one necessary to have at all times), the company introduces the Duck Bag. A simple, streamlined canvas tote that's totally washable, it comes with an adjustable shoulder strap and in a variety of colors (we own the cherry-red)—this is just what Mom needs for trips to the farmers market or yoga studio—anywhere, really.
$22 at baggu.com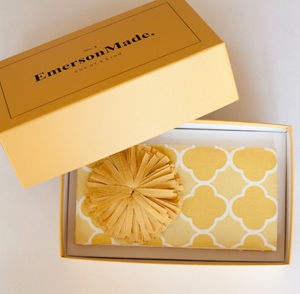 Goldie Clutch
Our obsession with Emersonmade is no secret by now—we've featured the modern preppy brand in gift guides and style round-ups galore. Let Mom in on the fashion secret with this sunshine yellow clutch—perfect for summer outings. Hoping to see the brand before you buy? Then we've got good news for ya! In a move that might make them our favorite store of the moment, U Street's Goodwood has also started carrying a few of Emersonmade's knockout jeans and tops in-store.
$58 at Emersonmade.com
Subscribe to Washingtonian
Follow Washingtonian on Twitter
More>> Shop Around Blog | Style | Find a Spa