This page describes the contents of an issue of Washingtonian magazine. Subscribers get exclusive early access through our print and digital editions. Most of our feature stories are later published online and linked below.
Buy a Single Issue
Subscribe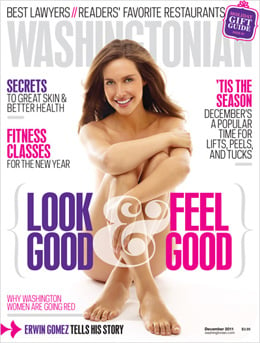 Volume 47, Number 3
Cover Story
Look Good, Feel Good
Lots of people make New Year's resolutions to eat better and exercise more. In this section, you'll find dozens of tips to help you reach your goals—from enticing workouts and weight-loss findings to terrific beauty products, easier teeth-whitening kits, and more.
Cover photograph by Ericka McConnell
Features
His Georgetown salon drew socialites and celebrities till it closed abruptly. Now he's broke, his ex is missing, and he's trying to start over. By Alexandra Robbins.
Don't know what to get your best friend, father, or favorite aunt this holiday season? From cool kitchen gadgets and books to luxe leather goods and eye-catching jewelry, here are 78 great ideas. By Sarah Zlotnick, Kim Forrest, and Sherri Dalphonse.
Hogan & Hartson and Howrey had a lot in common. They were among the most successful firms in Washington, both had new leaders, both wanted to expand. One would turn into a global powerhouse. The other would fall apart. By Marisa M. Kashino.
Washington's Best Lawyers
From the finest Supreme Court advocates to the toughest criminal defenders to the top divorce attorneys, this is a guide to the area's very best legal talent. Plus—the $1,000-an-hour club, what a million-dollar legal bill looks like, and more. By Marisa M. Kashino and David Lat.
He's juvenile and more than a little crazy. Friends say he barely copes with day-to-day life. He also happens to be one hell of a writer. By Tom Bartlett.
Departments
Power Lunch
A Washingtonian luncheon recognizes the area's most powerful women.
Capital Comment
Who's most quoted in White House memoirs? Anonymous . . . Local college basketball—where the action is . . . Brainstorming a First Family sitcom . . . Post columnist versus Redskins coach.
Where & When
Jane Monheit at the KenCen . . . Merce Cunningham Company dances adieu . . . Silk Road treasures at the Freer . . . Sweet Honey in the Rock at GMU . . . Jewish Film Festival . . . Messiahs, Nutcrackers, and Christmas Carols.
Game Face
Most people know Irene Pollin as Abe's wife. But the mother, author, and social worker has had a life out of the public eye—marked by loss and perseverance. Interview by Salley Shannon.
The opening of Dulles 50 years ago promised to lift us into the jet age. But for all the airport's beauty, would anyone use it? By Sudip Bose.
Want 40 deal offers every day? Some bargain hunters do. But are all the deals good for everyone? By Cathy Alter and Nick Sementelli.
Our first Excellence in Nursing Awards honor nurses who go beyond the call of duty to protect, preserve, and enhance the well-being of their patients and our community. By Leslie Milk.
Great dining options, fun outings, cool cocktails, insider favorites, and art and entertainment in downtown DC's liveliest neighborhood.
Dining Out
Jeff and Barbara Black find a new formula—and create a sensation—in DC's Logan Circle. Plus an Indian gem in Silver Spring, super bowls in Takoma, and a first look at a new brasserie in a Great Falls institution.
For the 34th year, Washingtonian readers name their dining choices for special occasions, value, service, and every kind of food.
Best Bites
Restaurants for food and mood . . . Dining near Ford's Theatre . . . Lunch buffets . . . Tasty soups.
Benefits
Good times for good causes in December.
Doing Good
These nonprofits show inner-city kids how to eat well and exercise through cooking, soccer, dance, kayaking, and more. By Kathleen Bridges.
Cool ski lodges, sunny beach resorts, pretty country inns, and other exclusive reader deals.
Redskin Stephen Bowen buys for $1.8 million; ex-Redskin Casey Rabach sells for $1.2 million.
Tail-Wagging Gifts
Stylish doghouses, kitty "caviar," and more. By Marisa M. Kashino.
My daughter loves Thomas the train. Me? Let's say I owe them both an apology. By Cindy Rich.