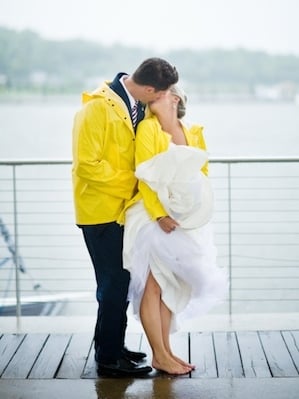 The Proposal of the Year
We're always searching for incredible proposals—and this year we didn't have to look very far. Our online account executive, Matt Hendrickson, proposed to his girlfriend, Jennie Kushlis, on the field at Nationals Park in rare but incredible style. Check out the video (which totally went viral) here.
Celebrity Weddings and Engagements
The obsession with the royal wedding reached a fever pitch, and Will and Kate didn't disappoint (that processional! That dress! That . . . Pippa!), but lots of other big-name folks also got married or engaged in 2011. Kim Kardashian's wedding was over the top in both its ridiculously blingtastic style and its train-wreck ending. And we have several weddings to look forward to in 2012, with Anne Hathaway and Britney Spears celebrating their engagements this year.
Natural Disaster Wedding
The real wedding that received the most hits in 2011 was Briean and Casey's Hurricane Irene celebration. This couple made the best of the situation, breaking out brightly hued umbrellas and yellow raincoats and having an amazing time.
The Wedding Dress of the Year
Aside from Kate Middleton's Alexander McQueen gown, the most anticipated wedding dress of the year was probably the Carolina Herrera design worn by Bella Swan in Twilight: Breaking Dawn. And, as expected, just a few days after the film opened, an affordable version of the slinky, long-sleeved, open-backed gown hit stores.
The Wedding Color of the Year: Pink
We were amazed at the number of weddings that featured the ultra-feminine hue. From bright and bold fuchsia to the palest pastel blush to a mix of various shades, it's clear DC brides were loving pink in 2011.
The Name Game
We've enjoyed following staff writer Marisa Kashino's wedding planning process this year (the big day is just two months away!) with her Destination Bride column. A few months ago, Marisa wrote about choosing to keep her name and to not have her father walk her down the aisle; both decisions caused quite a debate in our comments section.
The 24-Hour Wedding
One of our personal favorite weddings of the year was Elisa and Rodrigo's spur-of-the-moment celebration. Planned in just 24 hours, this spontaneous wedding proves you don't have to throw a full-scale blowout to create something magical.
Your Favorite New Wedding Dress
We attended two bridal markets this year to check out all the hot-off-the-runway wedding gowns. While we noticed lots of new trends over the past year, it seems that Washington brides prefer traditional, feminine designs. When we polled you on your favorite new wedding dress, you selected a lace Watters gown. As for a bridesmaid dress, it appears you're loving not-so-basic black, in the form of a Ivy & Aster dress with a ruffled skirt.
Groupon Wedding
The group coupon site phenomenon reached critical mass this year, and it was only a matter of time before people started using them to plan weddings. We brought you the story of Diane Paul, a Rockville mother of the groom who used Groupon, Living Social, and several other group coupon sites for her son and daughter-in-law's rehearsal dinner and wedding—scoring deals on everything from spray tans to wine.
Shameless Self-Promotion
We hate to brag, but we had a pretty great year here at Washingtonian Bride & Groom: two great issues, a successful Unveiled event, our new Twitter and Facebook accounts, and the relaunch of our Bridal Party blog. We've got lots of excitement coming up in 2012, too (including our fourth annual Unveiled event in January), so stay tuned, and thanks for reading!