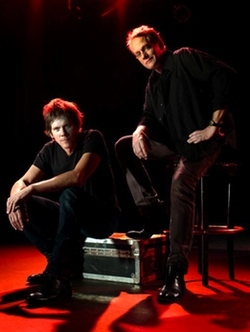 The Bacon Brothers, a musical duo consisting of actor Kevin Bacon and his sibling Michael, will perform at the Birchmere in Alexandria on Friday, April 13. The Bacons play a mix of country and folk rock music and just released Philadelphia Road—the Best of the Bacon Brothers in November. Tickets ($35) go on sale Friday at noon through Ticketmaster.
Rachael Yamagata, a singer-songwriter from Arlington, comes to the Birchmere in Alexandria for a performance on Tuesday, March 27. Her music has been featured in major TV shows and movies, including How I Met Your Mother, 30 Rock, and The Last Kiss. Tickets ($25) go on sale Friday at noon through Ticketmaster.
If you're a fan of bluegrass favorite Old Crow Medicine Show, check out the up-and-coming group Cabinet when they perform at 8×10 in Baltimore on Thursday, February 23. The band hails from Pennsylvania and consists of six members who play banjo, guitar, fiddle, and more. Tickets ($10) go on sale Friday at 10 AM through Ticketmaster.