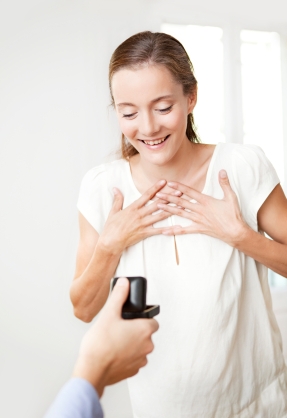 If you got engaged over the holiday weekend, congrats! You'll probably want to spend the next few weeks celebrating and staring adoringly at your ring finger (and, we hope, reading your free copy of Washingtonian Bride & Groom and getting your tickets for Unveiled). But we know soon enough you're going to start getting that age-old question from everyone from your coworkers to Great-Aunt Ida to that girl you're friends with on Facebook but haven't spoken to since third grade:
"So when's the big day?"
And yes, we understand it's tough to figure out where to start, whether you're the first in your group of friends to get engaged or you've been to dozens of weddings. We've been there, and we know it can be overwhelming.
Don't worry—we've got your back. We asked event planner Jeannette Tavares of Evoke to share her wedding planning timeline to help you get going on this adventure (be sure to take a peek at our vendor guide to select your pros). And we promise we'll be with you every step of the way. Feel free to e-mail kforrest@washingtonian.com with any questions, and we'll get back to you as soon as we can!
12 Months Before
• Create a wedding budget
• Draw up an initial guest list
• Determine potential dates for your wedding
• Visit and select a venue
• Hire an event planner
• Find an officiant
• Book room blocks at hotels near your venue for out-of-town guests. Evoke's tip: "We suggest booking room blocks in at least two hotels to give your guests options," says Tavares.
• Choose your wedding party and confirm participants
9 to 12 Months Before
• Create an inspiration board of images and design elements you love
• Order your wedding dress and attendants' attire
• Book your photographer and videographer. Evoke's tip: "Be sure to book a photographer and videographer you have a connection with," says Tavares.
• Reserve a caterer
• Book your reception entertainment
• Register for gifts
6 to 9 Months Before
• Select and send save-the-dates
• Work with your venue or catering company to decide on your menu
• Reserve musicians for the ceremony and the cocktail hour
• Select your hairdresser and makeup artist, and sit down with each for trials
• Meet with two florists, and book one
• Reserve transportation and valet. Evoke's tip: "Decide if you'll be providing transportation for out-of-town guests," says Tavares. "If so, be sure to include it on the invitation."
• Order your invitations and thank you cards. Evoke's tip: "Have at least two people proofread your invitations," says Tavares. "And if you're ordering custom postage, don't order it until your invitation comes in, and then get the full set weighed at two different post offices."
• Choose outfits for the mother of the bride and the mother of the groom
• Check marriage license requirements
• Plan the rehearsal dinner
• Research and book your honeymoon
3 to 6 Months Before
• Finalize your guest list
• Finalize ceremony details with officiant
• Reserve the men's wedding attire
• Order your wedding cake
2 Months Before
• Mail the invitations
• Finalize the reception menu
• Confirm the wedding details with the musicians
• Finalize all print materials (programs, escort cards, etc.)
• Purchase gifts for parents and attendants
• Schedule final dress fitting
1 Month Before
• Apply for a marriage license
• Meet with photographer and videographer and wrap up all final details with entertainment
• Call any guests who have not yet replied
2 Weeks Before
• Those giving speeches should draft what they're going to say. Evoke's tip: "We suggest each speech being less than five minutes," says Tavares.
• Finalize reception details
• Confirm honeymoon reservations
• Determine the order for the procession
• Send all final payments to vendors
• Pick up the attire for the groomsmen
• Confirm the final numbers with the caterer
• Confirm details with transportation company
• Deliver your marriage license to the officiant (you can also bring it the day of)
• Draw up a seating arrangement for the reception and write out the place cards
• Prepare tipping envelopes
• Pack for your honeymoon
Day of the Wedding
• Give the wedding bands to the best man
• Present the attendants and parents with their gifts
• Relax and enjoy your special day—start it off with a mimosa! Evoke's tip: "We truly recommend having a planner for at least the day of your wedding. That way, you can truly relax," says Tavares.
After the Wedding
• Send thank-you notes (be sure to send them within two months of receiving the gift)