This page describes the contents of an issue of Washingtonian magazine. Subscribers get exclusive early access through our print and digital editions. Most of our feature stories are later published online and linked below.
Buy a Single Issue
Subscribe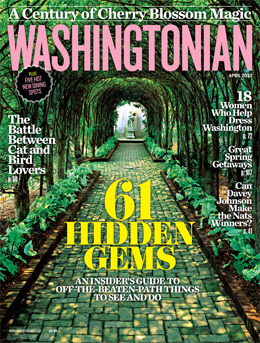 Volume 47, Number 7
Cover Story
Hidden Gems
Washington is famous for its monuments and museums. But beyond the must-see tourist spots is a treasure trove of less familiar destinations. Here are 61 fun places to visit–gorgeous gardens, behind-the-scenes tours, quirky museums, and more.
Photograph of a formal garden at the Museum of the Shenandoah Valley by Ron Blunt
Features
The arrest of a National Zoo scientist for trying to poison cats set off a fierce debate over whether cats are innocent and adorable or an ecological nightmare. By Luke Mullins
For a century, spring in Washington has meant cherry blossoms, thanks to a gift from Japan. Here's a look back at the annual spectacle–as seen in a new book from National Geographic.
In a city that's not supposed to care all that much about style, some women have done well helping us with what we wear. Here are standouts in Washington's fashion scene. By Sarah Zlotnick
After a decade of setbacks and near misses, Ilir Zherka says it's time to give District residents full representation in Congress. It's a fight he thinks he can win. By Ariel Sabar
Capital Comment
Where & When
I.Q.
Life
Taste
Home