When Ian Alberg proposed to Mary Morrison, he really outdid himself. "He did it twice," says Mary, a bubbly, blonde international consultant and former White House staffer. "The first was in New York City at my apartment, which was a total surprise. Then he did it again the following weekend in Washington at the Lincoln Memorial, one of our favorite places." In case you're wondering, yes, she did get two rings. The first reflected Mary's half-Brazilian roots: A diamond eternity band is the traditional symbol of engagement. The second was a more classic American engagement ring, with a round center stone surrounded by a ring of smaller diamonds. The observance of backgrounds and the merging of cultures was a common theme as Mary and Ian planned their November 5 nuptials–both knew they wanted their celebration to reflect elegance, fun, and memorable details.
For Mary and Ian, an attorney who has his own firm specializing in state and local regulatory issues, the actual ceremony was paramount. "I felt strongly about getting married in a house of worship," says Mary, who ultimately chose Sixth & I for the nuptials; the historic synagogue was the ideal setting for binding Ian's Jewish faith and Mary's Catholic and Episcopalian roots. "We reached out to my friend, Reverend Tony Campolo," she says. Campolo, a close acquaintance of Mary's old boss, President Bill Clinton, helped create a ceremony that properly represented both faiths. "Rabbi David Kuperman was the dual officiant," says Mary. "That is the one thing we are still hearing from our guests–how special people felt witnessing that ceremony." Mary felt the overwhelming emotion of it all, too. "I cried during the entire ceremony," which, she admits, was totally out of character.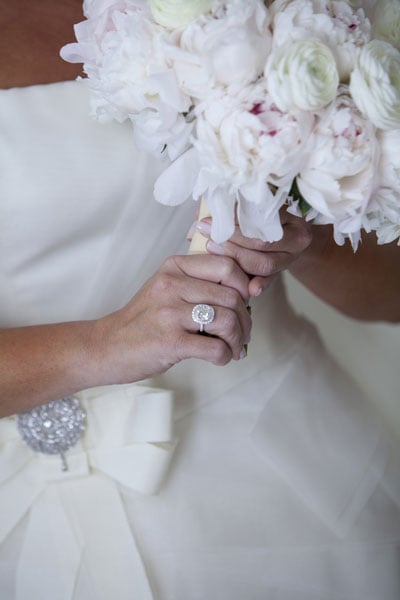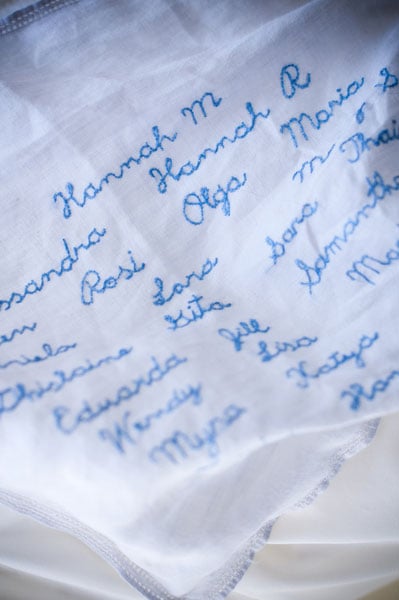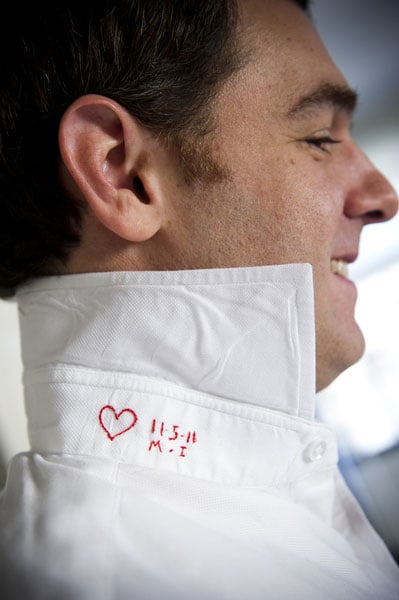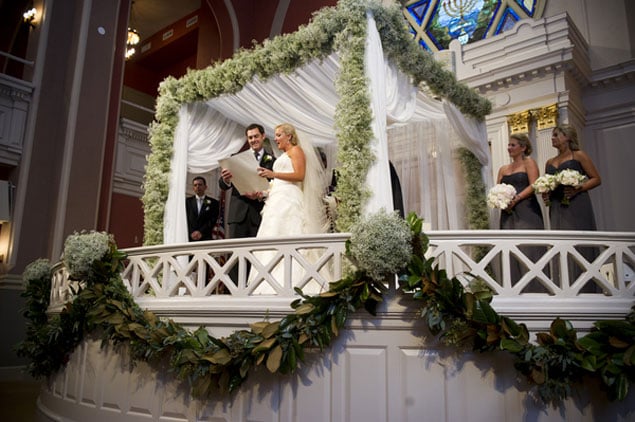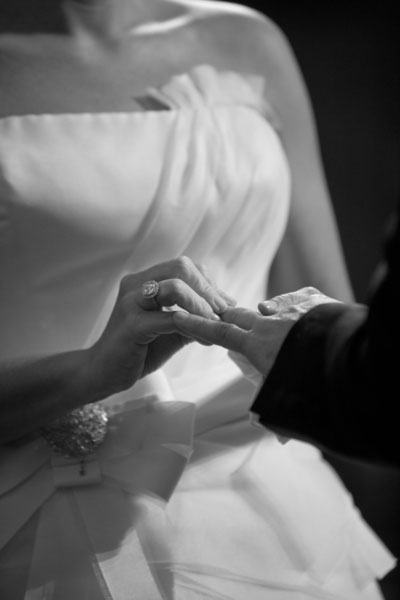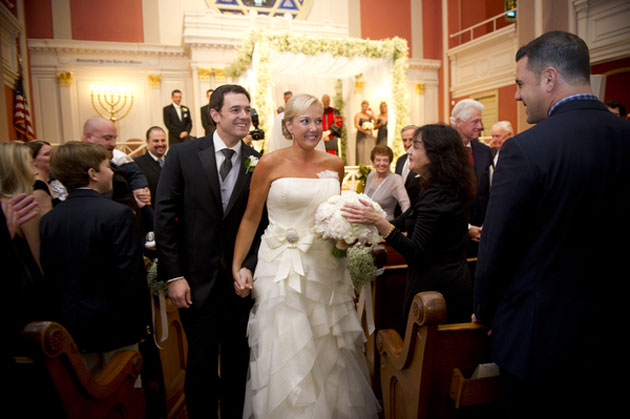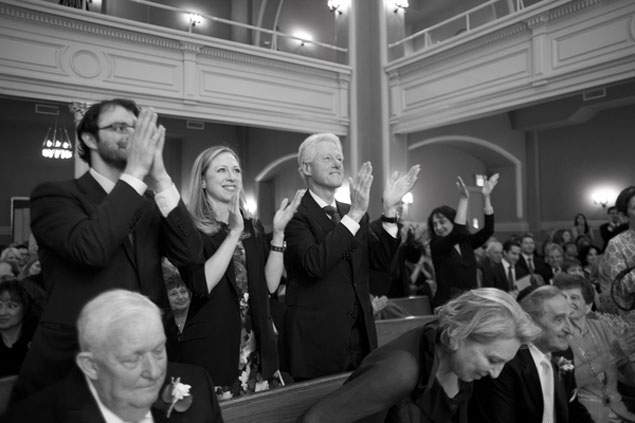 The guests, numbering 300 in all, were a truly international bunch; many were from Mary's extended Brazilian side. "Think 'My Big Fat Brazilian Wedding!' I wanted my Brazilian relatives to experience a traditional American wedding, but I wanted my American friends to experience a touch of the Brazilian party vibe, too," the bride explains. Wedding planner Allison Jackson of Pineapple Productions helped guide the weekend's worth of activities, culminating in an all-out, glamorous shindig at the W Hotel. Mary and Ian included thoughtful details, such as passing out flip-flops to guests in case dancing feet grew tired, or distributing little bags of chocolate from Mary's family's cocoa farm in Brazil; Mary also stitched the names of her single friends in blue onto an old handkerchief which belonged to her late grandmother, and then sewed that handkerchief on the underside of her gown . They incorporated magnolia in the floral decor, a nod to her father's side of the family, who originally hail from South Carolina; American boxwood was also featured, in honor of the family home in Arlington built by Mary's grandmother in 1938, just down the road from where the couple currently reside. "It was truly a whole weekend affair," says Mary, whose personal highlight was the ceremony. "I just loved looking out at everyone and seeing that they were there to support and love Ian and me as we start this new chapter."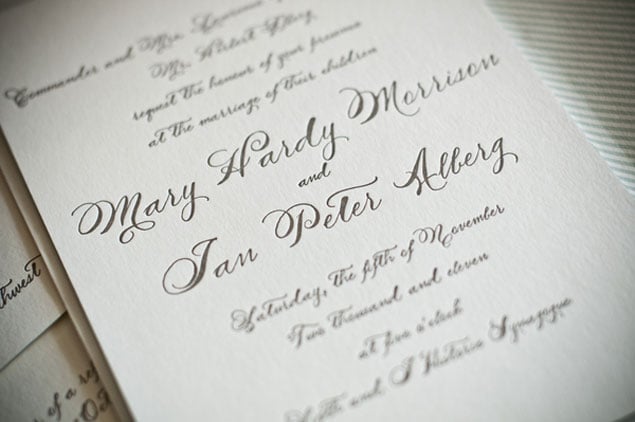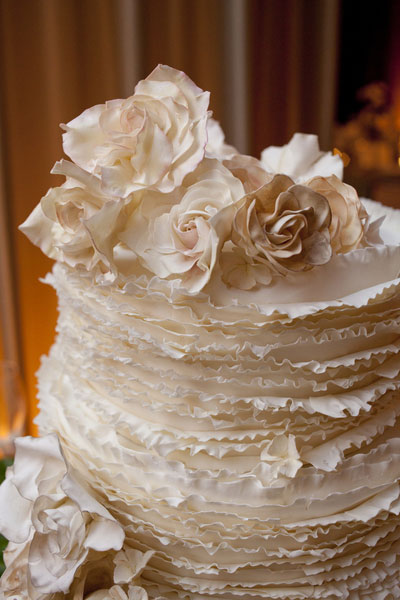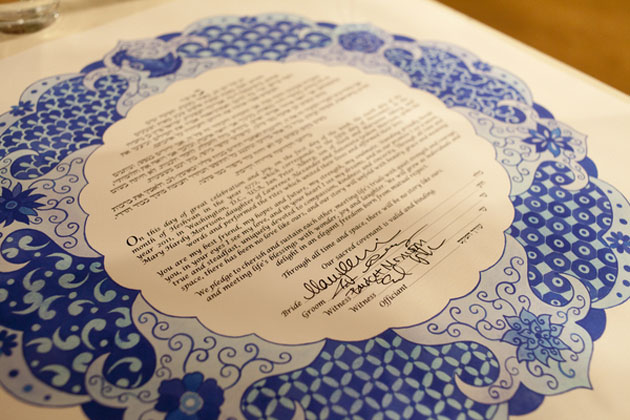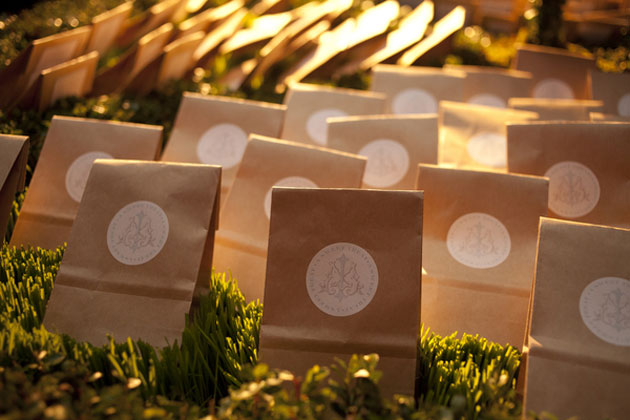 VENDORS:
Event Planner: Pineapple Productions
Photographers: Barbara Ries, Barbara Kinney
Dress: Vera Wang
Hair: Christophe Joenne
Make-up: Leah McKay
Floral Design: Jack H. Lucky Floral Design, Inc.
Caterer/Reception: W Hotel
Ceremony: Sixth and I Historic Synagogue
Ceremony Music: Miles Stiebel
Reception Music: Trademark
Invitations: Smock at Hitched
Calligraphy: Arney Walker Calligraphy
Cupcake Favors: Baked & Wired
Rentals: DC Rental
Transportation: Linder & Associates