Who: KC Ellis Sledd, 26
Champion for customer bliss, GlobalGiving
What I do: GlobalGiving is an online platform connecting donors with little earth-changing projects all over the world, and I'm responsible for making sure our donors have a "blissful" experience on our site from start to finish. It's a lot of customer service, but my favorite part is developing relationships with our donors.
My work style: Our office has virtually no dress code—it's not uncommon to see people in shorts and flip-flops—and it's nice to have that freedom. I love simple, effortless pieces like white tees, silk blouses, tailored trousers, and midi skirts.
"Fancy Mondays"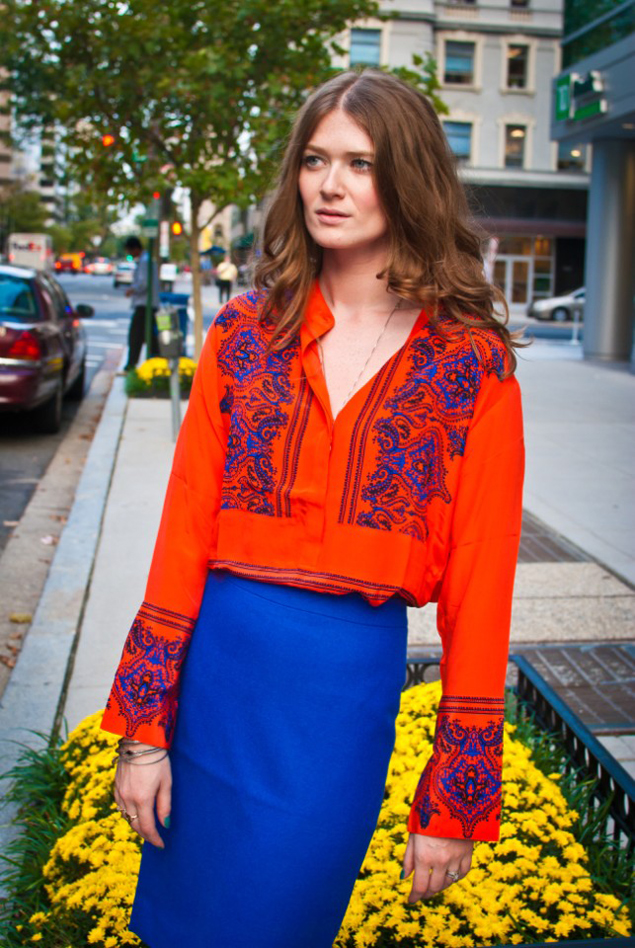 Since our office is typically so casual, we decided on "fancy Mondays" instead of casual Fridays. All the tech guys wear ties and jackets, and they always look so nice. I had to step up my game! This is definitely a fancy Monday outfit—the bright colors are a perfect way to wake up after a lazy weekend.
J.Crew blouse and skirt, and Tory Burch pumps (not pictured).

Transitioning to Fall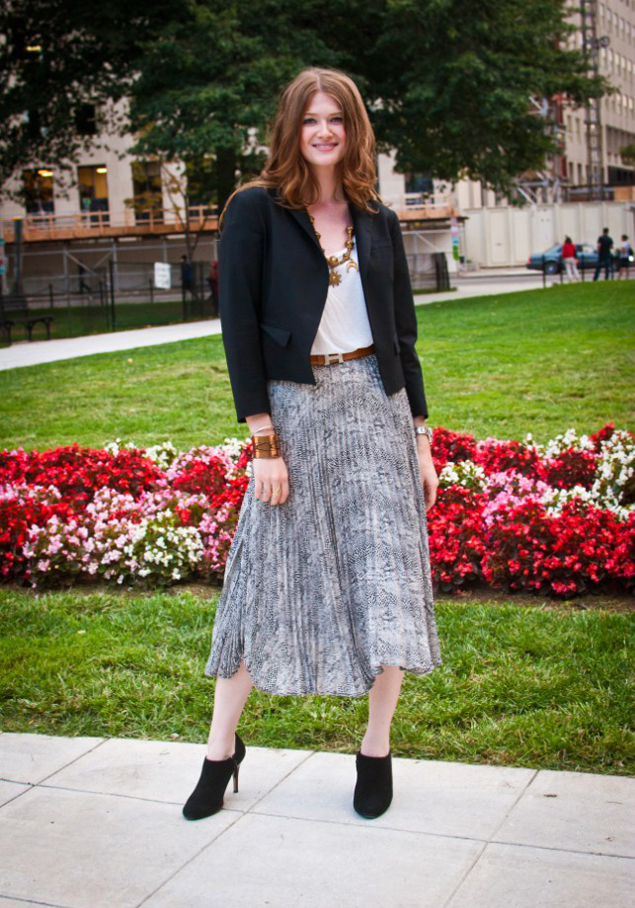 Fall is the best time for wearing different layers and not worrying about covering them all up with a bulky coat. This huge brass necklace is a real workhorse for me. I love putting it over unexpected pieces, like buttoned-up men's shirts. My mom bought it when she was younger, and I pinched it from her jewelry box a couple of years ago. Thanks, Mom!
Theory blazer, Mikkat Market T-shirt, Wren midi skirt, Cole Haan suede booties, Hermès belt, and vintage cuff and necklace.
At the Laptop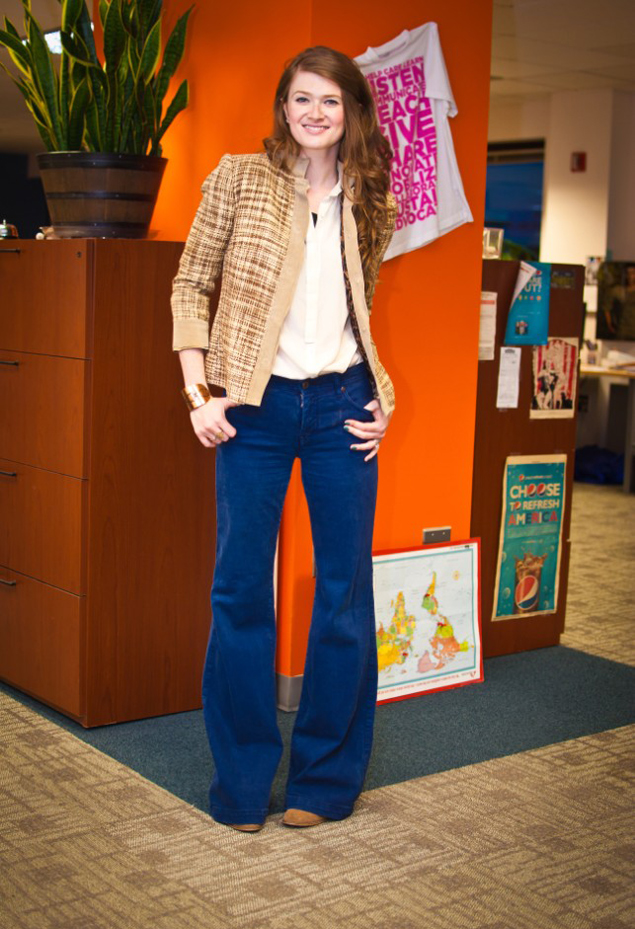 A tweed blazer and a cream blouse paired with heels prevent these wide-leg jeans from swerving into ultra-casual territory, but still keeps the outfit appropriate for a day spent answering e-mails. (Another tip I inherited from my mom: Bell-bottoms help legs look miles long when worn with heels.)
McQ jeans, J.Crew silk blouse, Dolce & Gabbana tweed jacket, and House of Harlow necklace.
Training Day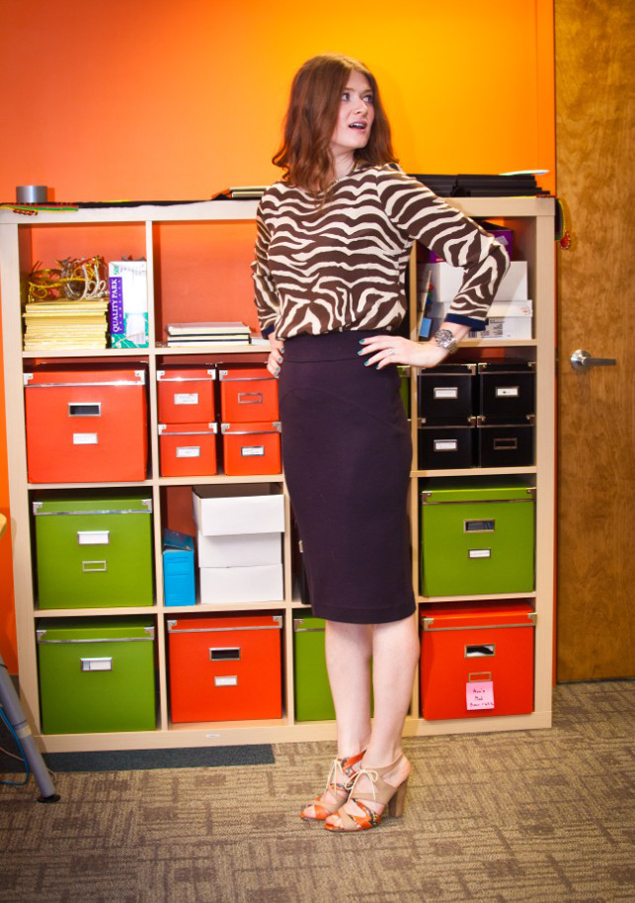 The color palette is subdued so the audience can focus on the message, but the zebra print keeps things from getting boring. I love this skirt because while it looks black, it's actually a deep berry color. In the winter, I'll pair it with knee-high boots and a crewneck sweater and feel very 1960s.
J.Crew top, Diane von Furstenburg skirt, and Plenty by Tracy Reese sandals.
Oops! I Overslept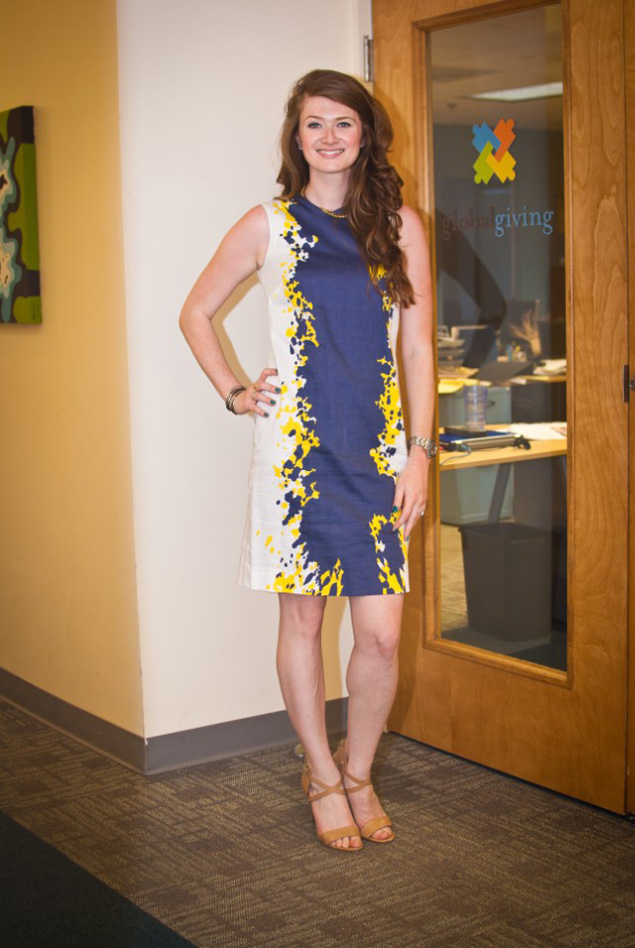 The thing I love most about dresses is that they require virtually no effort, but everyone always comments on how nice you look. I'll wear this on one of the many days I oversleep and need to look pulled-together fast. My husband gave me the necklace for Christmas last year.
Dress by Elmery (available on Etsy), Cole Haan ankle-strap sandals, and Dannijo necklace.
All photographs by Kate Warren.
Think you or someone you know deserves a chance in the What I Wear to Work spotlight? E-mail szlotnick@washingtonian.com with pictures and a job description for consideration.