This page describes the contents of an issue of Washingtonian magazine. Subscribers get exclusive early access through our print and digital editions. Most of our feature stories are later published online and linked below.
Buy a Single Issue
Subscribe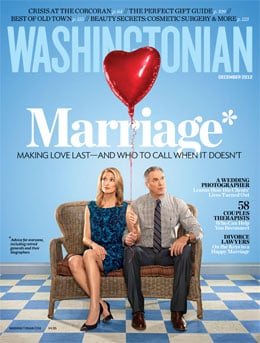 Volume 48, Number 3
Cover Story
Even the happiest couples go through rough spots. So what are the keys to staying in love? We turned to marriage experts—therapists, researchers, authors, long-married couples, even divorce attorneys—for answers.
Photograph for The Washingtonian by Jeff Elkins.
Features
With the museum hemorrhaging money, the building in need of massive repairs, and staff and supporters up in arms over a possible move, the institution's future has never looked more uncertain. By Luke Mullins
He knows that people loathe him, think his career is in the toilet, and believe that his website, the Daily Caller, marks a new low in journalism. But the truth is that Tucker Carlson couldn't be happier. By Tom Bartlett
In a Northeast DC warehouse, an ex-lawyer and his son-in-law are paying homage to a legend of Washington's boozy past—and hoping to tap into a still very thirsty local market—with the city's first microdistillery. By Kathleen Bridges
A husband who died. Another who turned out to be gay. And a wife who never imagined she'd be so happy. A wedding photographer sets out to learn what happened to the hopeful couples who hired him for their big day. By Matt Mendelsohn
Don't know what to get your techie husband? Your girlfriend the fitness buff? Your best bud at work? From cool gadgets and captivating books to fabulous fashions and tasty treats, here are 107 perfect presents. By Sarah Zlotnick, Sherri Dalphonse, and Kate Bennett