The famous words "Let them eat cake" don't even begin to scratch the surface of what is available to sample at Patisserie Poupon for soon-to-be newlyweds contemplating sweet decisions for their celebration. Proprietor Ruth Poupon suggests dipping into cake (of course), but also macarons, croquembouches, and mini pastries.
For brides seeking elegant, decadent desserts, Patisserie Poupon has much to offer. Classic French cake flavors, croquembouches filled with chocolate, vanilla, or Grand Marnier cream, and a multitude of petite tarts and mille-feuilles serve well for a nuptial-worthy dessert buffet or sweet takeaways for party guests. And who wouldn't love a little touch of French romance on their big day?
Madame Poupon treated me to the full bridal tasting at the Georgetown cafe, where we talked about popular flavors, pastry skill, and finding love.
I'm surveying these beautiful plates of cakes, pastries, and macarons. Is this what a couple can expect when they come for a consultation with you?
We have a complimentary tasting, and since it is complimentary, we first ask when and where the wedding is to make sure we can do it. After that, they can come in and we give them a sample of everything we make. They can also see some pictures of cakes we've decorated in the past. Then it's really up to them. It's all very custom.
If they have something in mind, they should bring a photograph. They should also bring their appetites, because we give them a lot of cake.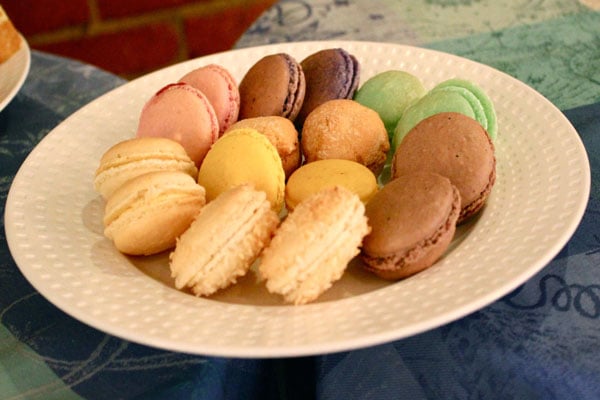 "A lot" doesn't even begin to describe it. What are your most popular flavors?
We sell a lot of fraisier cake, with fresh strawberries and yellow cake. We also do a lot of royale, which is at the other end of the spectrum: a rich chocolate-hazelnut cake, chocolate mousse,and chocolate meringue.
The croquembouche is so elegant. How often do you get orders for it?
I'd say fairly often, because from what I understand, we make the yummiest, prettiest croquembouche around.
For our readers who may not know, what is croquembouche, and how did it get to be a popular dessert?
It is simply cream puffs baked and filled with pastry cream, which can be flavored. The puffs are dipped in caramel and glued together with caramel. It's kind of light on decoration, but we can do some beautiful pulled sugar flowers. The dessert takes a lot of experience to make because it's so fragile. And it has to be fragile to be to good to eat.
Croquembouche is definitely popular in France for any kind of big party like a wedding, a birthday, or a christening. We even have a book with ideas for croquembouche shapes including baby strollers and trains.
How long have you been baking?
We've been in business for 26 years, since 1979. My husband, Joseph, started at 16 as an apprentice in France. We worked together at my first job after graduating from the Culinary Institute of America. I was drawn to pastry because it combined taste, chemistry, and art.
It's sort of romantic for an engaged couple to buy their wedding dessert from a couple who were brought together by baking. What did you have for dessert at your wedding?
We didn't really have a wedding; we already had the business and the house, and when we confirmed that we were pregnant, I said, "Okay, I think we have to get married." I think my husband would have married me the day he met me.
In 26 years, you've had to have seen a lot of trends come and go. What is popular for wedding desserts lately?
In terms of flavors, interestingly enough we have a lot more orders for buttercream cake. The first thing couples usually tell us is, "I don't want fondant." It's because they see those giant balls of fondant on TV, and that stuff is so heavy it's just not edible.
Also we have people requesting other desserts or additional cakes. We do beautiful tiny pastries that everyone loves, and macarons are huge right now—couples often give them as favors or gifts to their guests.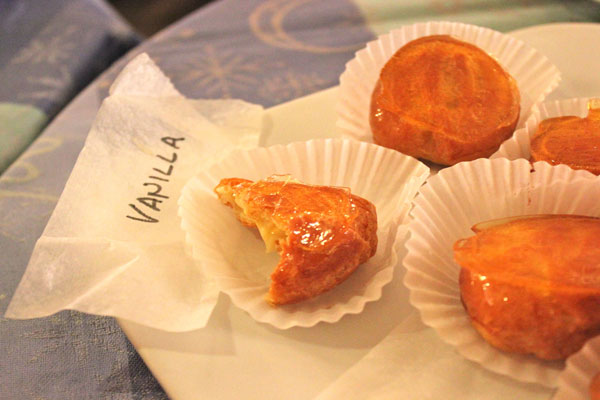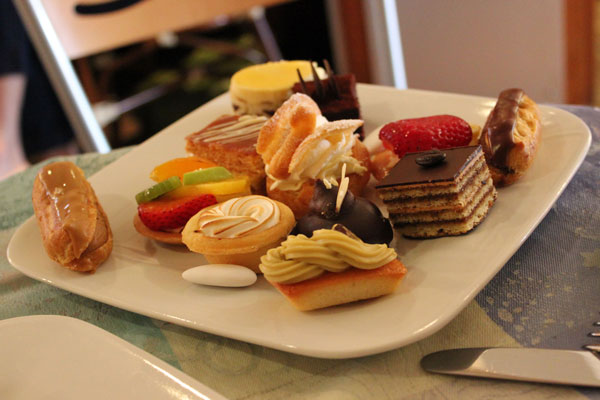 Patisserie Poupon, 1645 Wisconsin Ave., NW; 202-342-3248.