December officially launches the holiday season with loads of celebration and cheer. And if you're on the cusp of cementing your relationship with some jewelry, this might be the month. According to the Wedding Report, 40 percent of all engagements happen between November and February, with the bulk of proposals over Christmas.
Almost a third of couples buy the ring one to three months before getting down on one knee. (If you haven't already, now is the time to activate the engagement-ring slideshow as your screen saver—hints never hurt.)
Only you and your fiancé know what the "right" ring looks like, but you can keep an eye out for this season's trends. "While you want a ring that is timeless," says Adam Gorman, owner of I. Gorman Jewelers, "there is something to be said for a unique ring she'll be wearing for years to come."
Before you or your guy set foot in a jewelry store, get acquainted with the four Cs: color, clarity, cut, and carat. The Gemological Institute of America site is a good place to start.
Color Play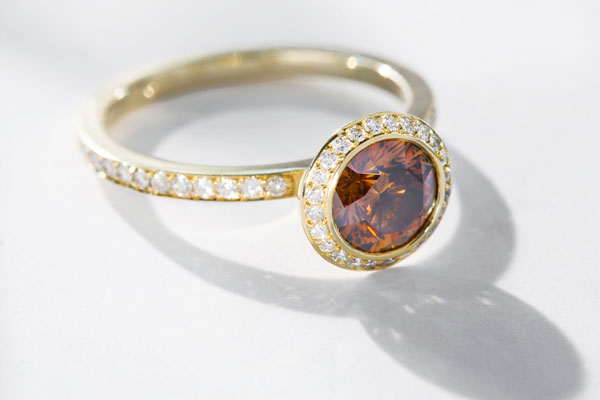 Yellow- and rose-gold mountings are growing in popularity, a spillover from the fashion world. "We're seeing interest in colored diamonds, especially brown, chocolate, yellow, and champagne stones," says Matthew Rosenheim, president of Tiny Jewel Box. Wondering how to pair these sparklers? Focus on the color families. Rose-gold bands bring out the intensity of chocolate and champagne stones, while yellow gold enhances yellow diamonds. One thing to keep in mind: The price of a colored stone is primarily driven by color intensity. "In general, very light colors can actually cost a bit less than white diamonds," continues Rosenheim. "However, saturated diamonds can cost way more."
Hello, Halo

The halo setting is timeless. "I have clients who describe it as vintage, and others who describe it as contemporary," says Rosenheim. "That range of description says it's bound to be a classic." You get the best of both worlds, a solitaire silhouette with a twist of design. The best part: This style makes the diamond appear larger than it really is.
Contemporary Cool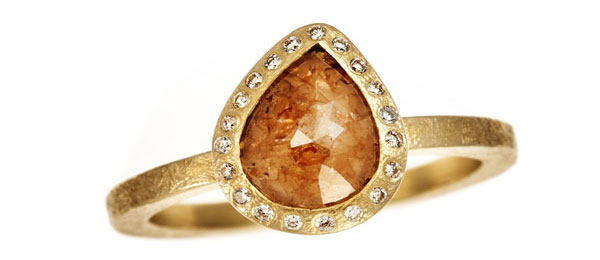 "Nontraditional styles are becoming more and more popular these days," says Gorman. "You might not expect it in a place like DC, but I'm constantly surprised when typically conservative clients end up choosing an edgier ring." Those looking for an eclectic twist should definitely consider adding texture. Hammered metals and raw diamonds certainly make your ring stand out. Annie Frensterstock and Todd Reed are two designers to explore. Eco-conscious shoppers will be happy to know that Todd Reed uses recycled metals in all of his designs.
Go Big

A large stone in a dainty setting makes a statement. Designers are moving away from overly decorated settings, opting for simple, clean, and contemporary. Stick to round stones if you're going for a solitaire; this style embraces fancy shapes. "Many women opt for a cushion-cut diamond," says Gorman. "The slightly rounded square or rectangular shape is feminine and classic, but imparts a sparkle that's truly special." If you're worried that the bling will look costume-jewelry-like, don't. "Imitation diamonds will never mimic the intense brilliance of a natural stone," says Rosenheim.