For the start of 2013, we asked a handful of area wedding planners what they would suggest if they could retool a couple-to-be's top five resolutions for tackling their nuptials. We'll be revealing the helpful (and entirely doable!) answers in this space over the next two weeks.
First up is Laura Ritchie and the team from Events in the City.
1) Lose ten pounds . . . off your guest list: Keeping a tight guest list of important people, family, and friends is the key to a successful and budget-conscious planning endeavor. Keep your lips sealed around the office and random neighbors—and especially in the presence of your brother's flavor-of-the-month girlfriend. These acqaintances can change over time, and you may feel obliged to invite them, even if you only verbally promised a spot ten months earlier. Make sure you edit wisely!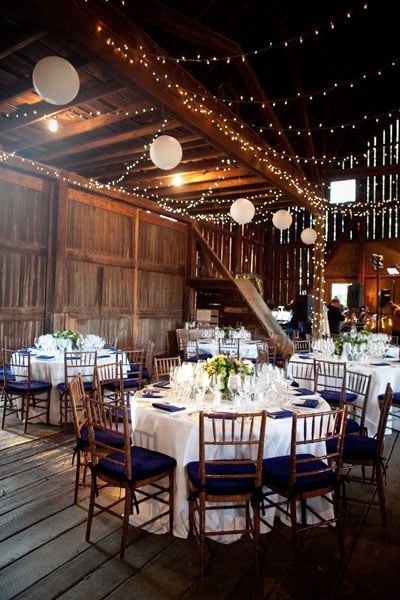 2) Sleep does a body good: So do a balanced diet, regular exercise, and a realistic health goal for your wedding. It's great to have a catalyst to get you in shape, but your wedding should not be a reason to try a crash diet or buy a dress that's three sizes too small in the hopeful anticipation of it fitting. We recommend investing in your health so you can be your best you for your important day—what better reason is there? For an extra boost, consider hiring a dietitian or a nutritionist to give you tips, or even splurge on new workout clothes to inspire you to get to the gym.
3) Stay true to your wants and needs: Oversharing and gathering too many opinions can cloud your judgment and true desires. Whether it's picking your wedding dress or selecting your linens, keep the tag-alongs to an absolute minimum so your dream is always in the forefront, rather than your bridesmaids' distaste for pink.
4) Portion control on Pinterest: It's a big world out there, and, my goodness, there is lot to choose from! It can be exciting to start your wedding board, but keep in mind that you should be deleting photos and editing along the way; after a year of planning, the clarity of the board can suffer from overload and confusion. We always recommend separating boards by vendor and specific category—that way, when you are consulting with your baker, he or she isn't getting bombarded with shots of bridesmaid updos or your next DIY bathroom project.
5) Style it right: You are the center of attention at the bridal shower, ladies' luncheon, engagement pictures, and countless family affairs. We love treating our clients to the advice of a personal stylist, which can only help ensure they look their best. Your definitive style should boost your confidence—which is something every bride-to-be should exude.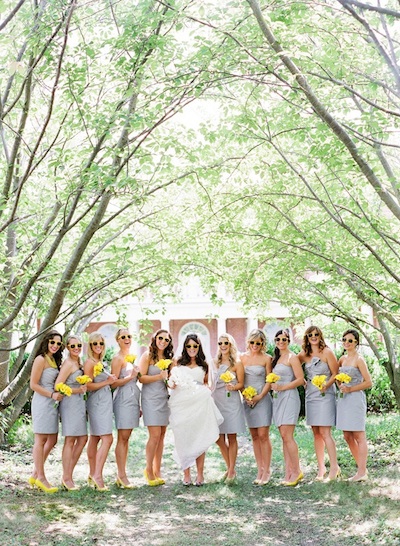 A bride poses happily with her bridesmaids. Photograph by Katie Stoops.
Special thanks to the team at Events in the City.