Whether you opt to cohabitate before the big day or after, moving into a cohesive marital home presents a unique set of challenges, from dual couches to a fiancé overly attached to his La-Z-Boy recliner. We checked in with some of our favorite interior designers to get their advice on how to soothe stressed-out moving woes and seamlessly shift to domestic bliss.
What's the best way to tackle moving in and combining homes?
A good first step is determining each person's "non-negotiable" pieces—the ones that MUST be incorporated into the design plan of the new home. These are pieces that carry a great deal of sentimental value or are simply loved for one reason or another. Then assess the pieces as a whole and determine what they say about you as a couple. Even better, use the "Venn diagram approach." Where do the pieces overlap? This will tell you the tastes you have in common. Equally as important, which pieces seem to stand out as different from the rest?
While keeping the non-negotiable pieces in mind, develop an overall design plan for your new home. Decide together how you want the home to look—modern, traditional, eclectic, sophisticated, casual, etc. Start determining ways to incorporate the pieces into your new plan. Keep in mind that pieces may go in different rooms and that furniture sets can and most likely will be separated.
Finally, when developing the plan, make sure to account for each person's personal habits and quirks. Does one of you need a reading chair in the master bedroom? Do you hate putting your toes on a cold floor in the morning? Does your partner prefer bright overhead lighting rather than soft mood lighting? Take the time to discuss these quirks and preferences and make sure to incorporate them into your design plan. You want the home to be comfortable for both of you and cater to each of your daily living habits.
After a couple has taken those steps, what next?
Depending on budget, combining households can be a great opportunity to get rid of worn or tattered pieces that are not worth refurbishing, refinishing, or retrofitting. Donate these items, try to sell them, or simply call a junk removal service. We rely on Junk in the Trunk.
Also get rid of any pieces that do not fit into the design plan you've decided on together—pieces that don't fit space- or style-wise. Pay attention to room dimensions and continuously consult your new plan while asking yourself if the piece conveys what you're trying to accomplish in the combined spaces.
After the wedding, most couples have a pile of gifts to fit into their new home. Any particular way to tackle the mountain of just-acquired stuff?
Avoid the common pitfall of feeling the need to display everything at once. Store some items and display others and then rotate seasonally or just whenever you feel like it. Of course, you'll want to take the time and effort to maximize your storage space by developing organizational plans for each space. Decide beforehand what will be stored in closets, kitchen cabinets, and home offices, and then carefully organize items within their designated storage spaces.
Carefully edit and curate the items you choose to display. Make sure they serve a purpose, either a functional one or a stylistic one.
Also think outside the box when choosing where you display items. For example, if you receive a silver monogrammed bowl that is more traditional than what you would tend to buy yourself, try displaying it on a bar cart with other silver items and use it to serve nuts or snacks during parties rather than displaying it in a bookshelf or china cabinet. Or use those sterling silver coasters on the master bedroom nightstands rather than in the more casual living room.
Try grouping items by color palettes in groups of three or five, instead of organizing old and new or like items.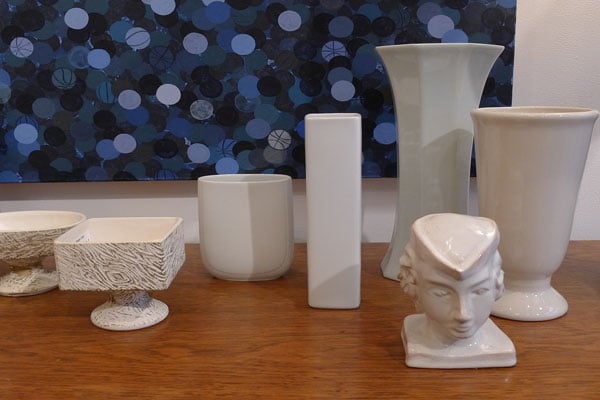 Let's say a couple has found their first "dream" home. What are a few ways to reflect each person's personality in the decor?
Smaller rooms are great for stronger personalities and design preferences—you can be bolder and louder in these small spaces. If space permits, have each person decorate a room or office as he or she sees fit.
First, decide on a color palette for the home and overall design approach that you both appreciate beforehand to ensure your home doesn't suffer from multiple personality disorder. If you both gravitate toward the same design style—modern, traditional, or transitional—then you do not necessarily have to each use the same color palette, and you should feel free to experiment with color combinations. But if you prefer more modern spaces and your partner wants a traditional library, choose a color palette that you both enjoy to make sure the library harmonizes with your modern living room.
Some of the most pleasing spaces are an eclectic mix of styles. Don't be afraid to combine modern and traditional pieces in the same room. For example, put your more traditional Chippendale chairs around the Parsons table your partner recently acquired. And feel free to display items that are meaningful to both of you together in each room. Put the vase your best friend bought you next to his beloved Argus Seventy-Five.
In your mind, what are the "splurge" items for a first home, and what are the "save" items?
Splurge: Master bed, sofas, kitchen and master bath (always splurge on the spaces you spend a great deal of time in and the spaces that up the resale value of your home).
Save: If you are not yet in your "forever home," save on area rugs that might not fit when you move in a few years. Same goes for your dining room table; dining room chairs are more transferable from space to space, whereas dining tables are not. Of course, if your new home is one you plan to live in for many, many years, move area rugs and dining table to the splurge category. But for heaven's sake, always save on your guest bedroom.
Is there a popular color palette or design trend you're seeing of late?
Polished or antique brass fixtures and hardware are back in a major way—when combined with natural elements such as marble (Carrera, Statuary, Nero Marquina) in cool tones (grays and dark black).
A
lthough not a new trend, vintage splashes in a room are here to stay. The vintage collection curated by Mike Johnson for Showroom 1412—Sixteen Fifty Nine by MRJ—is a great resource. His pieces have so much character and can be displayed in so many ways.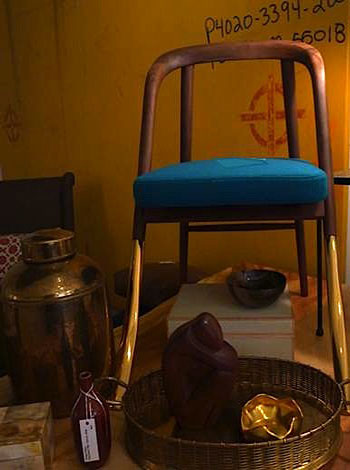 What should a couple do if their new home necessitates downsizing? What about upsizing?
Downsizing: Pay attention to scale and don't forget storage options (built-ins).
Upsizing: Great opportunity to work with a designer, or if on a tighter budget, save and buy what you love as you can—don't feel pressure to furnish an entire house at one time with inexpensive furniture that you don't love and that won't hold up.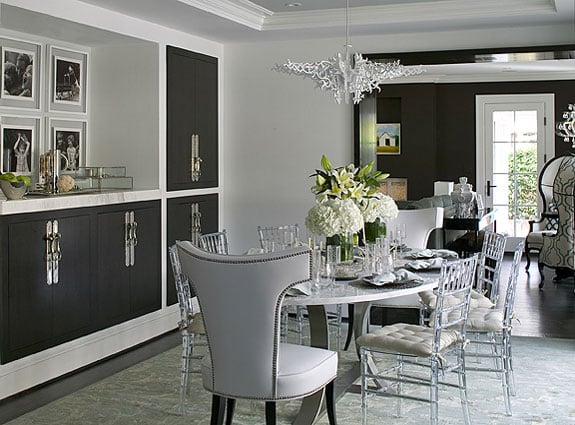 What three or four items (pieces of furniture, paint colors, designers, etc.) are you loving right now?
Paint Color: Hague Blue—Farrow & Ball
Artist: Hedieh Javanshir Ilchi (via Contemporary Wing at Showroom 1412)
Furniture: Bar carts, bar carts, bar carts! Vintage, modern, all styles!
Designer: Joseph Altuzarra
In your opinion, what's the real secret to a new couple finding interior harmony?
Use your interior decor as an opportunity to celebrate all the personality traits, quirks, and characteristics you cherish about one another. Proudly display the vintage record player he's had since college or the piece of art you picked up on your honeymoon, and combine her grandma's vintage china with the modern stemware from your registry. Each time you walk into your new home it should remind you both of all the reasons you fell in love in the first place.
Also—separate bathrooms!
Contact: Lori Graham Design & Showroom 1412; 202-745-0118