Last spring, after years of baking cookies for friends and family, native Washingtonian Patti Greenstein decided it was time to take the leap and turn her hobby into a business. "Brides are always looking for the next new thing, and I thought cookies have a lot to offer," she says.
It turns out she was onto something. Kalorama Cookie Company, a gourmet bakeshop specializing in custom-designed sugar cookies, has spent the last year turning out delicious creations for bridal showers, bachelorette parties, and weddings. From brides looking for elegant cake designs to add to favor bags to grooms requesting sports-themed baked goods for their bachelor parties, Greenstein works with every client individually to design the cookie they envision.
We chatted with Greenstein about custom designs, flavors, and creative ways to include cookies on your big day.
What makes your cookies special?
First of all, the cookies really do taste as good as they look! We believe flavor and appearance are equally important, and use high-quality ingredients and bake everything to order to ensure our cookies are delicious every time. Second, the boutique nature of our company allows us to give customers personalized service throughout the entire process, from the cookie design to delivery, resulting in customized products that allow you to integrate personal details into any part of your celebration and make it memorable for the couple and their guests.
Cookies make great party favors. What are some other ways to include cookies in a wedding?
Cookies can be used before the big day to add a personal touch to welcome bags for out-of-town guests. On the day of, they can be used as creative substitutes for more traditional elements such as escort cards or place cards, and as finishing touches on place settings. They make a great addition to any dessert bar and are a thoughtful treat for the bridal party during the pre-wedding prep. What's better than cookies and bubbly?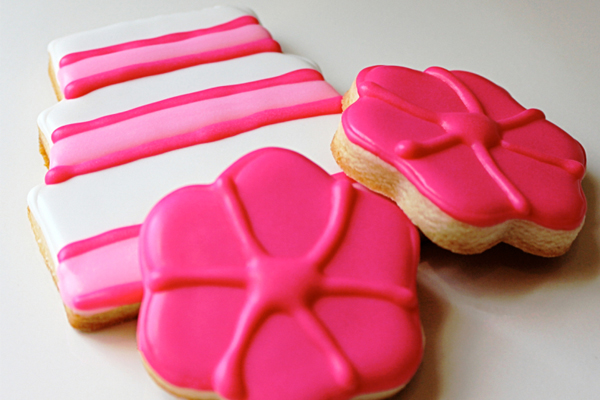 What flavors do you offer at Kalorama?
Our signature hand-decorated sugar cookies currently only come in one flavor. They can, of course, be supplemented with some of our other popular cookie varieties, such as classic snickerdoodles, delicate almond cookies, and Bailey's Irish chocolate chip or caramel apple cookies.
What is your most popular design for wedding parties?
The classic, three-tiered wedding cake cookie is one of our most popular. Brides personalize it by selecting the accent color of their choice. First letters of first and last names are also popular.
What has been one of your favorite requests to work on?
One of the most fun requests was designing a cookie for a whiskey-loving bride's bachelorette party in a cabin in the mountains outside of town. We made log cabin cookies and finished them with mini bottles of Jack Daniels tied to the bags. They were purchased as favors, but the girls ended up devouring them before the end of the first night!
For more information or to place an order, call 202-997-2502 or e-mail patti@kaloramacookiecompany.com.