This page describes the contents of an issue of Washingtonian magazine. Subscribers get exclusive early access through our print and digital editions. Most of our feature stories are later published online and linked below.
Buy a Single Issue
Subscribe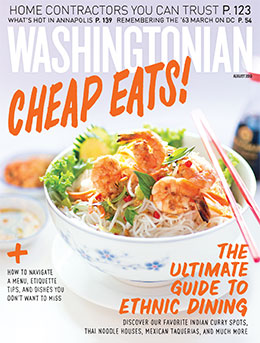 Volume 48, Number 11
Cover Story
Our ultimate guide to ethnic dining takes you on a whirlwind adventure. You'll find each cuisine's best restaurants—plus favorite dishes, etiquette tips, and more—and can experience them all for less than $25 a person.
On the Cover: Huong Viet's grilled shrimp with vermicelli photographed for Washingtonian by Scott Suchman. Food styling by Lisa Cherkasky. Hand-lettering by Matthew Allen.
Features
Martin Luther King Jr. made history 50 years ago, but a lot more went into the March on Washington—from the drama behind an activist's speech to the thousands who came to make their voices heard. By William P. Jones
To understand a lifelong genetic condition, she took part in an NIH study. She felt isolated and objectified but also got answers to questions that had haunted her for years. By Kate Steedly
For some couples, one relationship is not enough. By Brooke Lea Foster