This page describes the contents of an issue of Washingtonian magazine. Subscribers get exclusive early access through our print and digital editions. Most of our feature stories are later published online and linked below.
Buy a Single Issue
Subscribe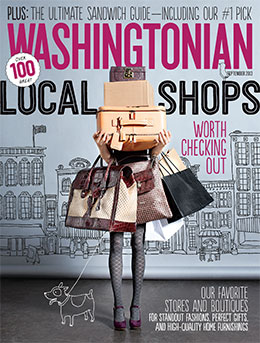 Volume 48, Number 12
Cover Story
Our favorites for fresh home furnishings, stylish clothing, one-of-a-kind jewelry, perfect gifts, and lots more.
On the Cover: Illustration for Washingtonian by Alli Arnold. Photograph by Christophe Kutner/Trunk Archive.
Features
Ten of Washington's best-dressed showcase their statement style. By Kate Bennett
Meguiel Merritt has had more than his share of stumbles, but he's held the same steady job for nearly 30 years. He wants desperately to reclaim a life in his hometown, but the city isn't giving out second chances the way it used to. By Ariel Sabar
What would make a woman want to go through pregnancy and childbirth to carry a baby—or three—for a couple she just met? By Alexandra Robbins and Ali Eaves
Mark Kuller's mother was a saint, his father a bookie. It took the son many years to figure out how to embrace the lessons of both their lives. By Todd Kliman
Life
Best Face Forward Makeup counters and shops that have the most sought-after finds. Reboot your Workout Four classes that can add a healthy dose of fun to your fitness routine.
Taste
Making it Look Easy The Red Hen is the best new restaurant of the year. Plus—Greek and Lebanese in Frederick, seafood in Penn Quarter, and Russian-Uzbek in Ballston. Ultimate Sandwich Guide The top 25 in town—plus wacky creations, an ode to Vietnamese bánh mì, chef tips, and more.
Home
Art Collecting 101 Buying artwork is possible on any budget. Here's expert advice. Best of Reston and Herndon Where to shop, eat, and have fun in these family-friendly towns. Luxury Homes Houses go for $100,000, $200,000, even $300,000 over asking price. Back-to-School Blues After summer with family, many pets can feel left behind in the fall. On the Horizon Happenings, announcements, and rumors to know about.