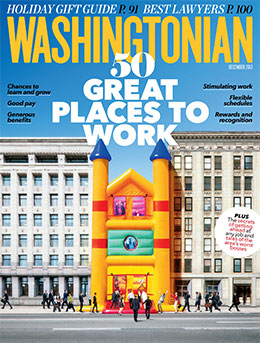 Volume 49, Number 3
Cover Story
50 Great Places to Work
Whether you like where you work and want advice on advancing your career or you hate your job and want a new one, this section is for you.
Edited by Sherri Dalphonse
Features
Successful Washingtonians of Hispanic and Latino descent are wielding influence in business, lobbying, politics, and more. By Luisita Lopez Torregrosa
Looking for the latest gadgets, fascinating books, luxe leather, or delicious treats? We've got 95 perfect presents. By Michelle Thomas, Irina Grechko, Kate Bennett, Diana Elbasha, and Sherri Dalphonse
100 Best Lawyers
From intellectual-property to criminal-defense to divorce attorneys, here are nearly 1,000 of Washington's best legal minds. By Marisa M. Kashino
Life
Getting Rid of Cellulite What really works for treating those dimples on thighs and hips. Making a Difference When you donate to charity, what does your money actually buy?
Taste
Star Bird Arlington's Bonchon looks sleek and trendy, but it's really all about the fried chicken. Plus—Mike Isabella's Greek spot, good tacos in Cabin John, readers pick their favorites, and more.
Home
Deck the Halls For some Washingtonians, a tree and wreath are not enough. Here To Stay Renovation tips for seniors who don't want to move from their longtime home. Best of McLean and Vienna Where to eat, shop, and have fun in two popular suburbs. Luxury Homes Billionaire Mitchell Rales and restaurateur Mark Kuller make deals. Going Postal Dogs are territorial—and often see mail carriers as intruders. Here's how you can help. First Person For the son of immigrants, football was both equalizer and outlet. Now, through his son, he's back on the field.
---