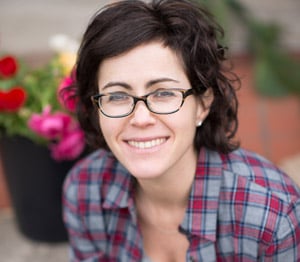 Despite asuccessful career in international development and women's empowerment, Tobie Whitman felt like something was missing. "I wanted more creativity in my day," she says. So in 2010, she began working at Allan-Woods Flowers, an upscale florist in DC, doing floral design and marketing. She soon began to think of a way to combine her interest in sustainability with her desire for a more creative career. "Being interested in the local food movement, I began to wonder why more people didn't ask where their flowers come from," she explains. This notion inspired her to start Little Acre Flowers, DC's first completely locally sourced floral-design studio.
Whitman launched Little Acre Flowers this past Valentine's Day, and creates arrangements using only the freshest locally available flowers at the time. Little Acre Flowers creates two floral designs daily—one arrangement and one bouquet, wrapped in Mayorga Coffee burlap sacks—which can be delivered throughout the Washington area. As of now, there is no retail shop, so clients must order online, where arrangements and bouquets start at $40 and are available in three different sizes.
We recently chatted with Whitman about Little Acre Flowers and the possibility of making these local arrangements part of a wedding.
How did you decide to enter the floral business?
I have always loved flowers from when I was a little girl—I'm from California and grew up in a major growing area. I love that my job helps bring joy into people's lives. I decided to start a local-only floral business because I think a lot of changes need to be made in the industry.
What makes you unique in comparison to other florists in the area?
Little Acre Flowers is DC's only 100-percent locally sourcing florist. By staying local, we provide fresher arrangements, minimize our environmental impact, support nearby farms, and promote seasonality. It's an extension of the "eat local" movement—freshness, variety, and sustainability. We are a perfect choice for brides and grooms who are interested in a sustainable wedding.
Why did you decide to use only locally sourced flowers?
I wanted a more sustainable floral industry. Did you know most flowers are stale and shipped from thousands of miles away? They arrive soaked in chemicals and packed without any water. Through cultivation, many unique characteristics, including fragrance, are gone. Delicate, local varieties are being lost in favor of hardy options. As with the food I buy, I started to ask more about the flowers I was bringing home.
If you are constantly getting new flowers each day, are you able to plan ahead for the designs of your arrangements?
We don't really get to plan ahead too much, though I'm always inquiring into when new varietals will become available in the season. Each day, I have an idea in my head about certain colors that work together and make sure there is good variety to make an interesting bouquet.
How do you find the flower farms to partner with? Where do you source your flowers?
Having worked in the local industry, I knew of several larger growers who sell to florists, as well as some who participate in farmers markets. But I also buy directly from smaller growers in the area, as well as some wholesalers who get local products. I'm always meeting new growers and love expanding not only the kinds of flowers we buy but also our farming network.
What type of floral arrangements do you offer for weddings?
We can create anything more traditional florists can do. In terms of style, we offer a natural, relaxed look that helps showcase the beauty of our locally grown flowers. We don't specialize in highly styled arrangements. We like simple.
Are brides and grooms able to customize their arrangements for their wedding?
Absolutely, as long as Mother Nature complies! I give brides and grooms a sense of what flowers are typically available around the date of their nuptials. When I have notice, I can place orders in advance with growers.
How far in advance should a couple contact you to create the floral arrangements for their wedding?
A few months is ideal.
What type of flowers are in season for a spring wedding?
There are so many great choices in our area. Tulips, hyacinths, snapdragons, and anemones are all available by March. Blooming branches such as quince and cherry are a dramatic option for larger arrangements; they look amazing in a ceremony space and add height and volume for reception areas. I also love dogwood.
What challenges come with creating floral arrangements from only locally sourced flowers?
One challenge with local flowers is helping clients understand that while there are many amazing floral options, we can't predict with 100-percent certainty what will be available. We have a very good sense, particularly concerning flowers grown in local greenhouses, but sometimes plans change. Some amount of flexibility is really helpful.
How long should a floral arrangement last after delivery? Any tricks or techniques you have for keeping a floral arrangement fresh?
Little Acre Flowers last much longer than flowers from florists and grocers using imported products. You definitely want your flowers to look good for at least four or five days, if not almost a week. The best tip is to recut the stems with a knife—not scissors, which compress the stems and prevent water absorption—and to use the flower food we provide in our wrapped bouquets.
You use burlap coffee bags to wrap the flowers. Where did the idea for that come from?
We try to be as sustainable as we can in all areas of our business, including our packaging. I knew I didn't want to wrap our flowers in plastic, and I thought repurposing another material would be cool. I heard local roaster Mayorga Coffee had burlap sacks, and I thought it was a great way to be green while also supporting another local business.