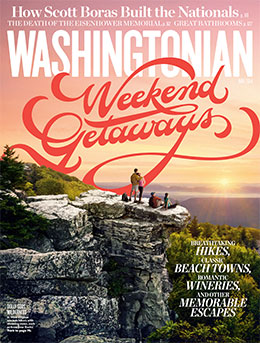 Volume 49, Number 8
Cover Story
Weekend Getaways
Itching to get out of town? Here are 34 easy, memorable escapes within a few hours' drive—including hikes with a view, romantic vineyards, fun beach towns, relaxing spas, foodie road trips, scenic cycling, and more.
Edited by Sherri Dalphonse
Features
Meet Scott Boras, the superagent who scored the Nats their top talent—at top dollar. By Patrick Hruby
After 25 years in power, Creigh Deeds faced the most painful political fight of his career. It turned out to be the easiest to win. By Luke Mullins
President Dwight Eisenhower's memorial was supposed to open next year. Instead, the VIPs behind the project went to war and killed it. By Carol Ross Joynt
Capital Comment
Where & When
I.Q.
Life
Taste
Home
In Every Issue
---