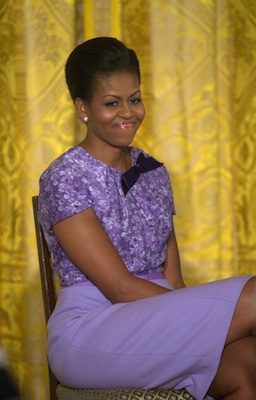 The week after the stars came to Washington for the White House Correspondents' Association dinner, the entertainment and government worlds collide again when Michelle Obama makes an appearance on the May 7 episode of Nashville, the ABC country-music drama starring Connie Britton and Hayden Panettiere. On the season-two episode, titled "All or Nothing With Me," Obama will play—as usual—herself, in town for an Army fundraiser. Country singer Kellie Pickler also appears in the episode to perform a song.
Obama is no stranger to TV appearances: She made a cameo on the season finale of Parks and Rec on April 24, made her scripted TV debut in January 2012 on Disney's iCarly, and has appeared on numerous reality-TV series and talk shows, including The Biggest Loser, Iron Chef, Extreme Makeover Home Edition, The Daily Show, the Tonight show with both Jay Leno and Jimmy Fallon (which gave the world the "Mom dancing" sketch), and Ellen. She even has her own IMDB page.
Nashville airs Wednesday at 10 PM on ABC.