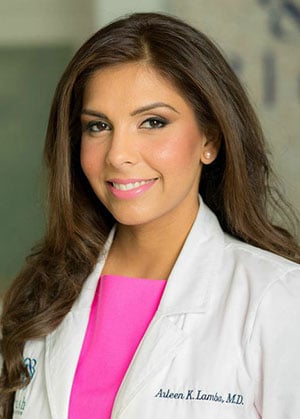 Just like finding the perfect gown starts with a dress fitting and picking out a reception dinner menu starts with a tasting, you may want to start your bridal skin boot camp with a skin assessment at Bethesda-based Blush Med Institute. Cofounder Dr. Arleen Lamba has created a six-step process to help brides look their best on their wedding day, for just $59 per month for six months. Read on for details of each step.
Month 1: Blushing Facial. "We need to cleanse, exfoliate, lightly extract, and prepare your skin for its healthy future."
Month 2: MicroPeel. "Our most popular skin treatment starts with a microdermabrasion. This is a mechanical way to exfoliate your dead cells so new cells underneath can come to the surface. At Blush, we are able to perform microdermabrasion at a variety of levels—from polish micro, which we like to call our 'get your glow on' micro—to deep micro, which we use to sandpaper off the acne scars some of us have from pesky zits. After the microdermabrasion, we do a light chemical peel. Don't worry, your skin won't peel off like Samantha from Sex and the City! This is purely done as a chemical exfoliation. We will decide which chemical peel to do upon your skin assessment. Pair with an aloe mask to get your skin cool, calm, and bright."
Months 3 and 4: MicroPeel, Part 2. "Third time's the charm! We continue to mechanially and chemically exfoliate. Your skin will be brighter, tighter, and healthier. This is what gives the bride the 'no makeup' look. Your pores are smaller, fine lines diminish, and breakouts are history."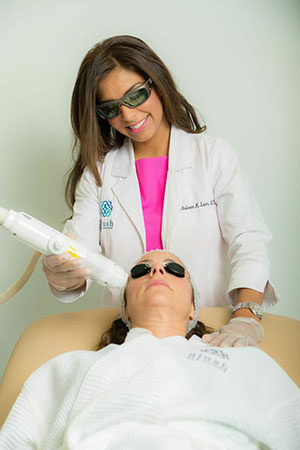 Month 5: Blushing Facial and Skin Light Therapy. "Time to cleanse gently again and follow with our medical-grade skin light therapy. The light we use will penetrate deep into your skin and help oxygen get inside your skin cells. Once oxygen reaches the cells, it provides them nourishment and helps your skin glow from the inside out. It also prevents breakouts, since a high-oxygen environment is not a good breeding ground for acne-causing bacteria. This light treatment will recude any redness you may be having, so all you see is smooth, clear skin. Bonus—the light will focus not just on your face but also on your neck and décolletage, so you will be gown-ready."
Month 6: Skin Light Therapy and Massage. "This is the time to relax. You've done a great job, and all will go as planned. Continue with skin light therapy, so your skin has a calm, bright, and healthy glow. The massage will just bring all the elements together, help you relax, rejuvenate, and give you some much-needed 'me' time."
Interested in Blush's bSkin Bridal Plan? E-mail realweddings@washingtonian.com for a chance to win a free trial plus a feature on Washingtonian Bride & Groom's blog documenting the results. Tell us why you should win!
You can find Valeria Boucas on Twitter at @valeriaboucas.