Among the influx of luxury retail opening left and right at CityCenterDC, there's a new local bakery on the scene. RareSweets opened in CityCenterDC in December under the guidance of Meredith Tomason, a pastry chef with the French Culinary Institute and a stint at Magnolia Bakery among her credentials.
RareSweets is a traditional daily bakery, marketing plenty of delicious treats—seasonal glazed donuts, blondies, coffee cakes. "My concept behind our bakery was to bring classic American desserts and baked goods from the past into the present," says Tomason. "Many of our recipes are based on flavors and desserts that have been forgotten. These Rare findings are what we are Sweetly bringing to our customers each day."
Tomason is working to expand the bakery's offering of wedding and celebration cakes, and after years in pastry industry, she's an awesome resource for brides looking for unique ideas for their cake.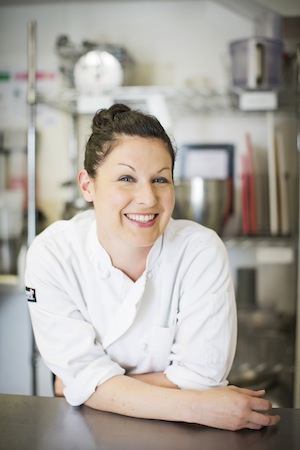 You can have your traditional cake—but be creative with it.
"Couples are trying to be a bit more forward thinking with the presentation and flavor. 'Naked' cakes seem to be popular, as well as a display of smaller cakes that all carry a similar theme but may have different flavors or decoration. I think people are finally realizing they can express their own creativity in cakes, and thus think outside the box of a white wedding cake. I think dessert bars are also increasing with popularity. There's definitely an added sense of guest interaction and playfulness that comes with a dessert bar. I think it's a fantastic idea."
Think seasonal.
"I'm happy to see that a lot of couples are thinking more seasonally with their wedding cake flavors—pumpkin for the fall, cherries for the late spring. Our bakery is based around seasonality and half of our cake menu changes with the seasons. This trend is right in line with what we offer our customers every day."
Use other parts of the wedding for inspiration.
"My favorite cake to date is one that incorporated details from the bride's dress. This was the dress that her mother-in law wore on her wedding day, and the flavor of the cake was the favorite flavor of the bride's family. I love the idea of tying generations and the two sides of the family together through the cake. It truly made for a memorable celebration."
It's possible to have a gorgeous cake and still be budget-friendly.
"If you are in love with an image of a cake, but you know its out for your budget, figure out what elements of that cake are really what your eye is drawn to. Ask your baker to try and incorporate those elements into a simpler version of the cake. Another tactic is to have a smaller cake on display that is exactly what you are looking for, and some cakes for service in the back. These cakes can be served to your guests. This way, you have the best of both worlds."
You don't have to make everyone happy.
"Don't be afraid to order the interesting flavored cake instead of the crowd pleaser. Don't be afraid to add personal touches to your cake. Remember, the cake or dessert is one of the last chances to make a memory for your guests at your wedding. Make it the sweetest memory of all!"
Stop in to visit RareSweets and try some of the delicious desserts. Mention that you read about RareSweets on Washingtonian Bride & Groom, and get a free cup of their fine La Colombe drip coffee with your purchase through the end of April.
RareSweets, 963 Palmer Alley, NW; 202-499-0077.