Is there anything better than a good surprise proposal story? We think not—especially when it takes place in the middle of the National Mall with all of the gorgeous greenery and architecture in the background and it's all caught on camera by Carly Arnwine. This particular proposal was planned by groom-to-be Charles (Charlie) Rigoglioso, and it had all the elements of a good heist film: creativity, deception, and jewelry worth stealing.
When it came to planning the proposal to his high school sweetheart, Paige Howe, Charlie knew he needed to do something special. They'd dated for ten years—completely smitten since a movie night they shared when they were just 16—and since they knew one another so well, Charlie knew it would be tricky to keep the proposal a surprise.
Related: 5 Tips for Pulling Off a Surprise Proposal With a Professional Photographer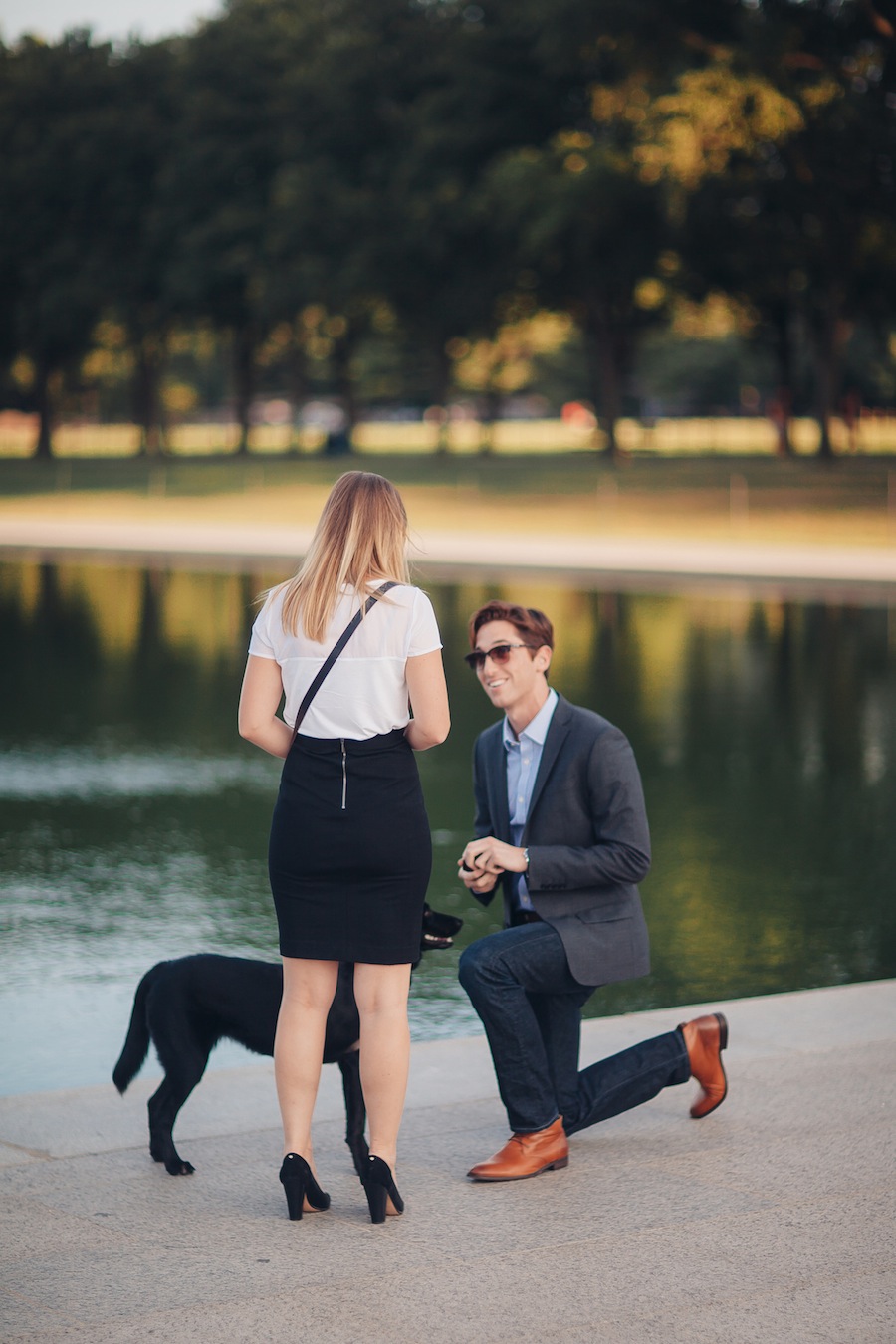 "I contemplated for a months on how I should go about it," says Charlie, and he finally decided upon the Reflection Pool by Lincoln Memorial as the ideal spot. "I wanted to pick a landmark where we can not only go back to but also see throughout our daily routine. Another reason is that when we have our own children one day and they go on the typical middle school field trip to the nation's capital, they will have their own connection with the Reflection Pool and the Lincoln Memorial."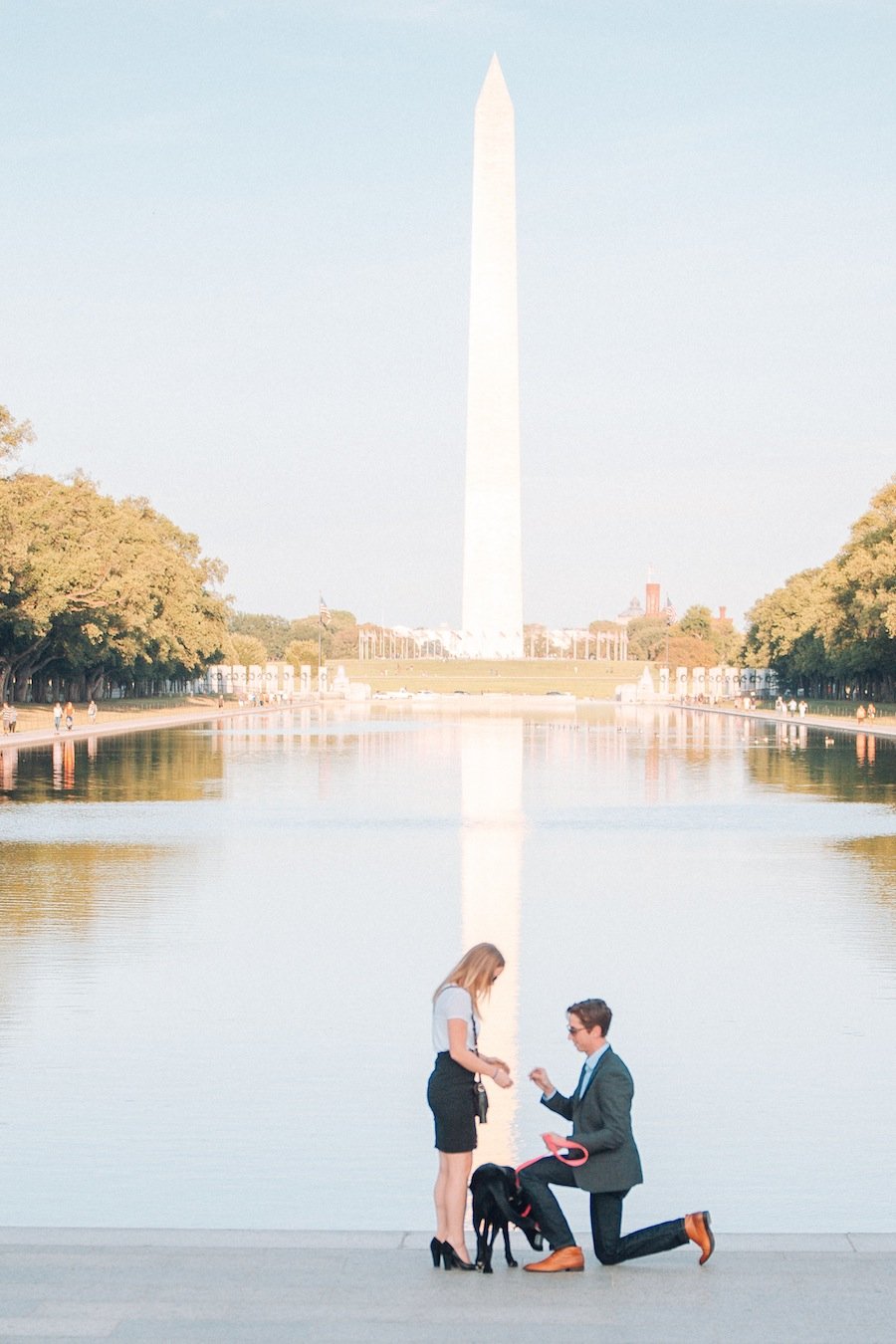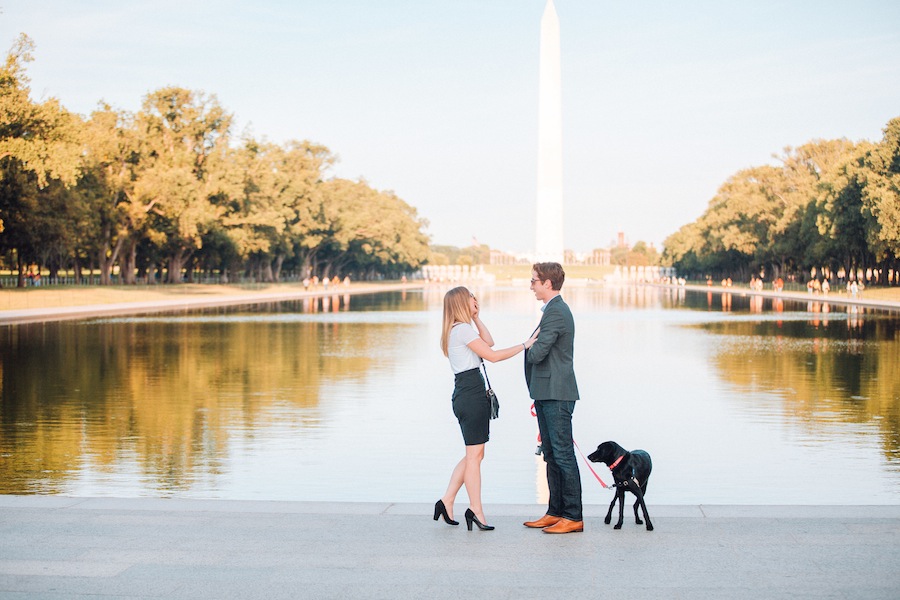 After picking the "where," Charlie needed the "how." To further complicate the plan, Charlie wanted to make sure that their dog, Reagan, was present for the proposal and photos to follow. So to get Paige and Reagan to the Reflection Pool—with Paige dressed and ready for her close-up—Charlie made up a very believable, but fake, DC event: "Barks and Blazers."
"I told her that it was an outdoor event where people dress up, bring their dogs, and have fancy cocktails," says Charlie. "I was describing it as a spin-off of Jazz in the Garden."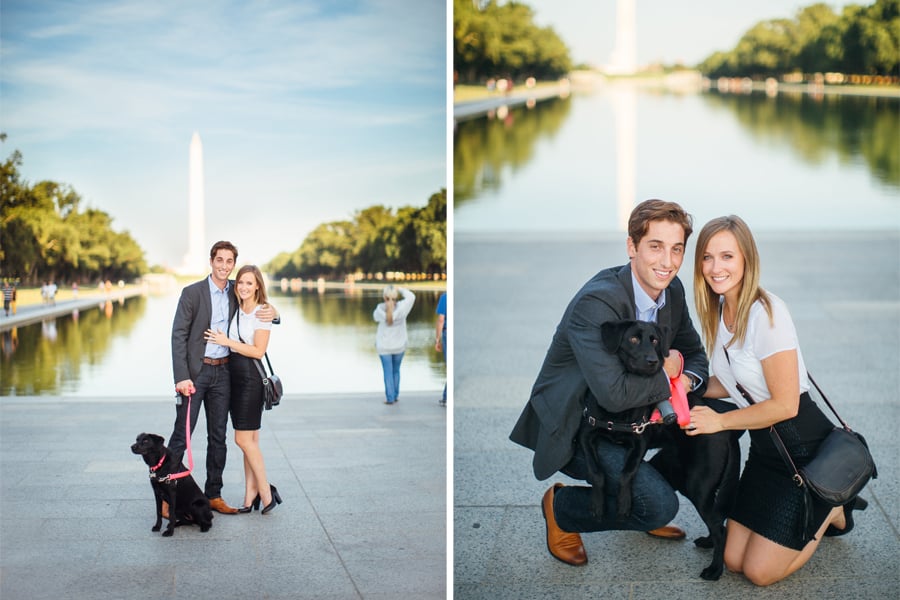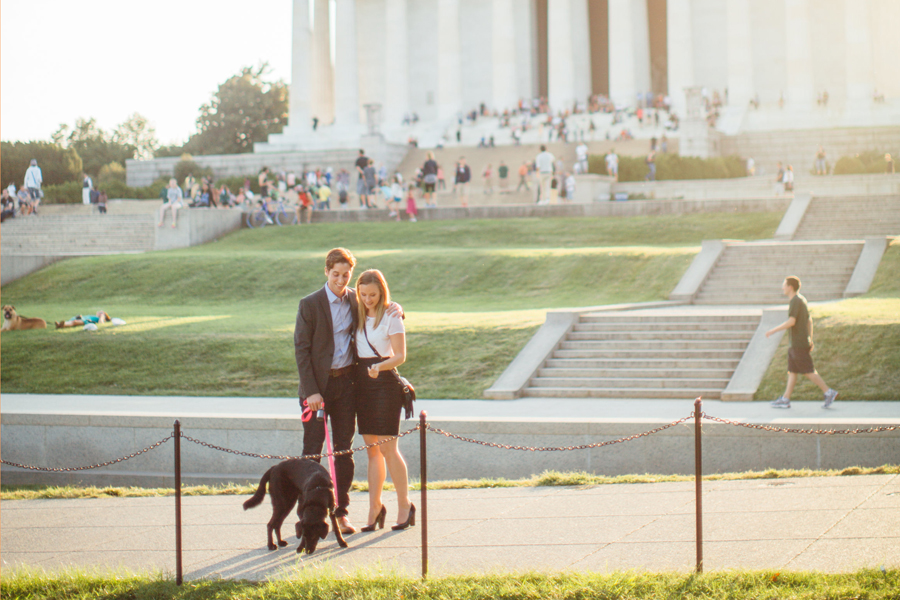 Once he got Paige and Reagan to the right spot, Charlie looked around for Carly Arnwine and her assistant, who he had coordinated with earlier that day. Standing near the reflection pool, Charlie bent down to fix his shoe—the signal to the photographer that he was about to pop the question.
"When Paige looked back down at me, she realized I was on one knee and I asked her to marry me," says Charlie. "Paige quickly said yes, while Carly and Mike were already snapping away. Paige was so taken back and confused when she noticed the two of them taking photos of us. After a few moments to catch our composure, Paige gathered herself and one of the first things she said as my fiancé was, 'So, are we still going to Barks and Blazers?'"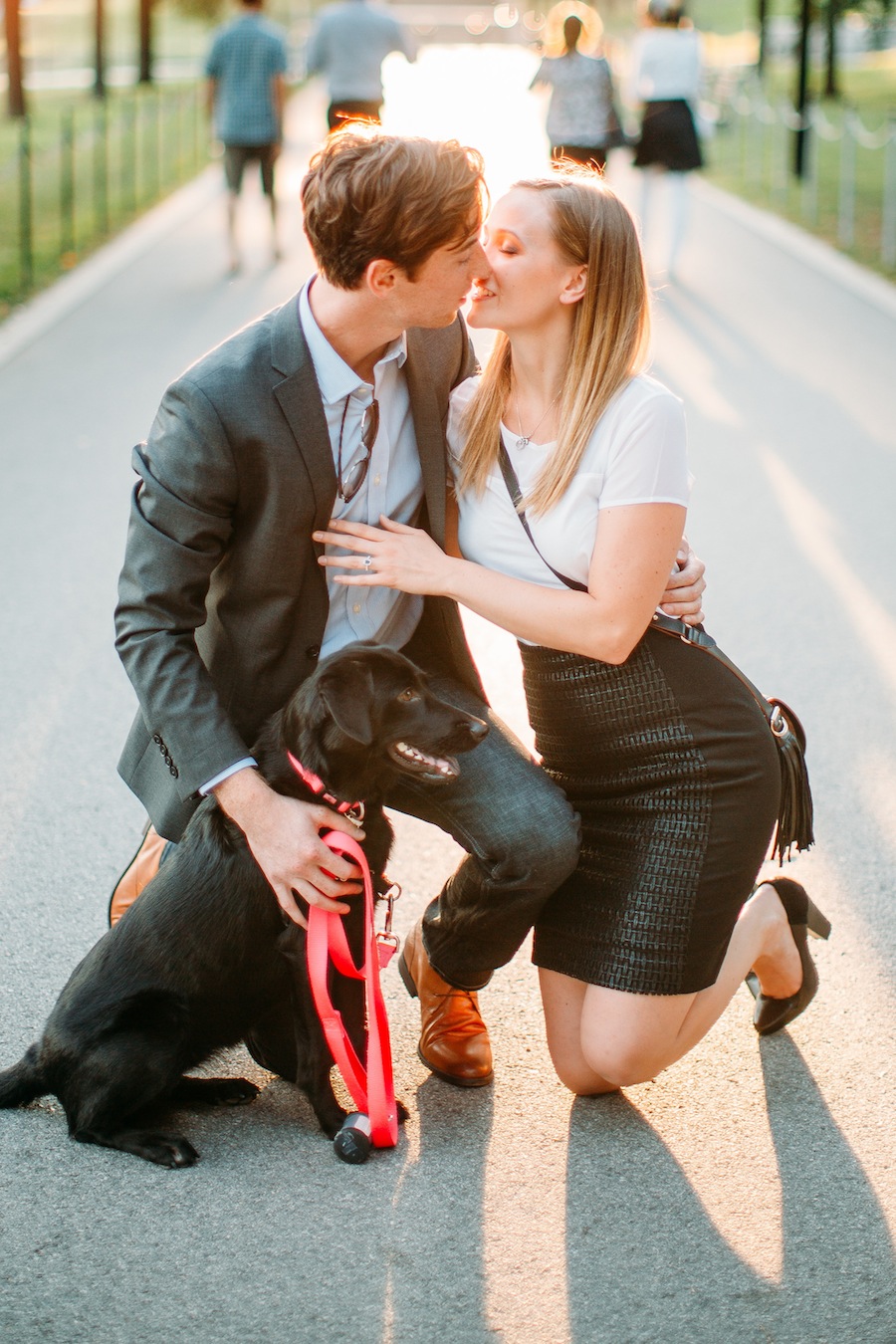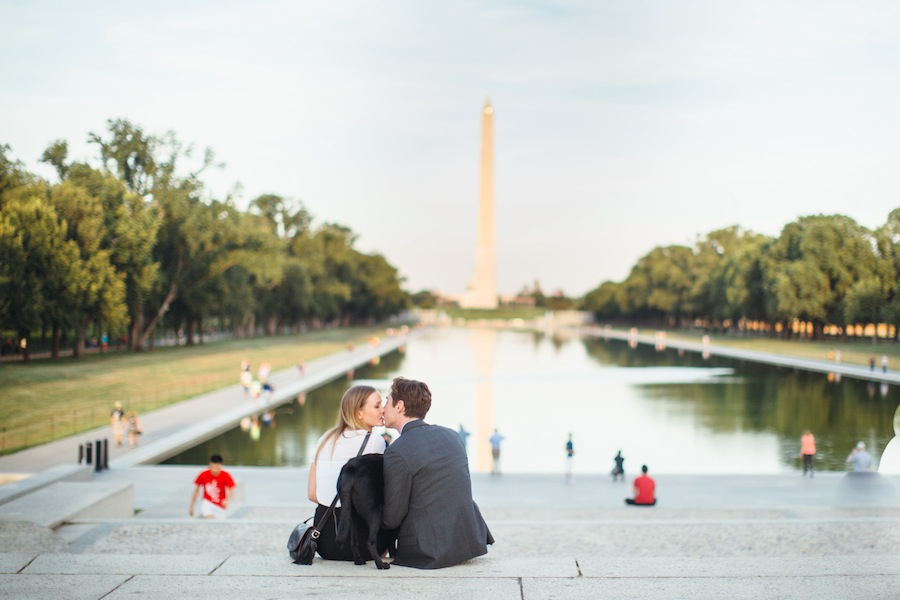 Though Paige was initially disappointed to hear that Charlie had made the event up, she quickly forgot all about it as they went about taking photos on the Mall. Paige and Charlie are set to wed at Our Lady of Mount Virgin in New Jersey on August 9, 2015.