With a February forecast of 70s and sunny, these outdoor bars and beer gardens are open for business (at least until the weather turns cold again).
1801 14th St., NW
The 14th Street beer and barbecue garden reopens at 5 PM on Tuesday due to the warm weather, and plans to serve brews and a limited food menu for the next few days before an official spring debut. Happy hour is literally just that—5 to 6—with $10 liters of beer, while eats include burgers, triple-grilled cheese, fried pickles, onion rings, and pretzels.
25 Potomac Ave., SE
Dogs and outdoor drinkers can thank the unseasonably warm weather for the reopening of this pup-friendly riverfront beer garden. Tentative hours are Tuesday, Wednesday, Saturday, and Sunday for fresh brews by the water.
1600 Seventh St., NW
Dacha stays open year-round thanks to heat lamps, blankets, and hot cocktails, but the warm weather is guaranteed to bring more drinkers to the al fresco garden. An added bonus: outdoor TVs for catching the Winter Olympics while you channel summer vibes.
749 Wharf Ave., SW
While many outdoor bars open in the evening, Kirwan's serves pints of Guinness and other Irish drinks from 11 AM to close. Head out on the patio for water views and tasty fish n' chips.
1940 11th St., NW
Both the front patio and back bocce plaza are open Tuesday and Wednesday for warm weather imbibing. Happy hour runs from 5 to 7 PM with a generous lineup of 15 wines by the glass for $5 (plus Peroni beers) and discount small plates.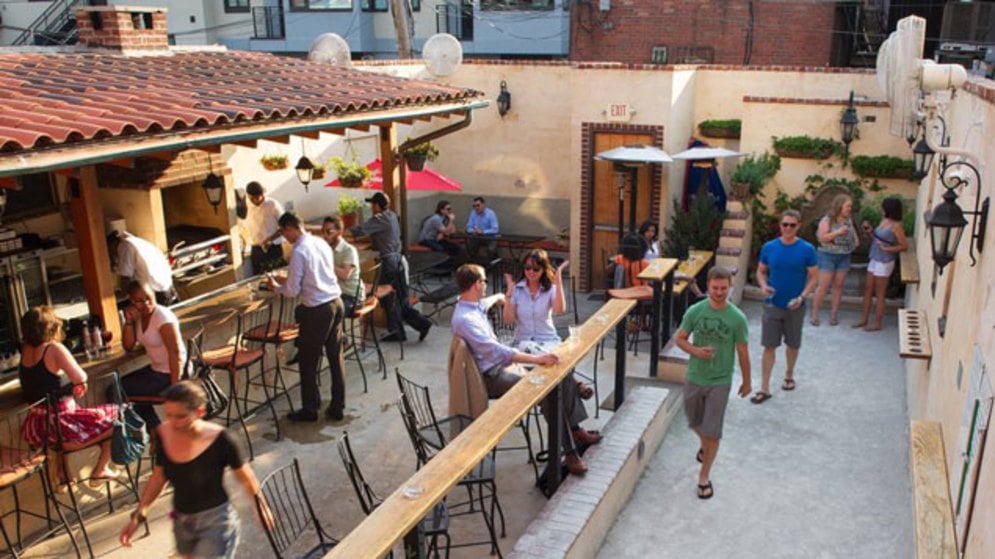 50 Blagden Alley,  NW
This new bar/restaurant in Blagden Alley is meant to feel like a backyard party—regardless of the season. When the temps go down, heaters and blankets come out. In warm weather we'd go for the tomato pies and boozy juice boxes.
1101 First St., NE
The gates open at 4 PM on Tuesday at Noma's atmospheric beer garden (usually closed today). Grab a picnic table with friends and explore the menu of local and Germanic beers and wines.
1115 East West Hwy., Silver Spring
Tuesday trivia heads outdoors at this Silver Spring brewery and beer garden thanks to the warm spell (games start at 8 PM). Expect a lot of hop nerds and fresh seasonal brews.
901 U St., NW/ 949 Wharf St., SW
Head outdoors with your pint at these sibling pubs on U Street and the Wharf.
79 Potomac Ave., SE
Chef Kyle Bailey's new Navy Yard spot has embraced its first cold weather season with fire pit tables and hot cocktails served in thermoses. When the temps climb you can head out to the patio overlooking the river for cold brews, wines, and stellar seafood.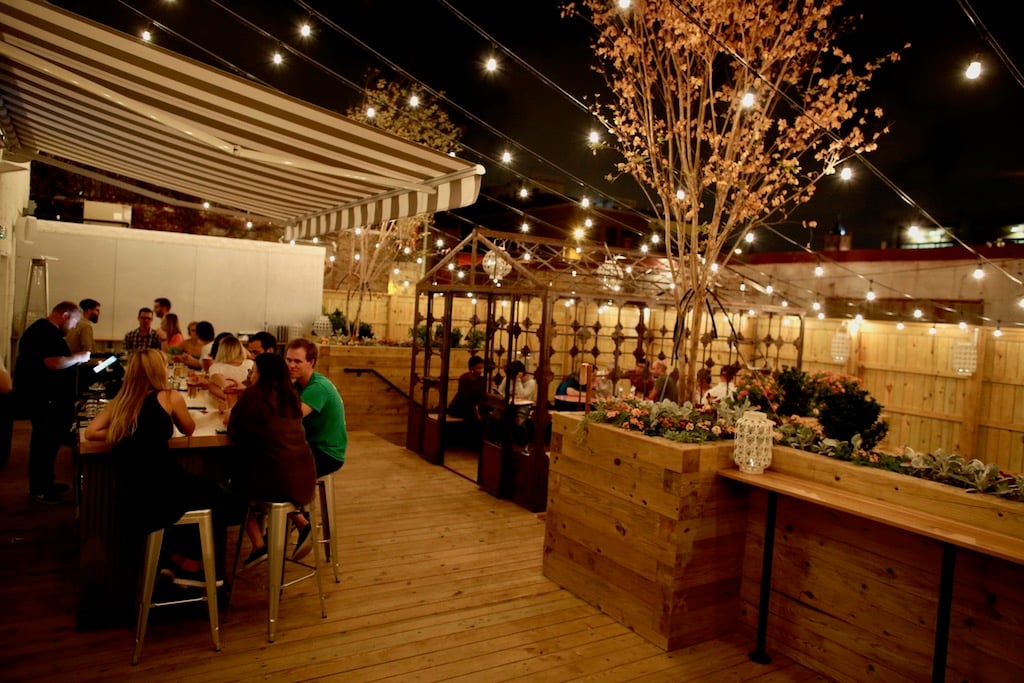 3211 Wilson Blvd., Arlington 
Eat your sandwich in the sunshine at this cafe and wine bar, whose outdoor patio is open for business. The indoor wine bar opens at 5 PM, but you can still pick between vino or coffee drinks during daylight hours.
2000 18th St., NW
Grab one of the big picnic tables at chef Alex McCoy's new Adams Morgan burger bar, where the beers run cold and the patties are towering.
1734 N St., NW
Dine under romantic wisteria vines for lunch and dinner at this Dupont Circle Mediterranean restaurant, which opens its brick-lined courtyard for dining and drinks over the next few days.