Our Washingtonian Recommends lists bring you the best places to eat, drink, and be entertained—all selected by Washingtonian editors.
Who dishes up the best pizza around DC? We've found destination-worthy pies at the best restaurants in town, plus others that are perfect for a delivery craving on the couch.
1250 Ninth St., NW
Chef Mike Friedman upgrades Italian-American favorites but never sacrifices their homeyness. There are garlic knots blanketed in alfredo-like fonduta, not to mention the city's best eggplant Parm. And that's before you get to the excellent pies. Toppings change often, but the fabulous Buona, with pepperoni and hot honey, always sticks around. Look for a new sibling pizza shop to open near Nationals Park on the waterfront in early April.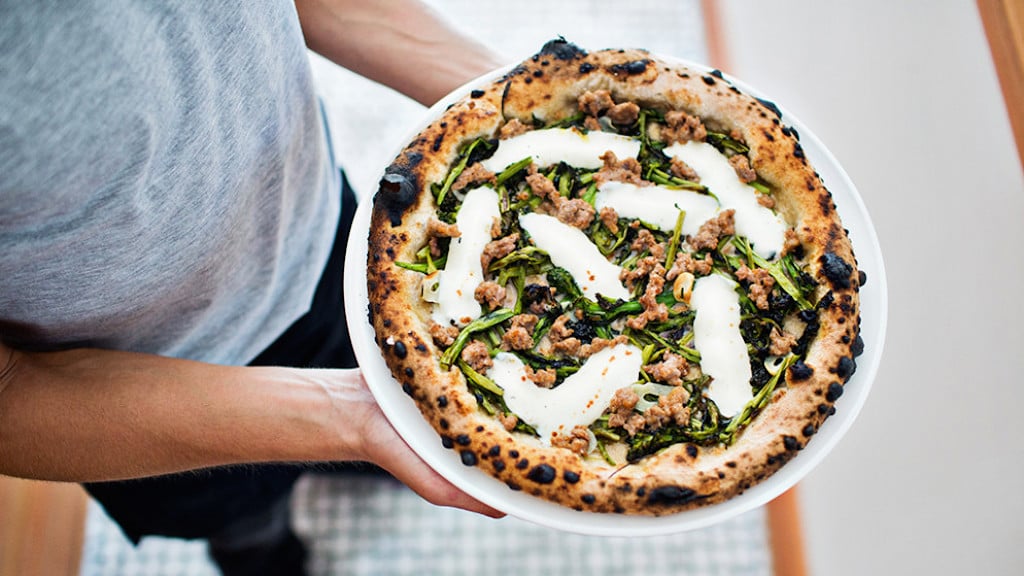 1541 14th St., NW
Lovers of bitter cocktails, tiny fish, and gloriously creamy cheeses—also known as Italophiles—have a home at this leisurely no-reservations hangout, a respite from the 14th Street swarm. We could graze for hours on the veggie specials like braised cauliflower with saffron—but don't forget to throw in a pizza, too. The crusts, arrayed with seasonal treats such as chanterelles and imported speck, are wonderfully chewy. More pies recently joined the menu, including a stellar nod to eggplant parmigiana.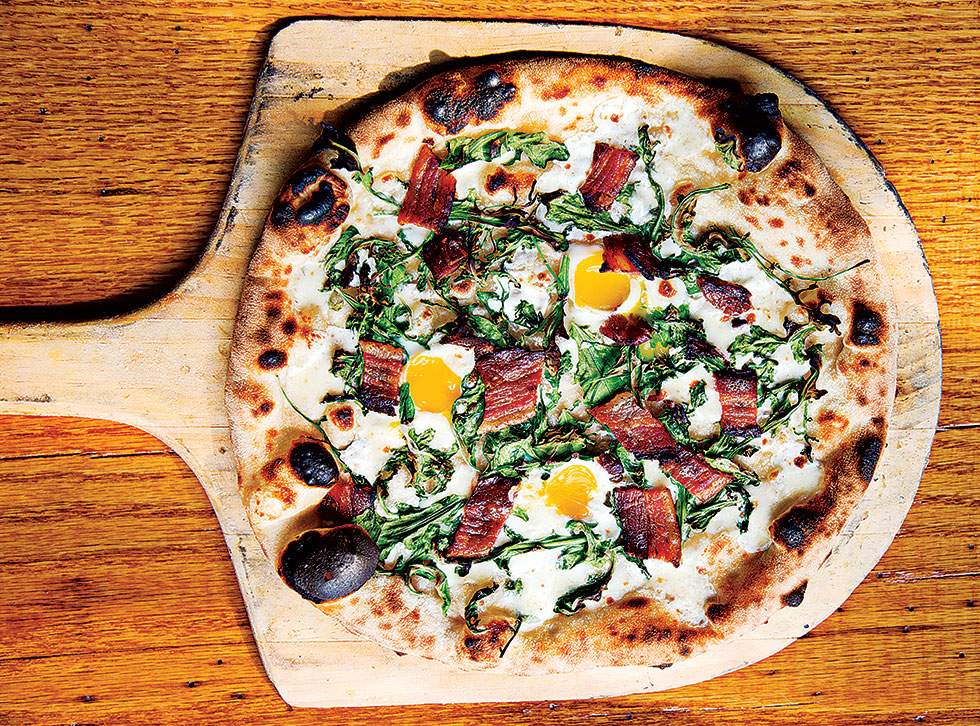 10417 Armory Ave., Kensington
If you're tired of ultra-thin, sparely appointed Neapolitan pies, get yourself to Frank Linn's cozy Kensington place. Here he makes a sturdier, chewier crust, which is subjected to a good amount of char in the brick oven he built himself. On top? Accessories such as house-made bacon and pickled jalapeños (on the excellent Hot Mess) or an earthy, seductive mix of cremini mushrooms, shallots, Gruyère, and porcini salt. Linn keeps himself focused pretty tightly on pizzas, but the few other things on the menu—abundant, well-dressed salads and not-too-sweet house-made sodas—are given just as much thought.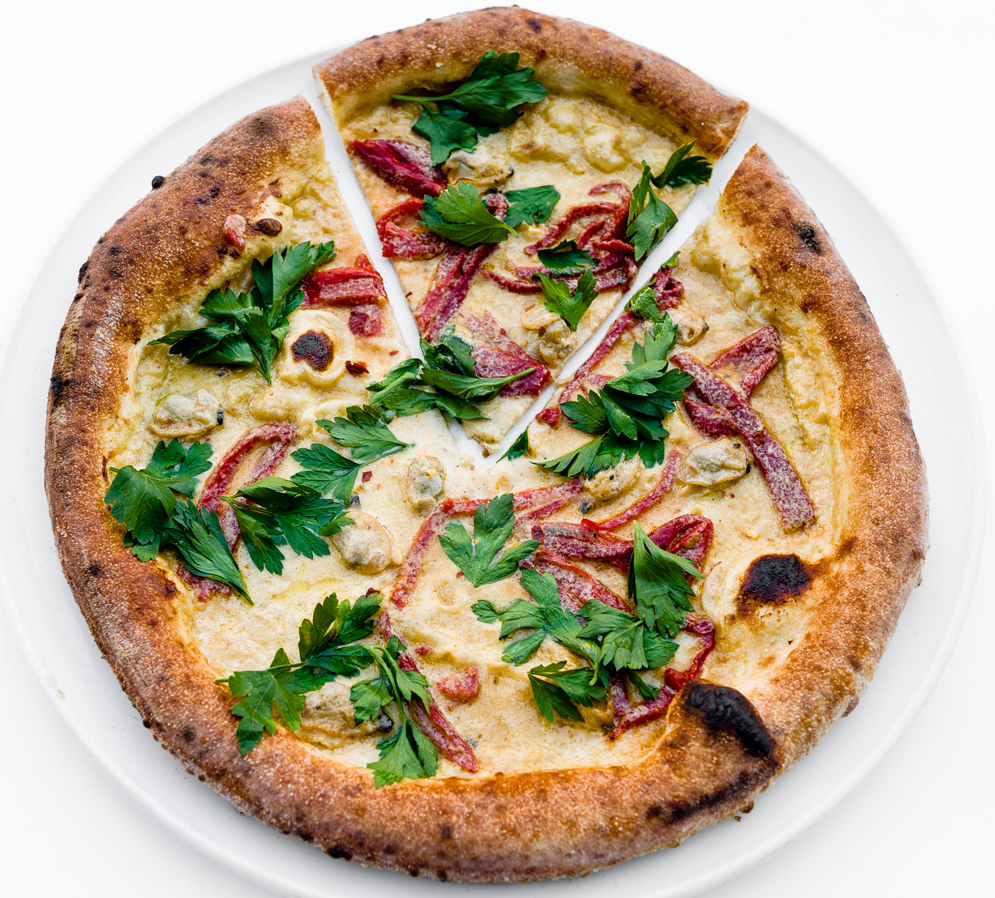 1610 14th St., NW
Ari Gejdenson's Neapolitan trattoria feels like a nightly party. Dates line the marble bar, sipping Italian wines or aperitifs. Groups crowd around wooden tables for blistery pies topped with cheffy combinations such as locally made sausage with charred onions. Get them for a discount during $10 pizza happy hour, offered daily from 3 to 6:30 PM (Monday starts at 4) alongside discount cocktails and wines.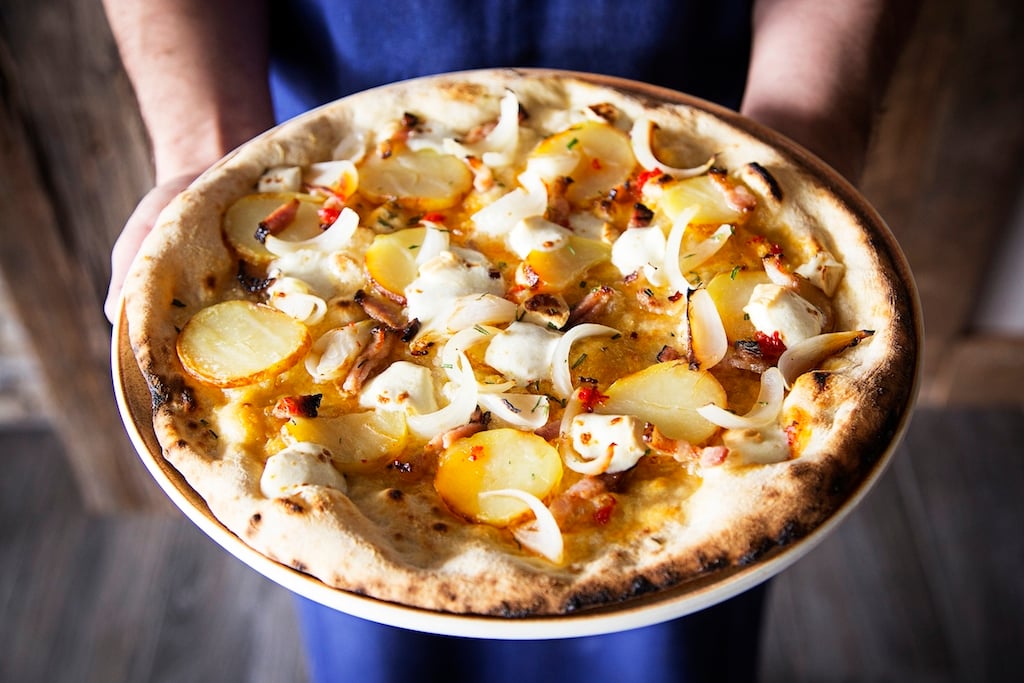 12207 Darnestown Rd., Darnestown
Is any pizzeria worth braving I-270 traffic for? Yes, if it's Tony Conte's 44-seat Neapolitan shop. This isn't pizza—it's a revelation at the hands of a "dough nerd," as servers describe Conte, who can be seen peeling pies from the oak-fired oven. Conte traded decades in fine dining to pursue his passion, which shows: Airy, char-pocked crusts are the best in Washington, complemented with toppings such as fior di latte cheese with mushroom Bolognese. Just go early—when the dough's gone, the doors close.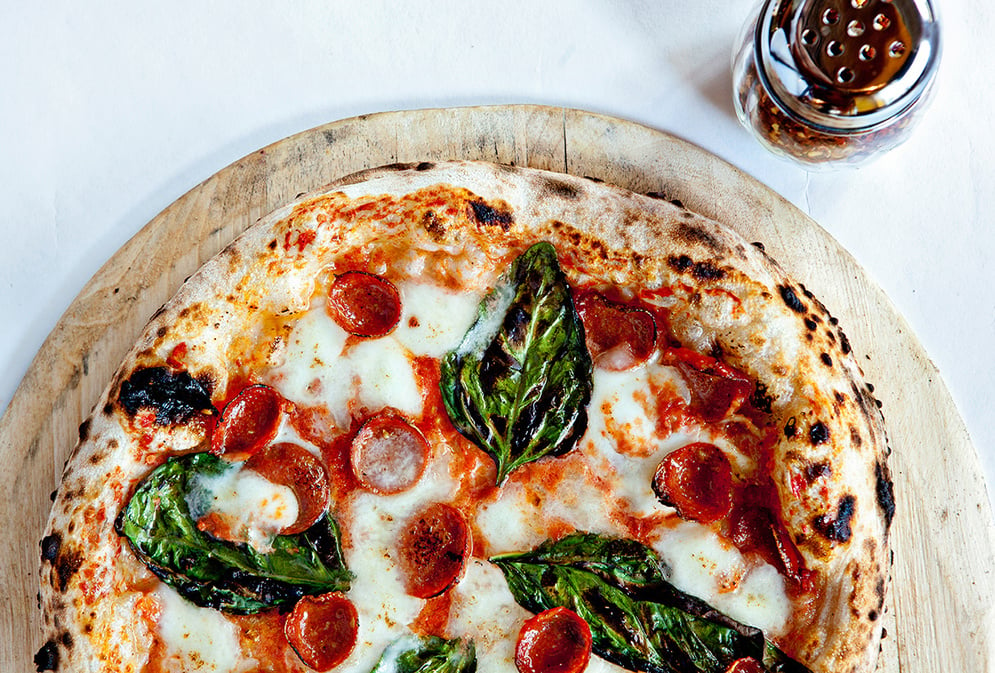 400 S Maple Ave., Falls Church
At this cheery, kid-friendly dining room, chef Bertrand Chemel's rounds sport a crust that's sturdy enough not to disintegrate under the buffalo mozzarella and other high-quality toppings. (Just try not to pluck off all the nickel-size coins of piquant pepperoni while the pie is cooling.) And the other accoutrements—lovely desserts, brittle, olive-oily crostini—show the work of an accomplished chef who doesn't overlook the little things.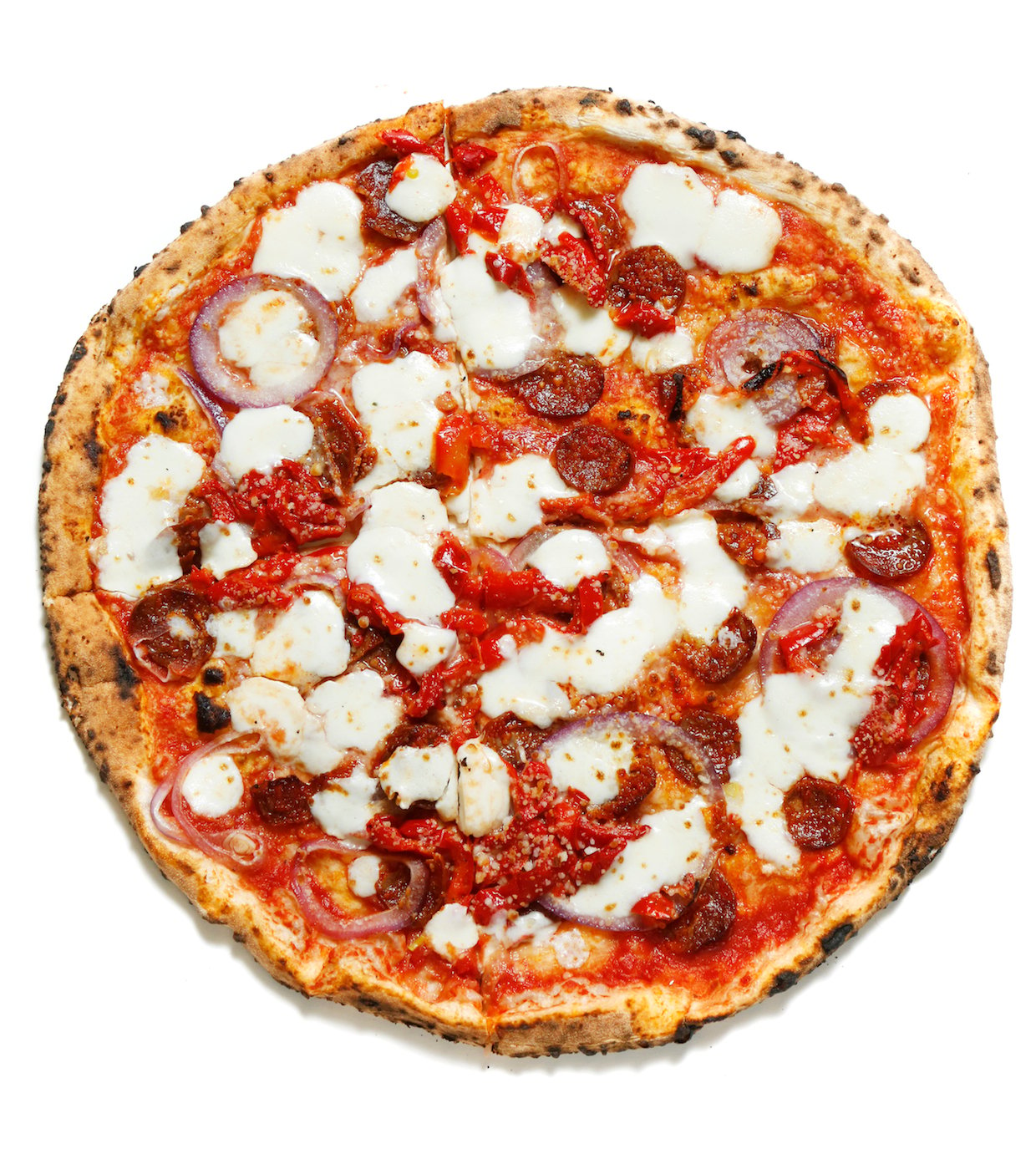 5104 Wilson Blvd., Arlington
The red-tiled beauty that anchors this narrow dining room is the Maserati of wood-fired pizza ovens. Imported from Naples, it runs hotter and cooks more evenly than its competitors. So whether you order a straightforward Margherita or a more embellished Calabrese with olives, basil, and anchovies, you can expect tender crusts with just a bit of char. For those who want to sidestep the line that forms on busy nights, carryout pizzas travel well (and online ordering is now available).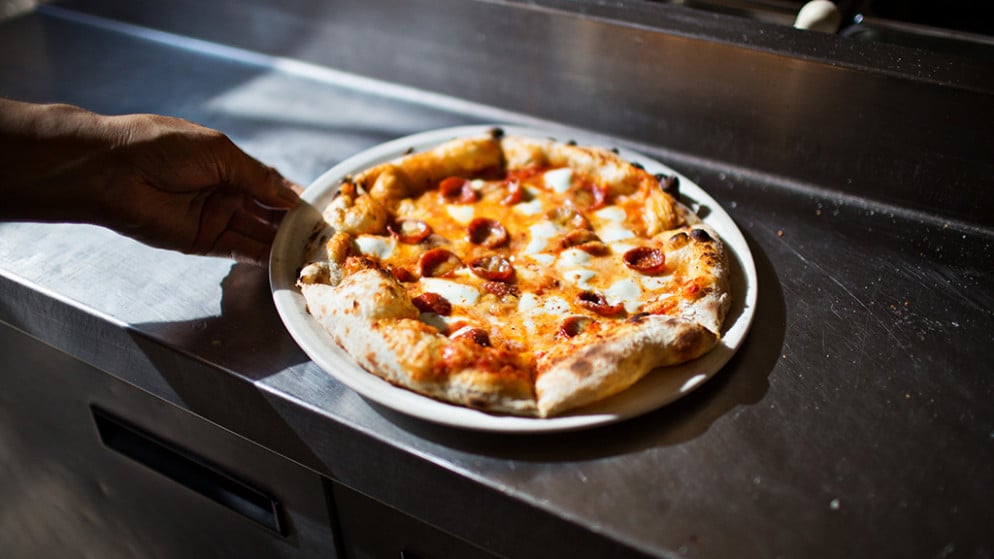 3715 Macomb St., NW
On a recent night, we sat near a table of rambunctious children and, on the opposite side, chefs from Pineapple and Pearls. That's 2 Amys, and despite the din, we wouldn't want it any other way. Two menus play to the varied crowd. Kids and carb lovers go for wood-fired Neapolitan pizzas. Food nerds never miss small-plate specials such as shaved porchetta in tonnato sauce and an abundance of "little fishies." (The menu boasts "the most extensive collection of salt-cured anchovies on the East Coast.") Restaurateur Peter Pastan's weird and wonderful Southern Italian wine collection is worth a trip in itself.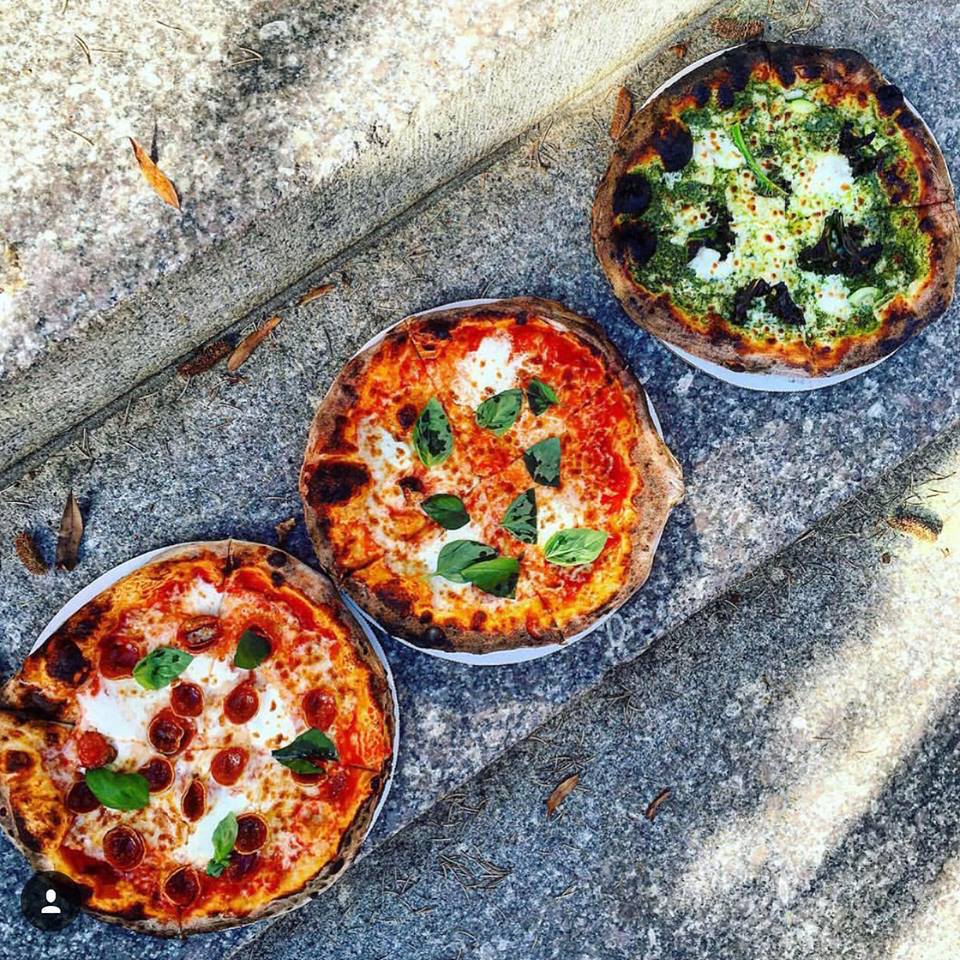 809 Upshur St., NW
Timber Pizza got its start with a mobile wood-fired oven at farmers markets, so it's no surprise that local ingredients play prominent parts in its permanent Petworth home. "Neapolitan-ish" pies are dressed up with seasonal vegetables plus untraditional toppings like pumpkin seeds or hot-pepper/nectarine jam. Order at the counter, then settle in at one of the communal picnic tables, at barstools, or on the indoor porch swing for a lucky two. The copper-domed oven in the center of the rustic-industrial dining room isn't just for pizzas—empanadas and waffle cones for gelato sundaes get a fiery touch as well.
5037 Connecticut Ave., NW
Chevy Chase DC's neighborhood pizzeria still packs in loyal fans after 12 years. Thin-crust, wood-fired pizzas win over kids and adults alike—the latter with creative combinations like the homemade lamb sausage, tzatziki, and whipped feta, or clams with melted onions and thyme. We're also fans of the many salad options and starters like roasted veggie platters (or for the indulgent, fried mac n' cheese bites). On busy nights, the bar gets packed, as does the wait for ping pong tables in back.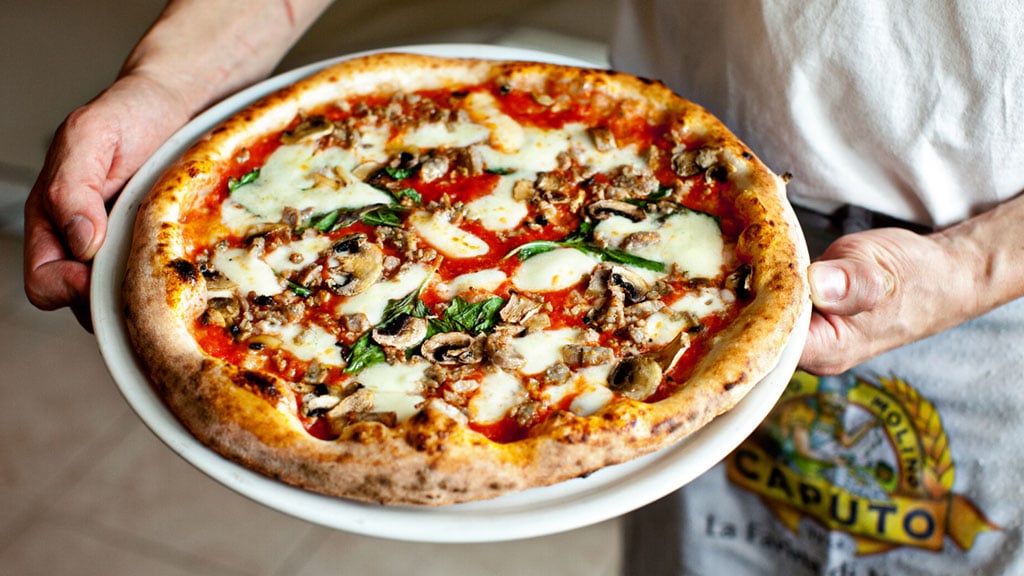 2711 12th St., NE
This Brookland pizzeria specializes in Neapolitan pizzas with bright and sweet tomato sauce, tangy slices of fresh mozzarella, and a crust (cooked quickly in the custom-built wood-fired oven from Italy) that hovers between chewy and crispy. The pizza dough is wisely repurposed for excellent calzones and sandwiches, which deliver the crunch of a grill-pressed Cubano. A heads-up for hop-heads: The craft-beer list is unexpectedly deep and interesting for such a tiny operation.
1063 31st St., NW
The crusts at the canal-side Georgetown spot are a wonderful balance of chewy and crisp, and the wood-burning oven lends them an irresistible smoky perfume. In the Neapolitan fashion, you should expect a certain wetness at the center. Fold the flap back, and—in the case of the excellent La Regina—enjoy the creamy disks of buffalo mozzarella and tender prosciutto di Parma.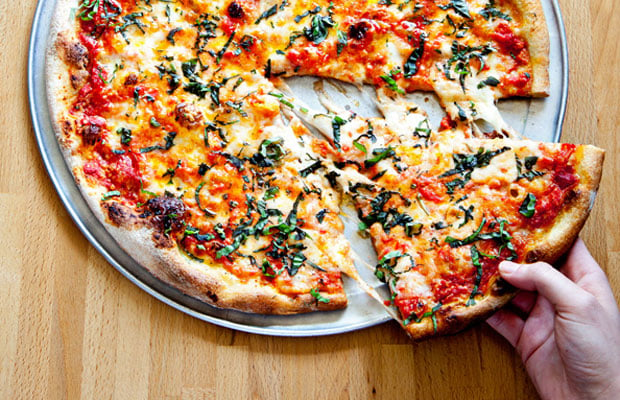 Locations in Friendship Heights, Columbia Heights, Clarendon, Silver Spring
We wouldn't consider this local chainlet a destination pizzeria like some other spots on this list, but we're quick to recommend the restaurants for neighborhood eats, delivery (their pies hold up well and come in party sizes), or just a New Haven pizza craving. We're fans of the classic clam pie, the Coliseum topped with caramelized onions, olives, and fried eggplant, or for spice fans, a Staven with pepperoni, hot sausage, garlic, and hot pepper spread. That being said, the menu is big with plenty of good options for all.
Locations in Dupont Circle, Georgetown, Alexandria, Hyattsville 
Pizza pioneer Ruth Gresser was among the first to launch a wood-fired, from-scratch pizzeria in 1991. Experience pays off; the company is still expanding, with a new Spring Valley location opening soon. Expect a stellar beer selection at all with plenty of unusual finds, and flavorful pies like the Paesana with spicy pesto, homemade chicken sausage, peppers, roasted escarole, broccoli rabe, ricotta and mozzarella. (There's also a DIY section.)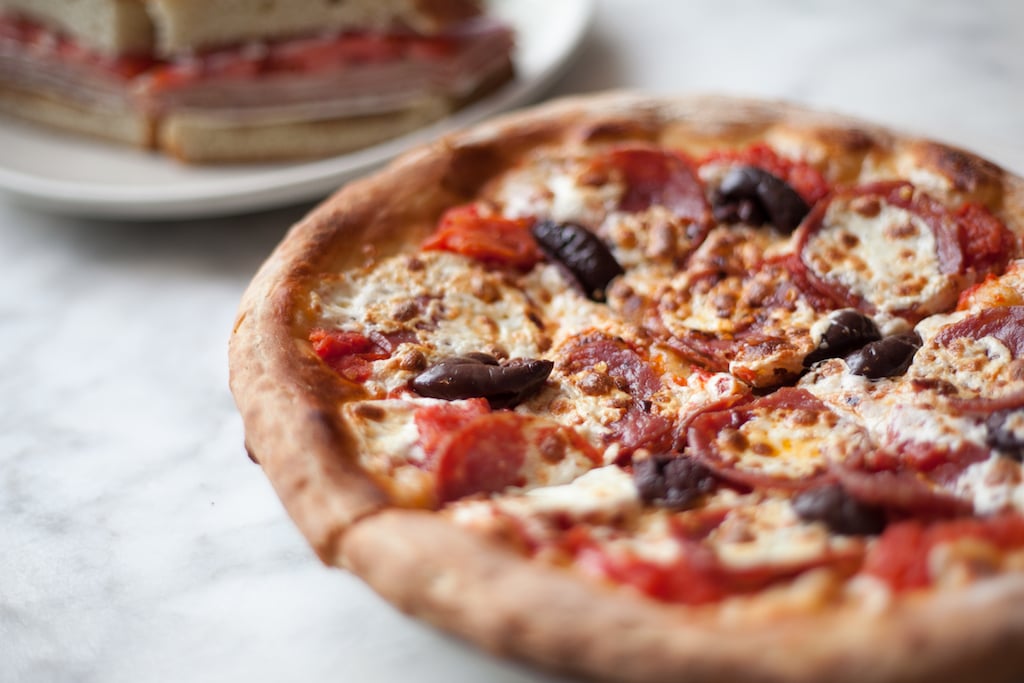 3315 Connecticut Ave., NW
This Italian deli and market in Cleveland Park may feel like a throwback, but its pizzas are far from classic. The kitchen layers cheese and then sauce on top, making for an addictively gooey bite. It's sold by the slice or pie, and in a world where small $18 Neapolitan rounds are the norm, the $11 price tag for a pizza that could feed four seems stunningly cheap.
Locations in Downtown DC, Foggy Bottom, Arlington 
New York–style pizza slices—especially when you get them outside the five boroughs—are often grease bombs. Wiseguy owner Tony Erol has avoided that, thanks to a near-obsessive drive to get the hallowed pies right. His are made without shortcuts—the kitchen proofs the dough for a full day and pulls fresh mozzarella curds each morning. The fabulous result is a slice more crispy than floppy, with just the right ratio of slightly sweet red sauce to cheese. Don't miss garlic knots showered with plenty of Parmesan and served with marinara for dipping.