Heather Chalfin met Jay Rhee as a surgery intern during her second year as a resident. During her first year, she and her friends had a ritual: they'd spend every Saturday off together as a group. But as the second year began, everyone's schedules began to be much more varied. "It was a lonelier time," recalls Heather.
Which is why, when a neurosurgery chief resident asked her to grab drinks at Barcocina, a Mexican taco bar in Fells Point, she immediately said yes. When she arrived, the chief resident had brought along the new neurosurgery fellow, Jay. Heather and Jay immediately felt a connection, though Heather teased him so much about his age Jay walked away from the evening thinking that she was not interested (Jay is seven years Heather's senior). In reality, it was just Heather's rusty attempt at flirting.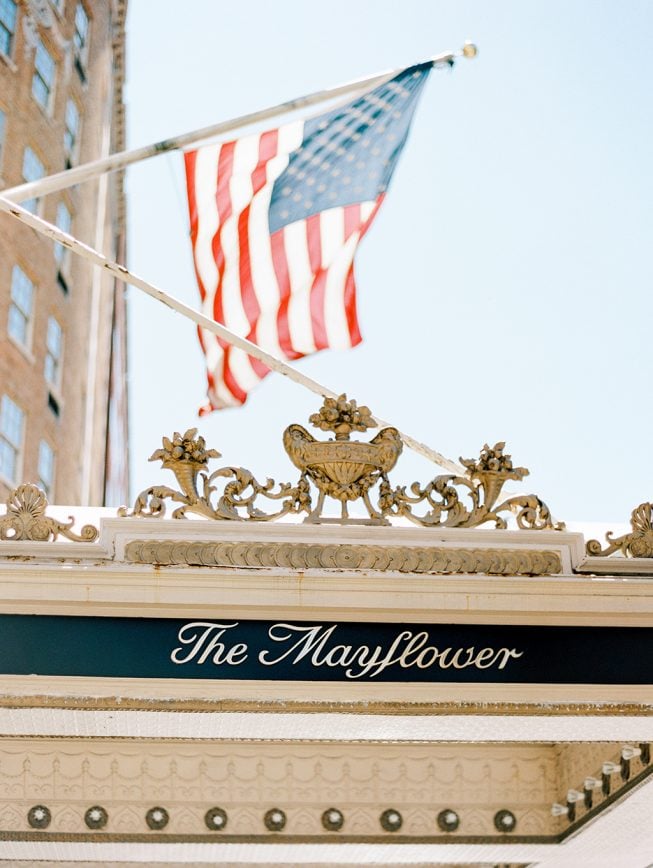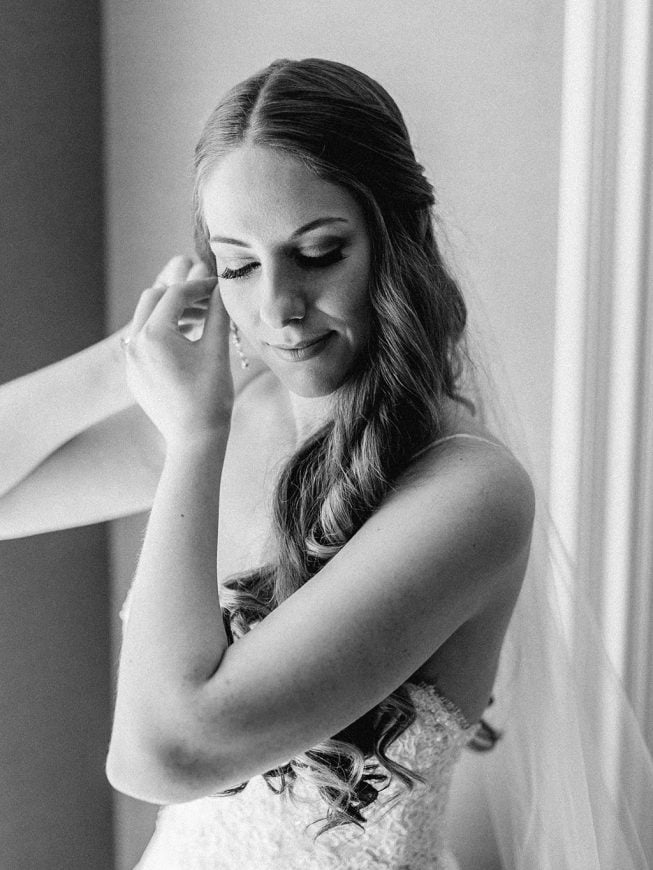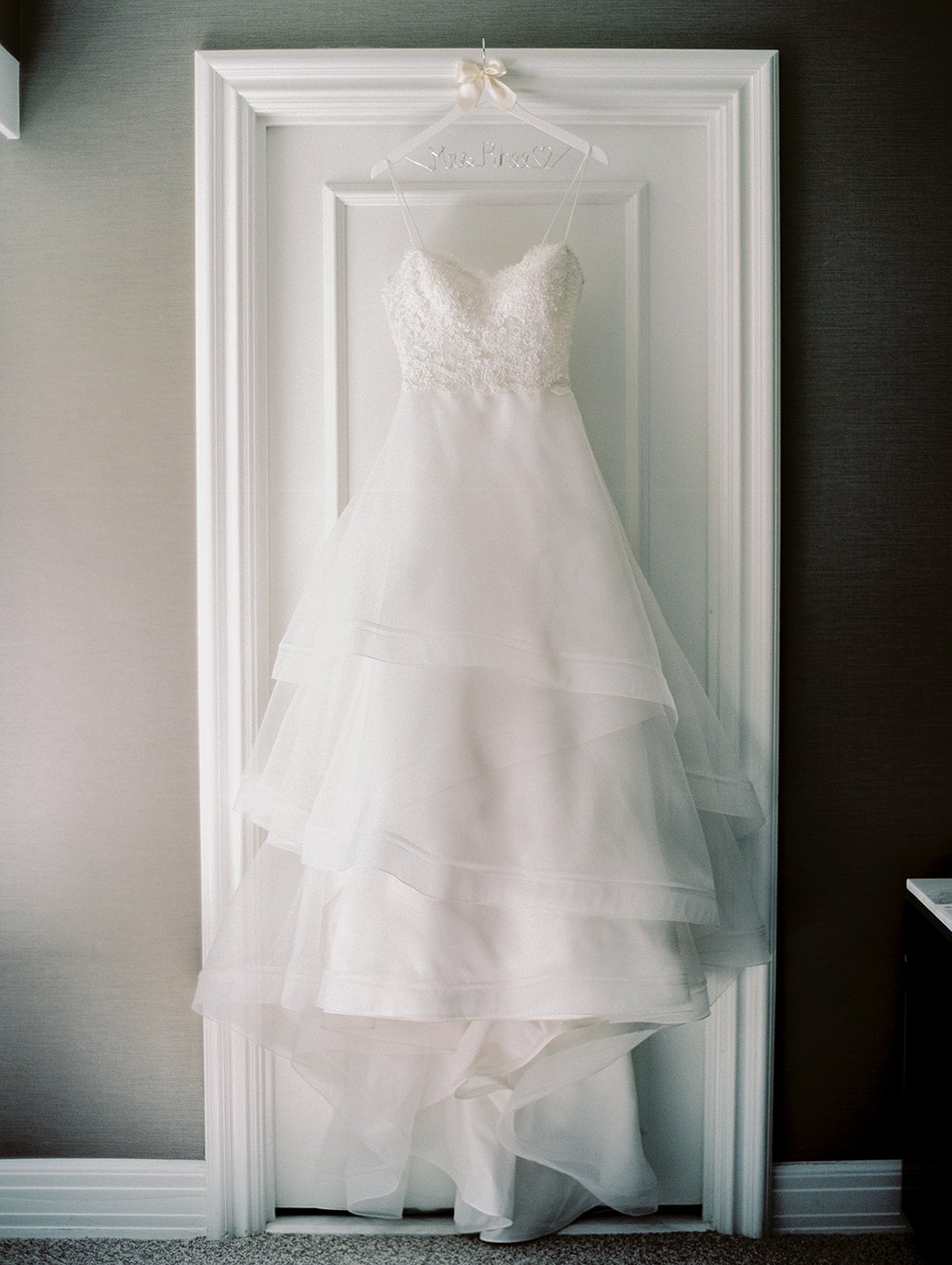 The next day, Jay and Heather made plans to meet up again and go to an outdoor barbecue and pool party, followed by dinner in Canton and a movie. Though Heather ended up loathing the film, she noticed she still had an amazing night in Jay's company. For their second date, the two planned to get dinner before one of her night shifts. She was so tired, Jay ended up bringing her takeout instead. Within a few weeks, Heather was meeting Jay's siblings and friends.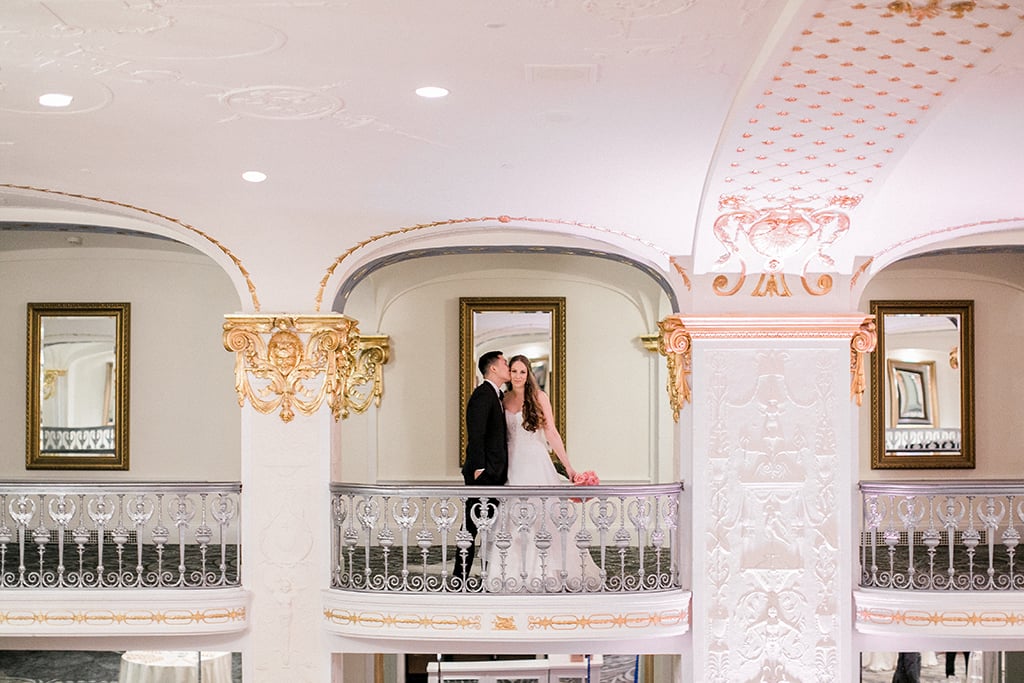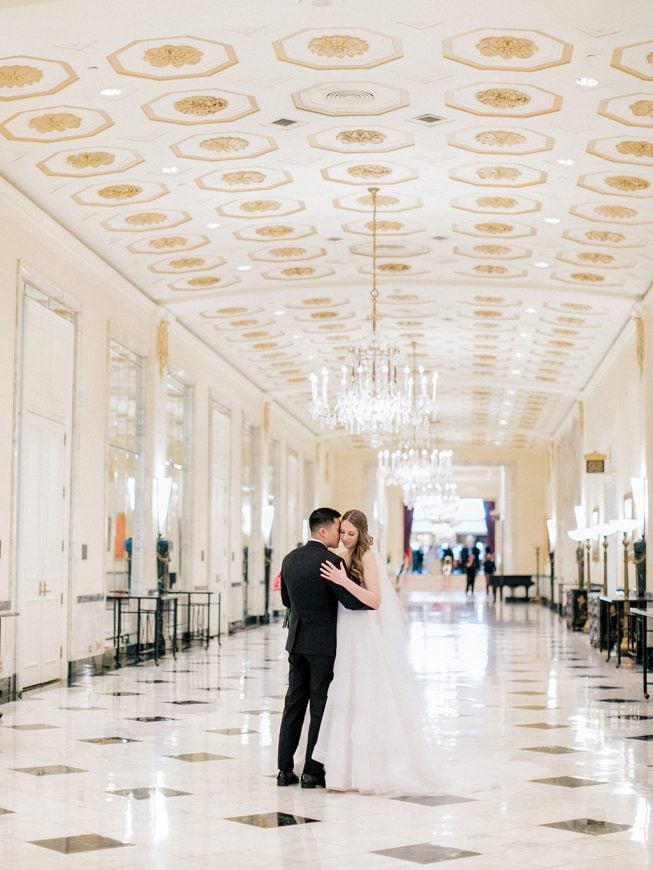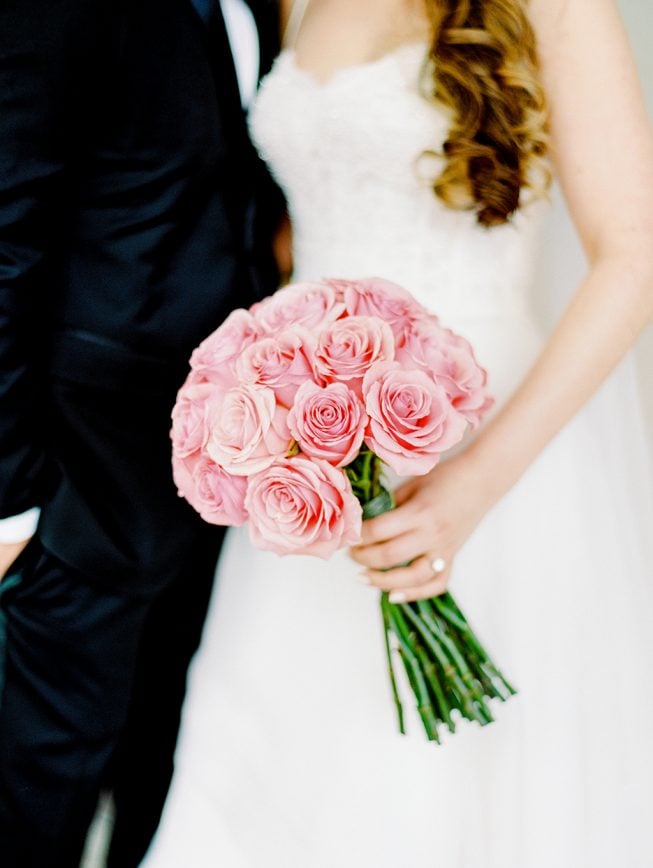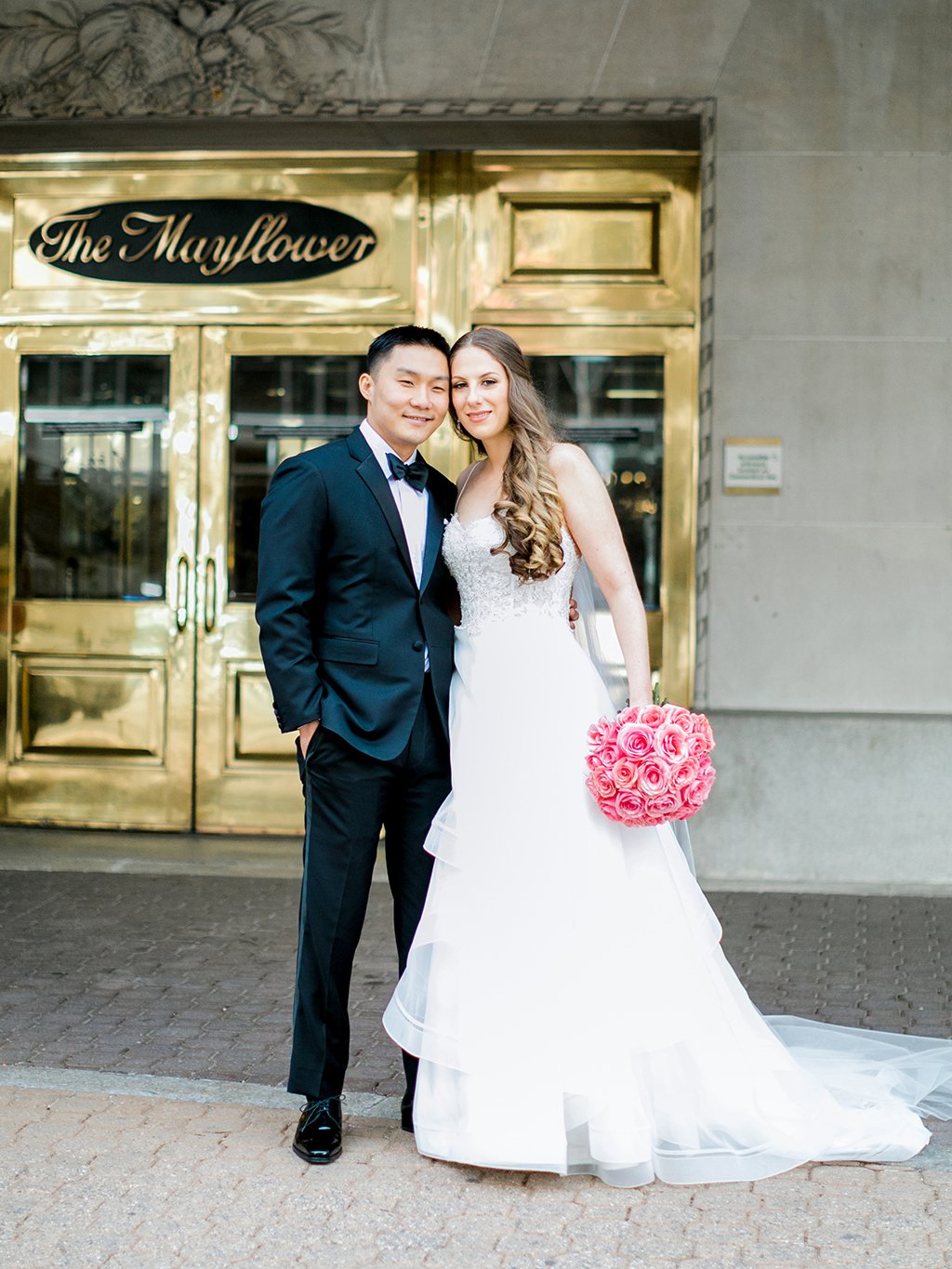 "We both knew each other was 'the one' very early on," recalls the couple, who got engaged nine months after their fortuitous first meeting. The pair were out at dinner at Prime Rib in Baltimore. Heather had already picked out the ring, so she knew a proposal was coming. Still, when a server brought out a dessert plate covered with a silver dome, the engagement ring hiding beneath it was a surprise. That was the official moment they got engaged.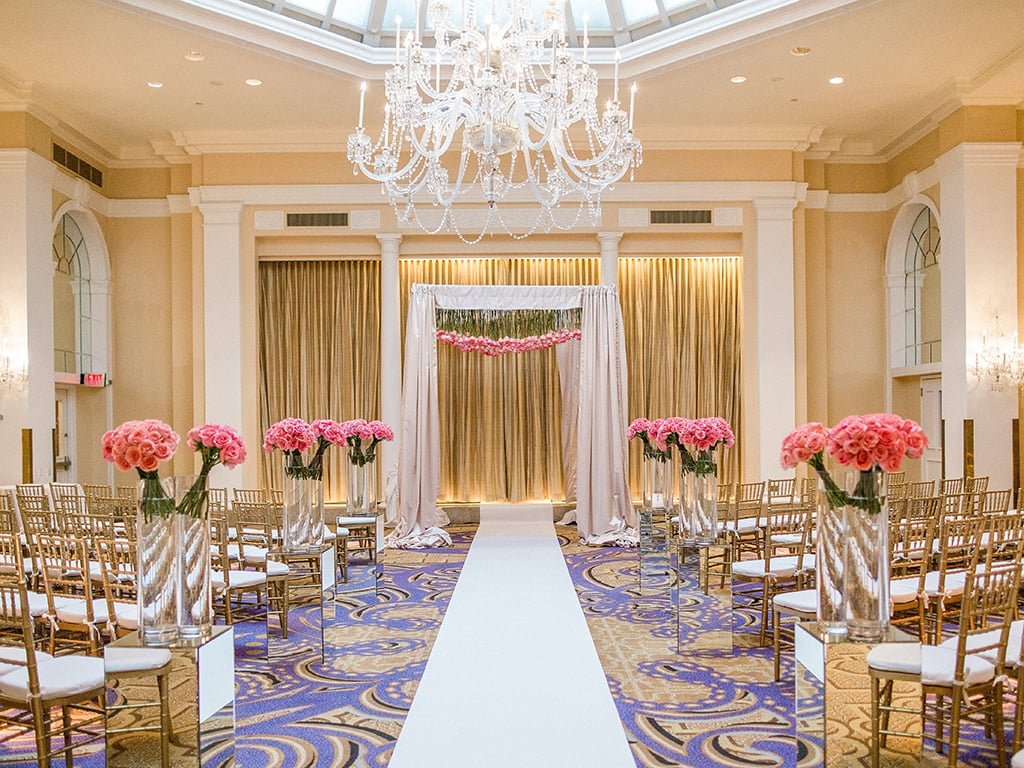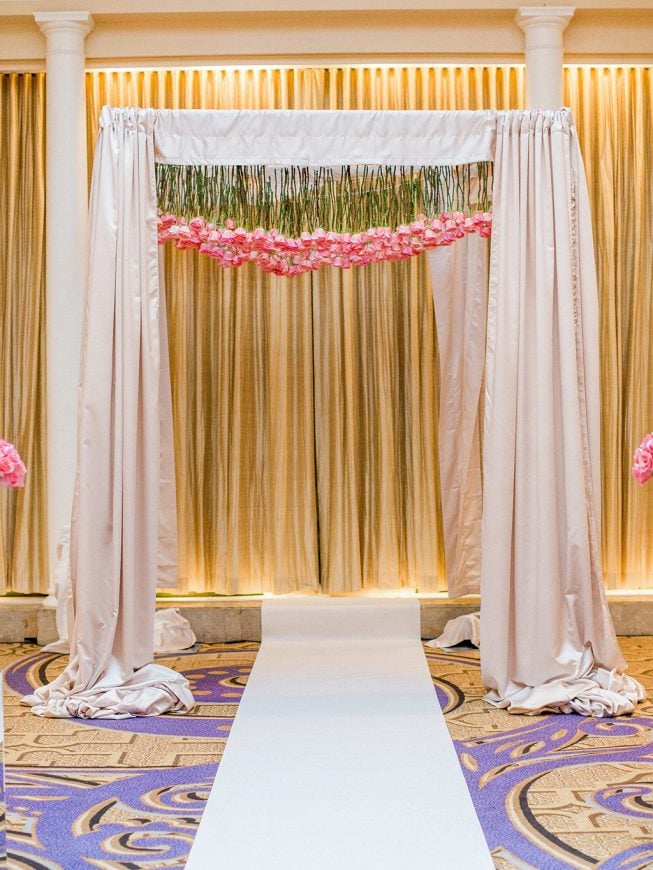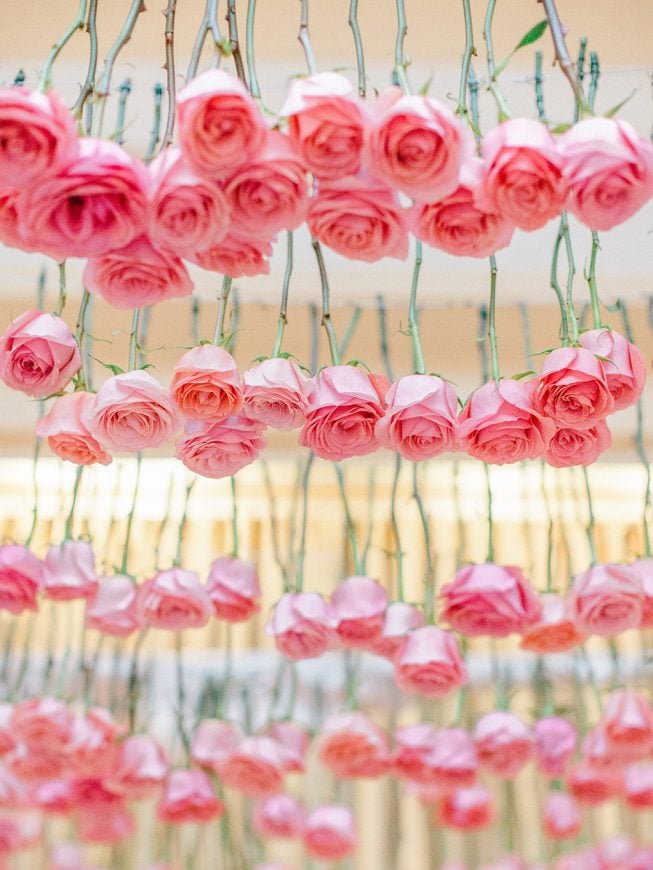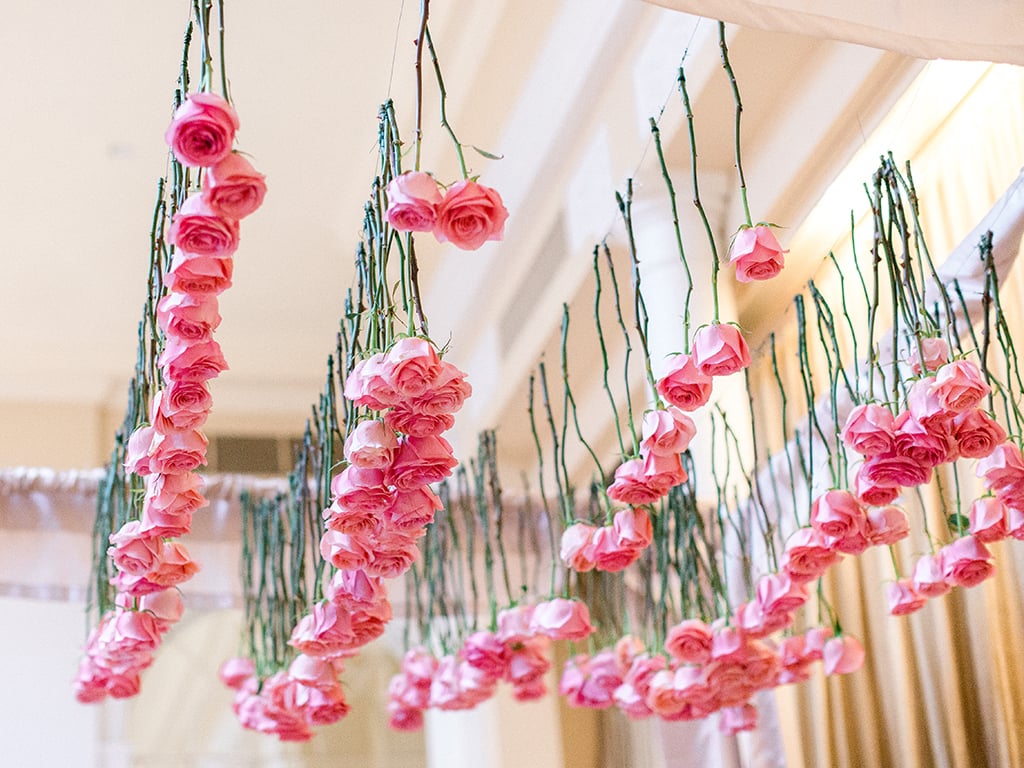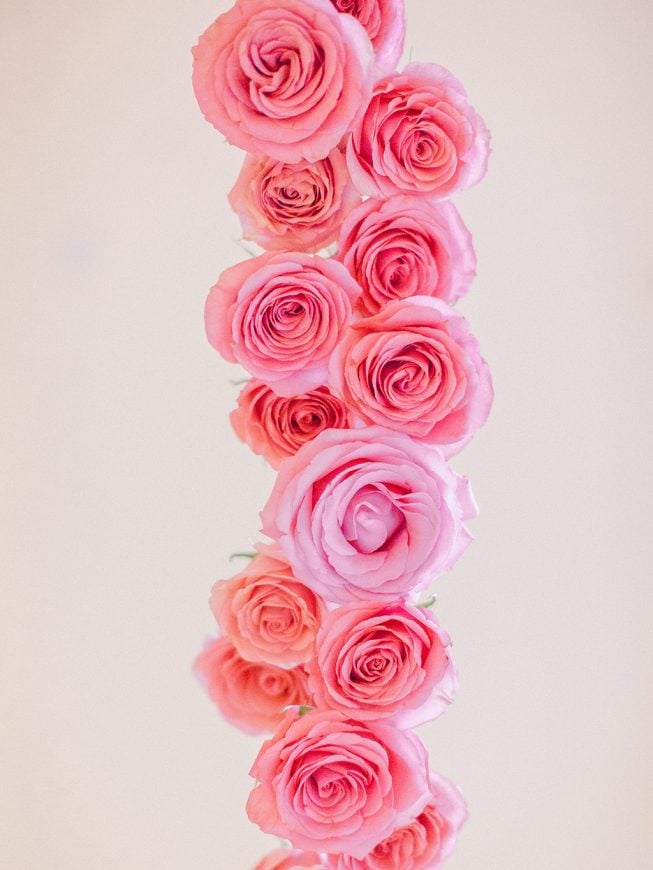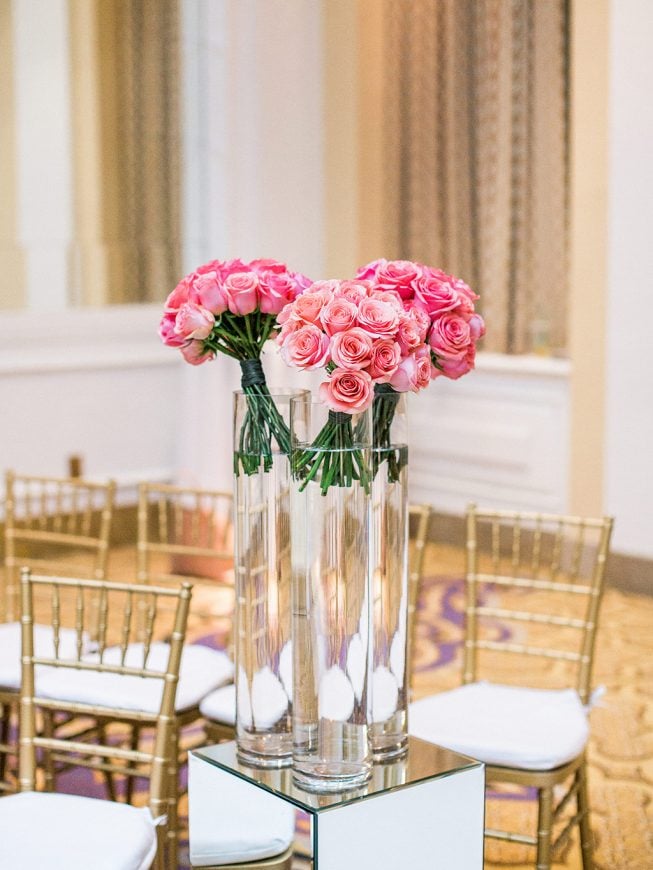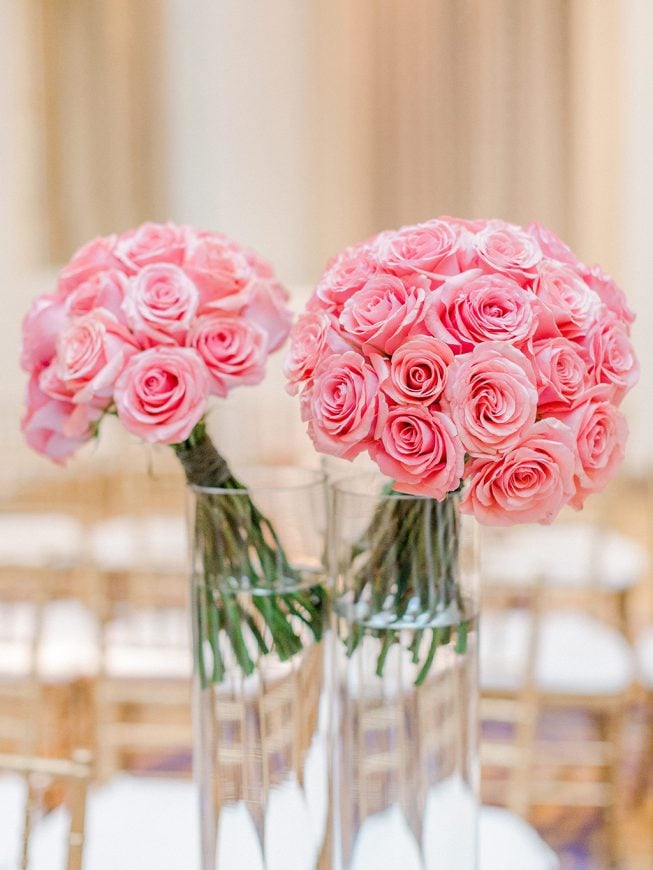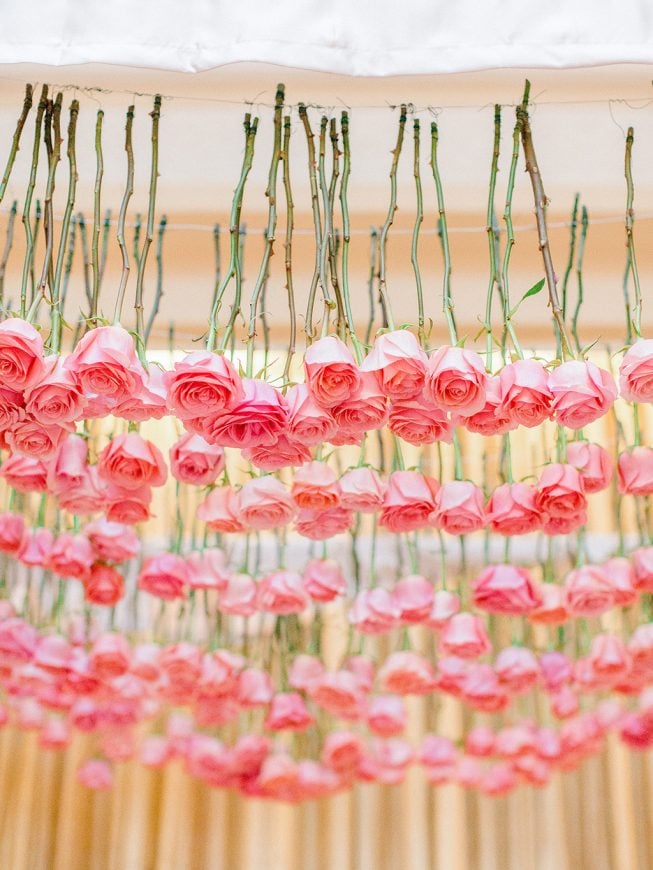 In truth though, the quiet moment they had agreed to wed happened months earlier. Jay had been working on a country-wide job search. Heather was dismayed with the thought that Jay could possibly move away. They were sitting together during a brief break in their schedules surrounded by colleagues who were working and studying. Jay was trying to comfort Heather without disturbing the crowd, so he jotted down a note on his coffee sleeve and slid it over to Heather.
"We will get engaged soon regardless," it read. Heather still has that coffee sleeve.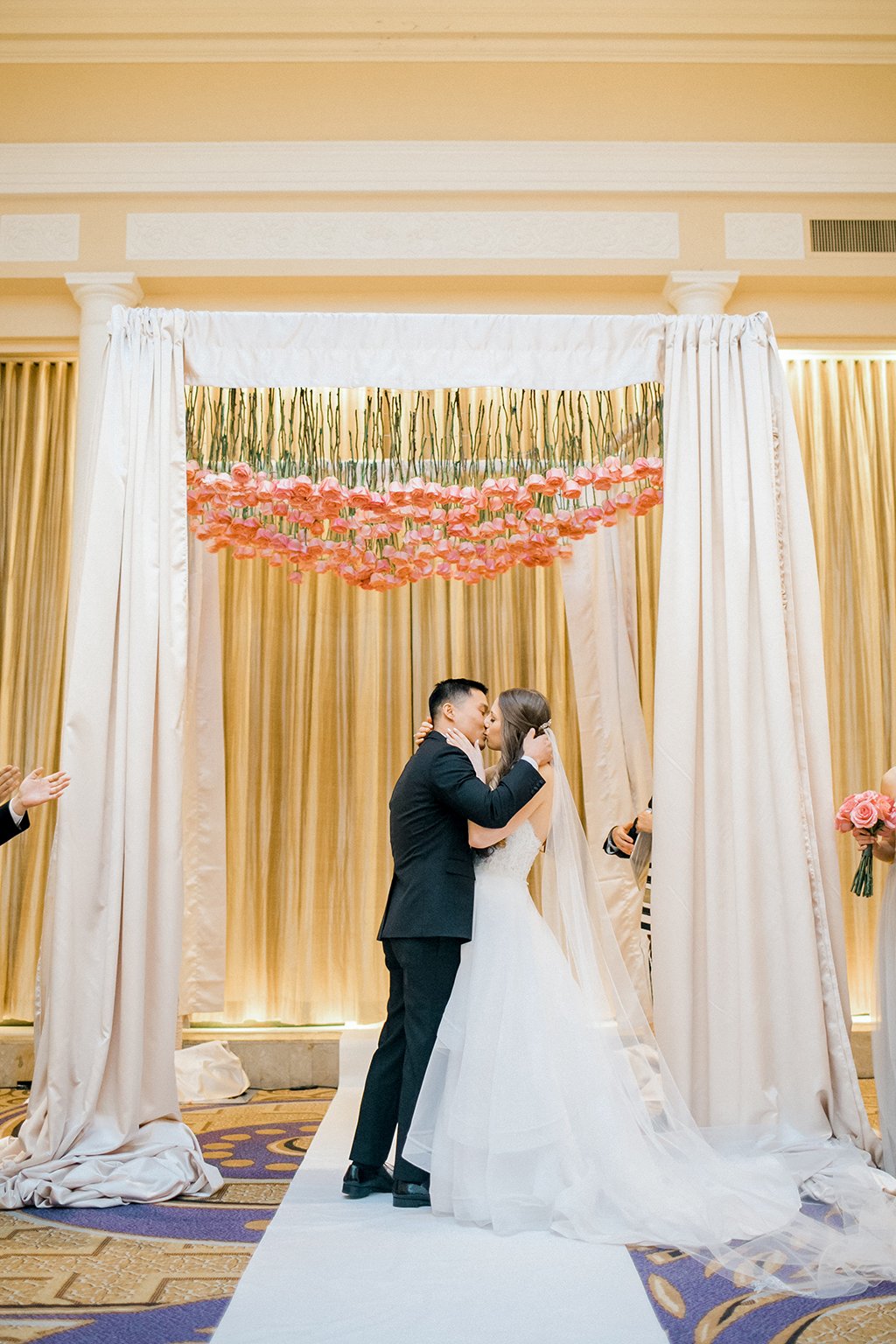 The pair finally tied the knot on a spring day at DC's gorgeous Mayflower Hotel in an elegant black-tie wedding that prominently featured one of Heather's favorite flowers: pink roses. "We went to the flower warehouse and looked through millions of roses," she recalls. The flowers were then tied in tight bouquets and also hung from the altar to stunning effect.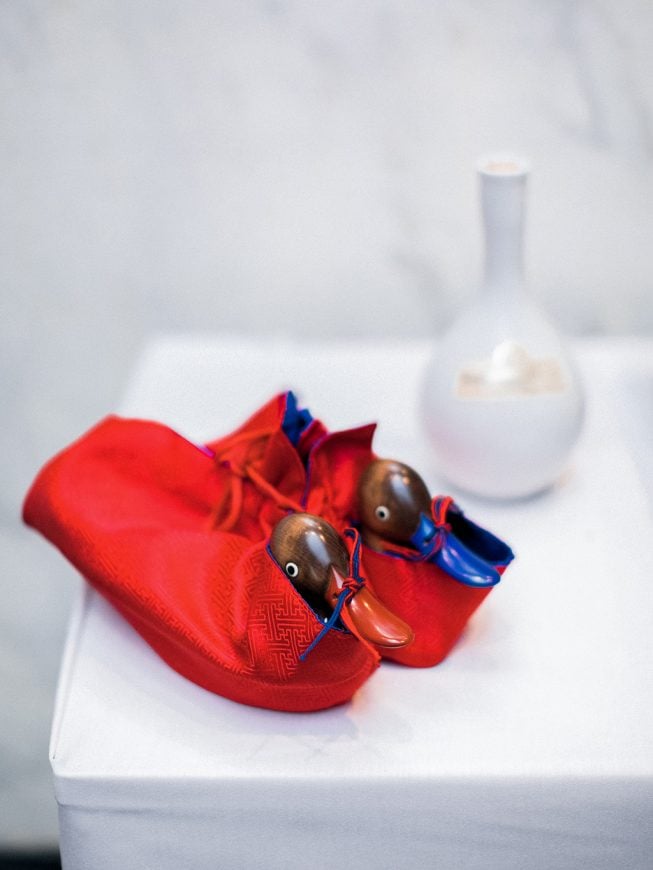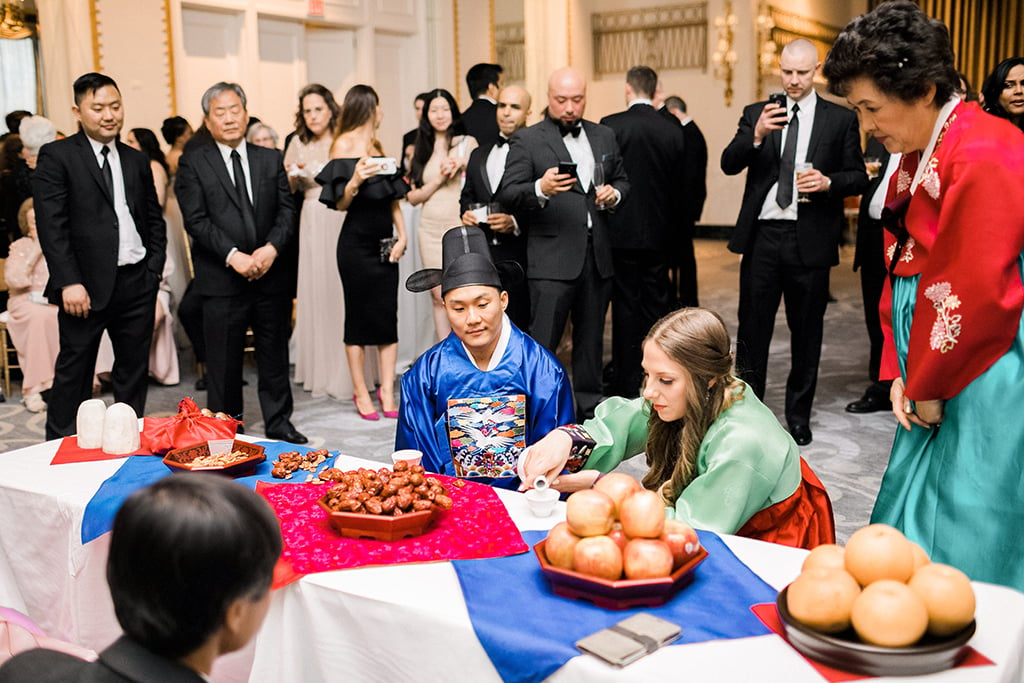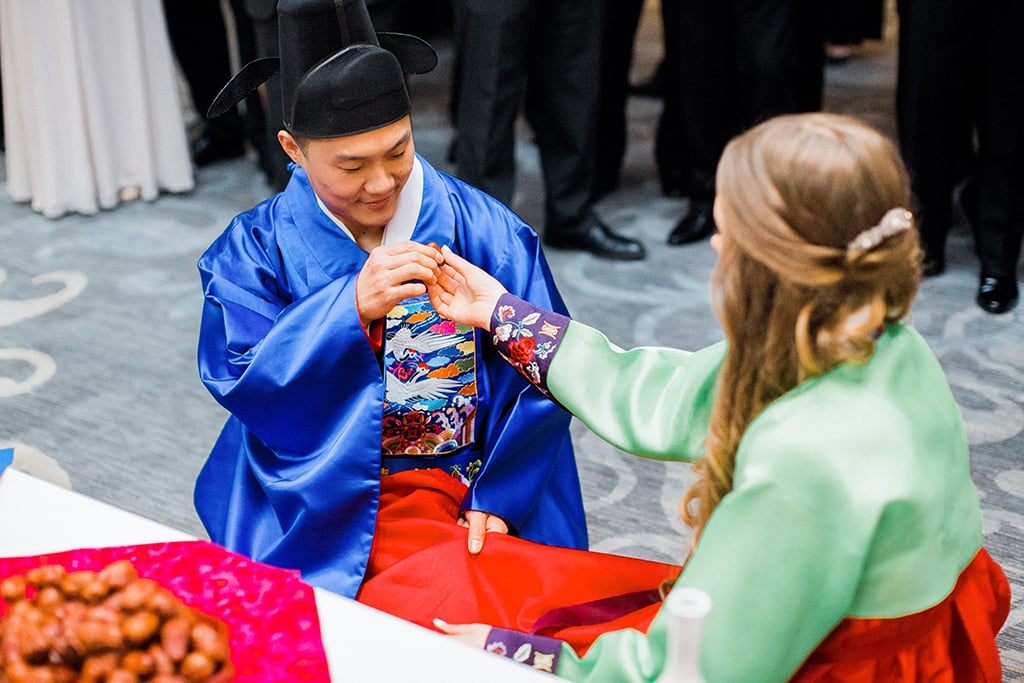 The ceremony also included a Korean wedding ceremony, symbolized by a pair of ducks (known to mate for life).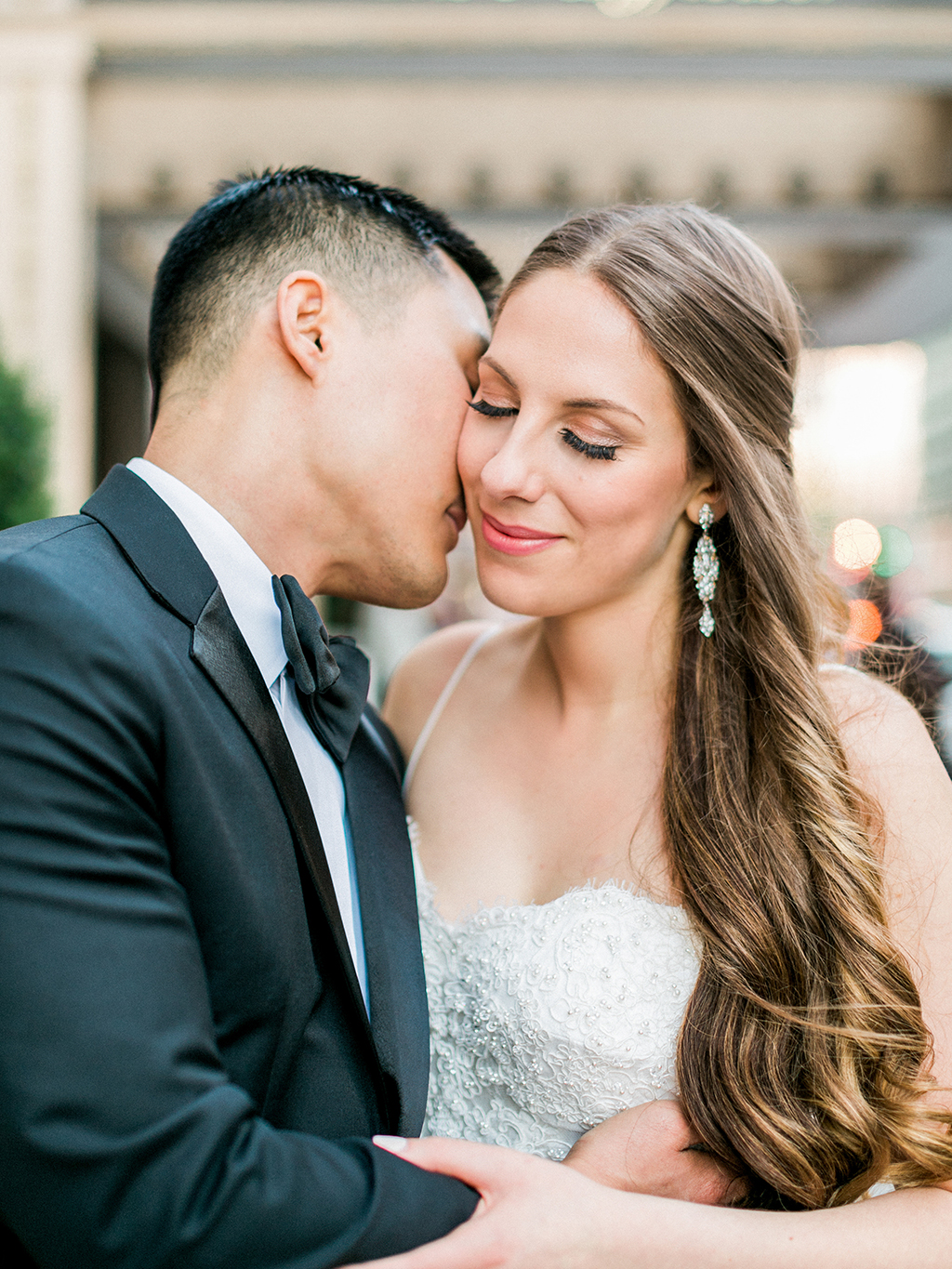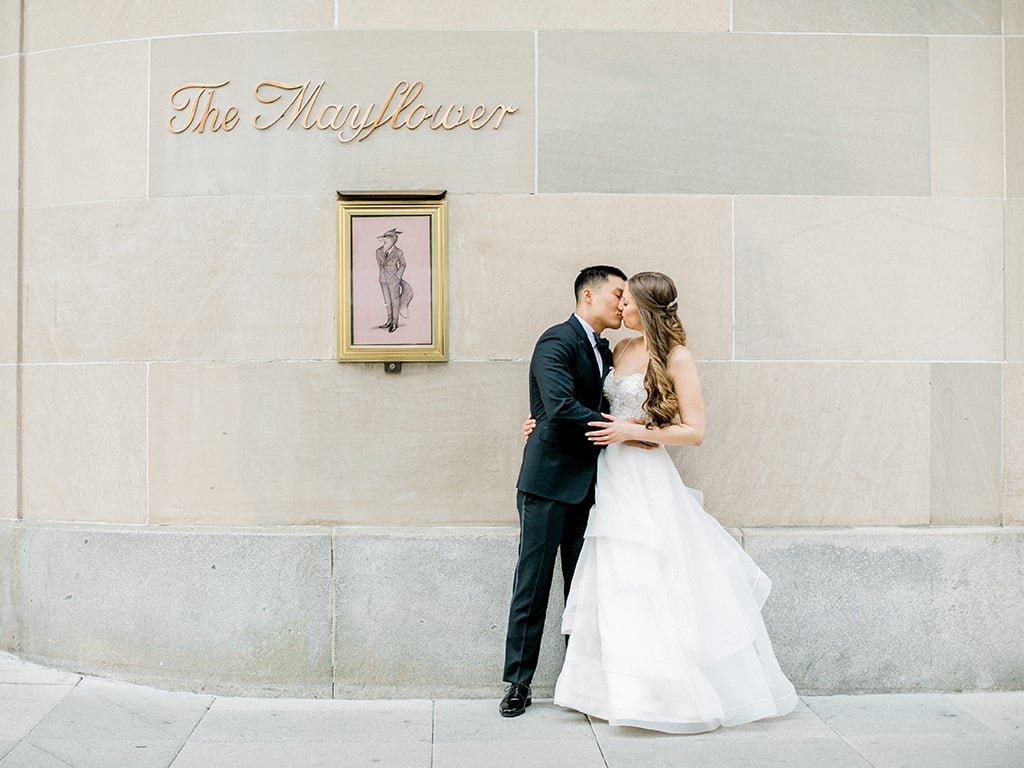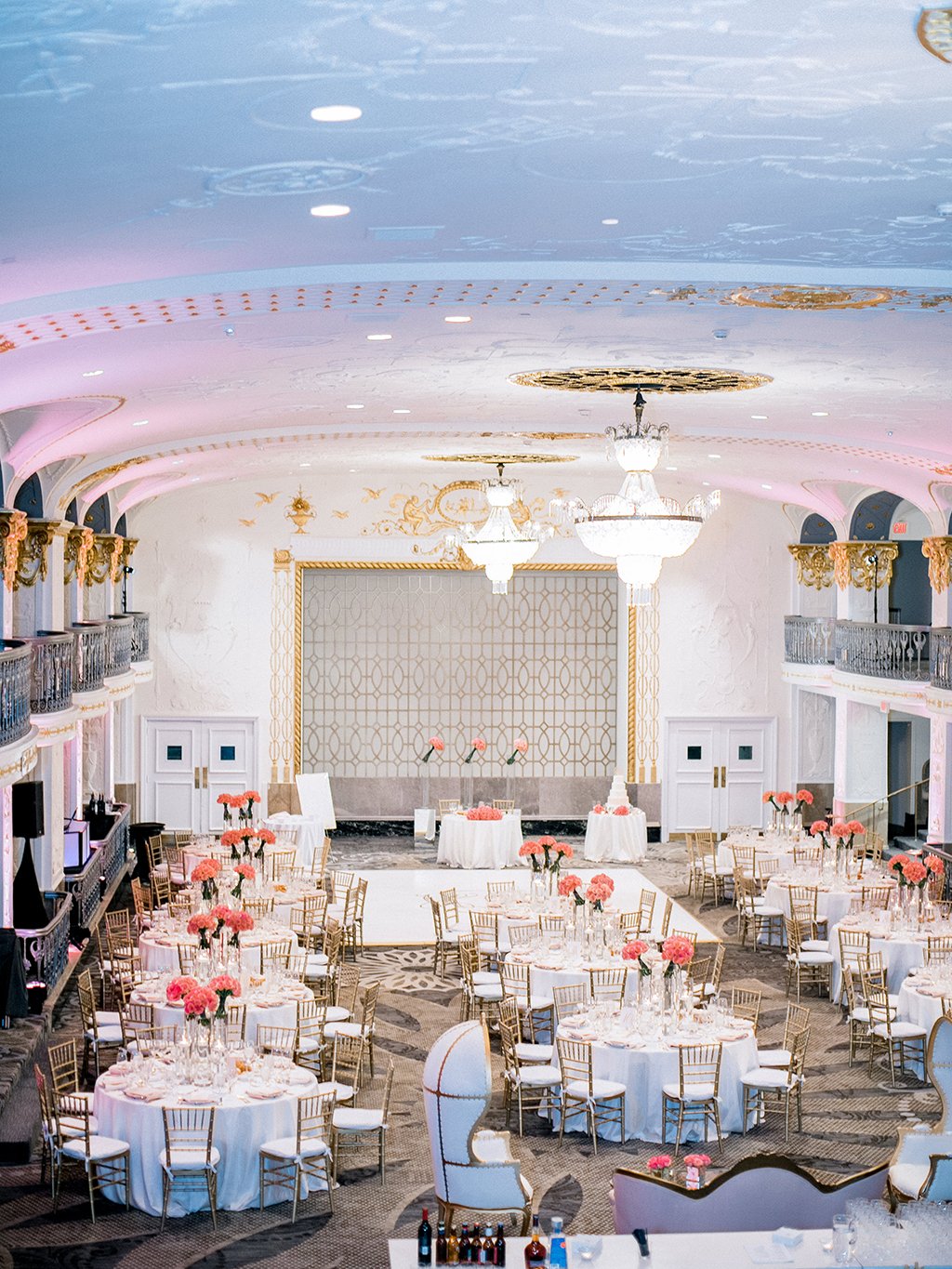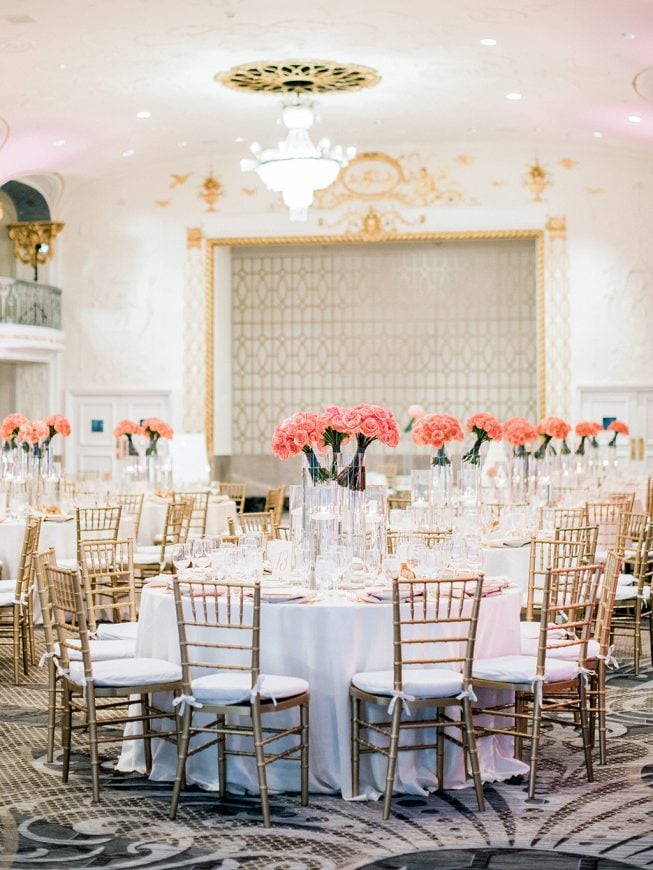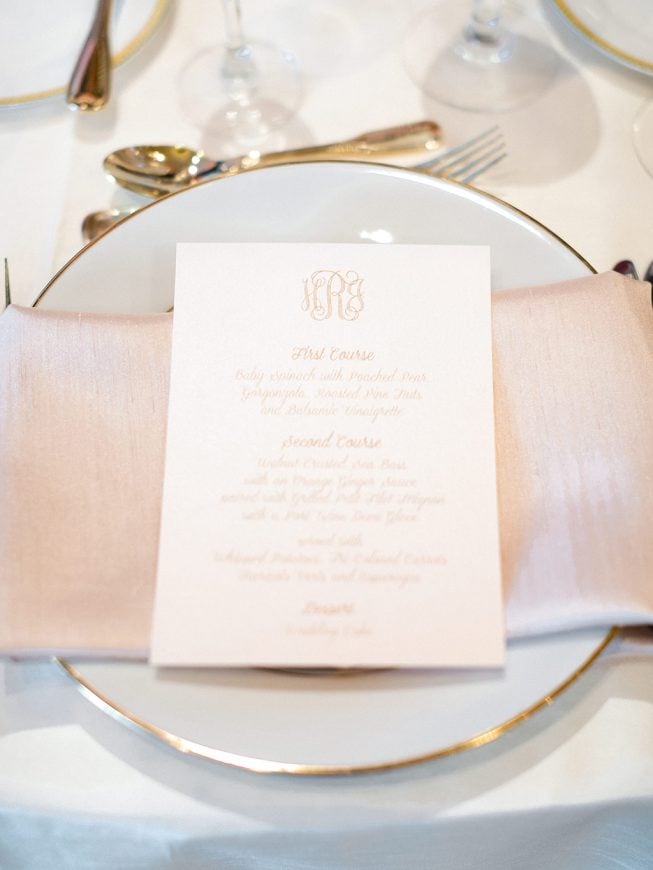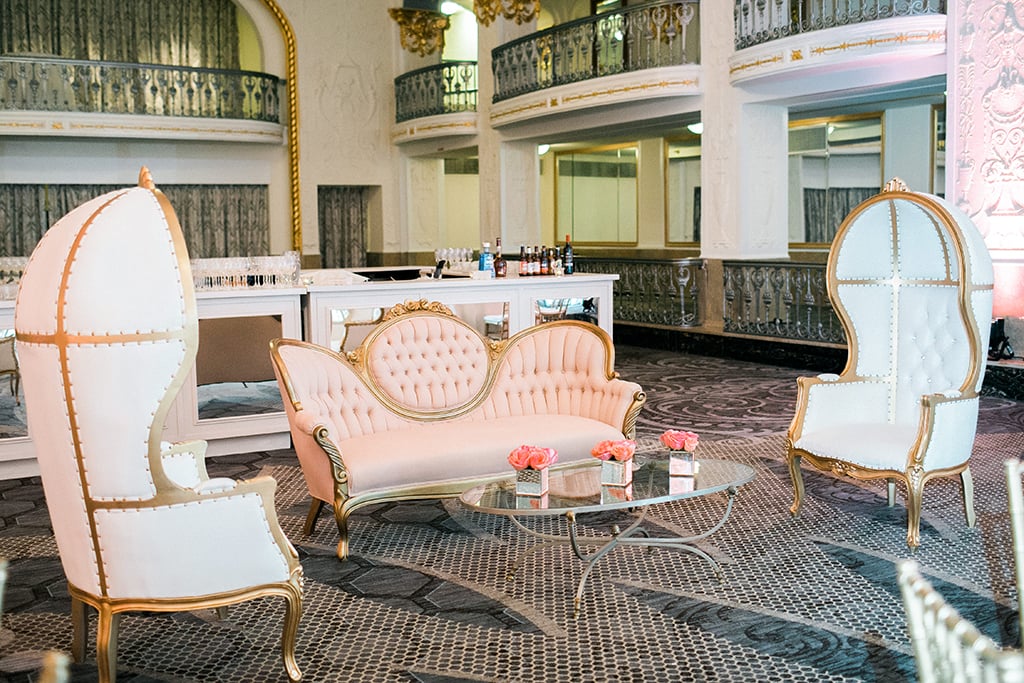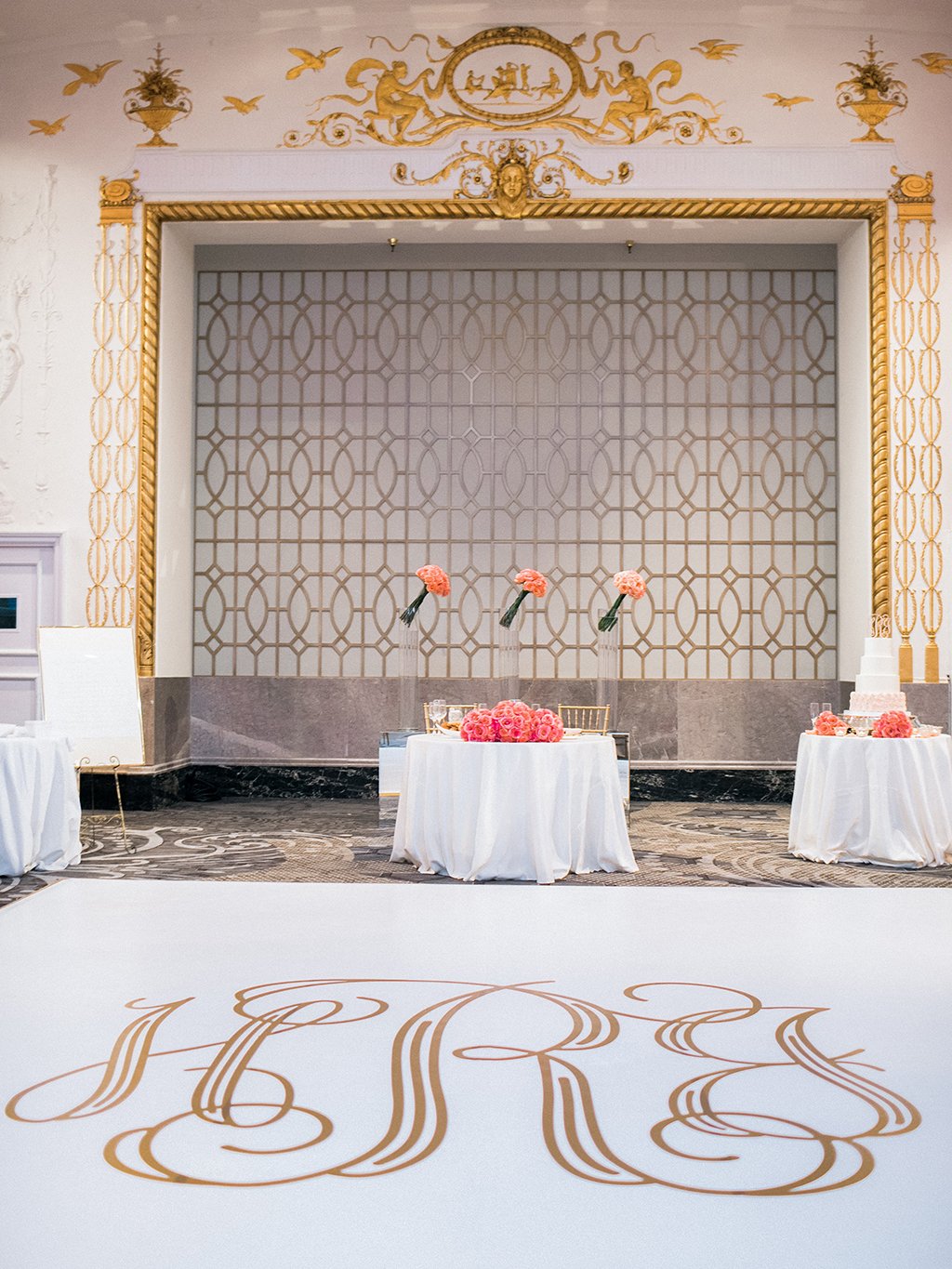 After the ceremony, Heather and Jay headed off to the George V Four Seasons in Paris for a memorable honeymoon.
"It was both of our first times there, and it was amazing," they recall of the escape, which featured a shopping trip to Chanel's flagship, a walking tour of Marais and a dinner cruise along the Seine to see the lights of Paris by night.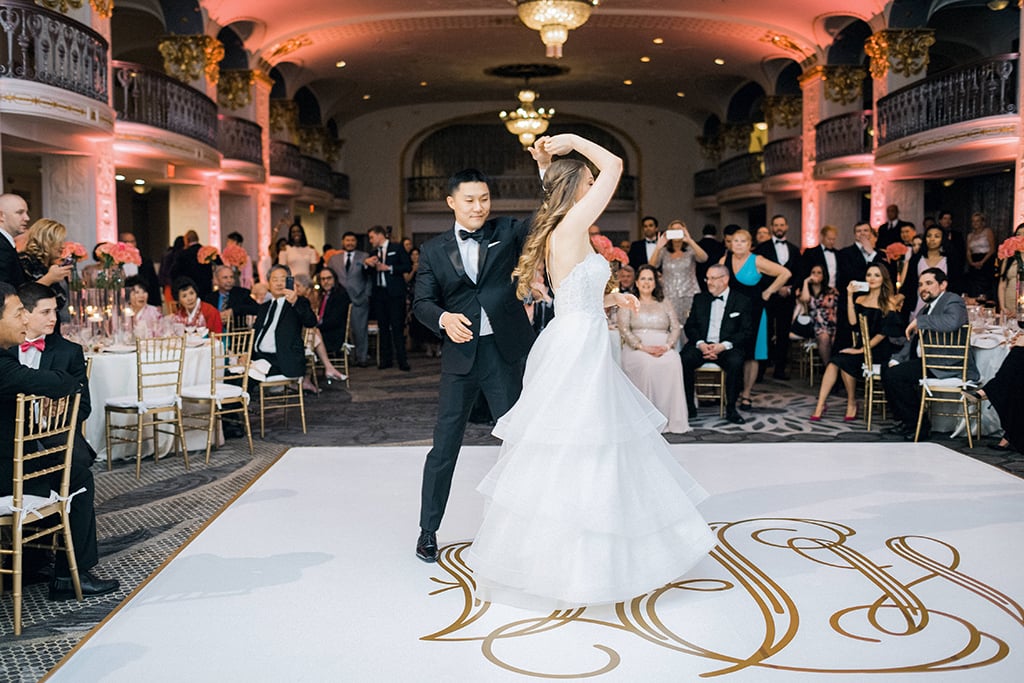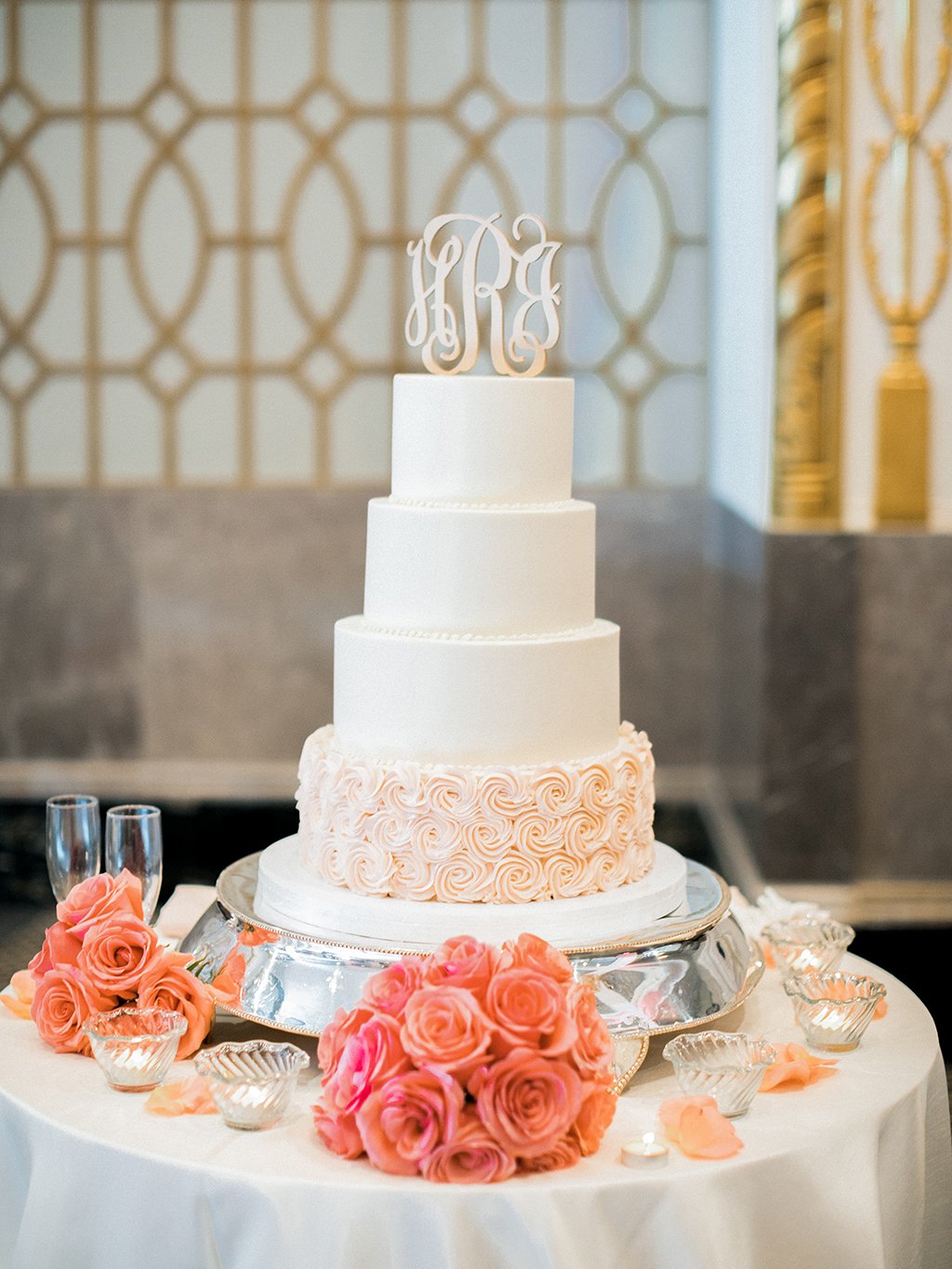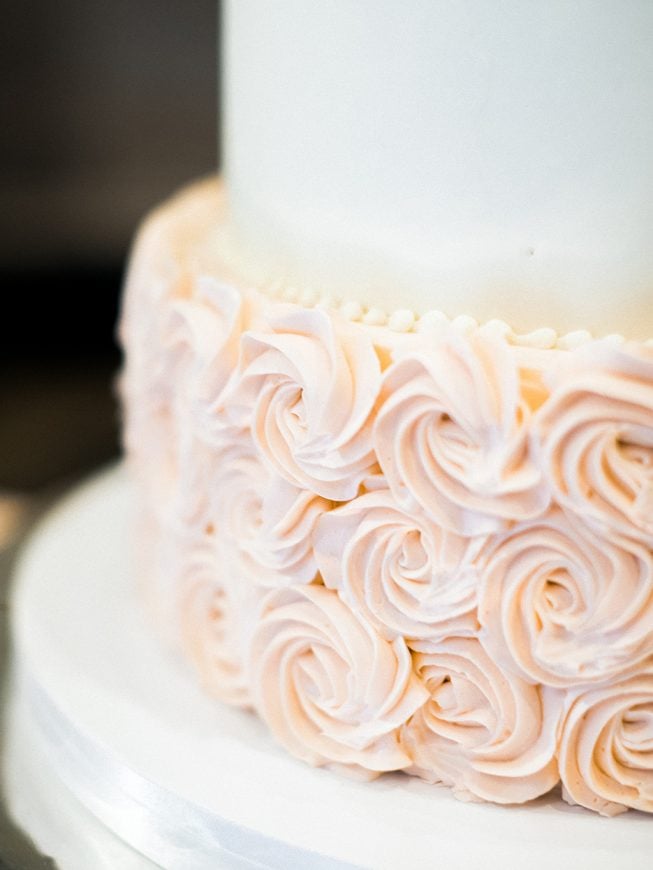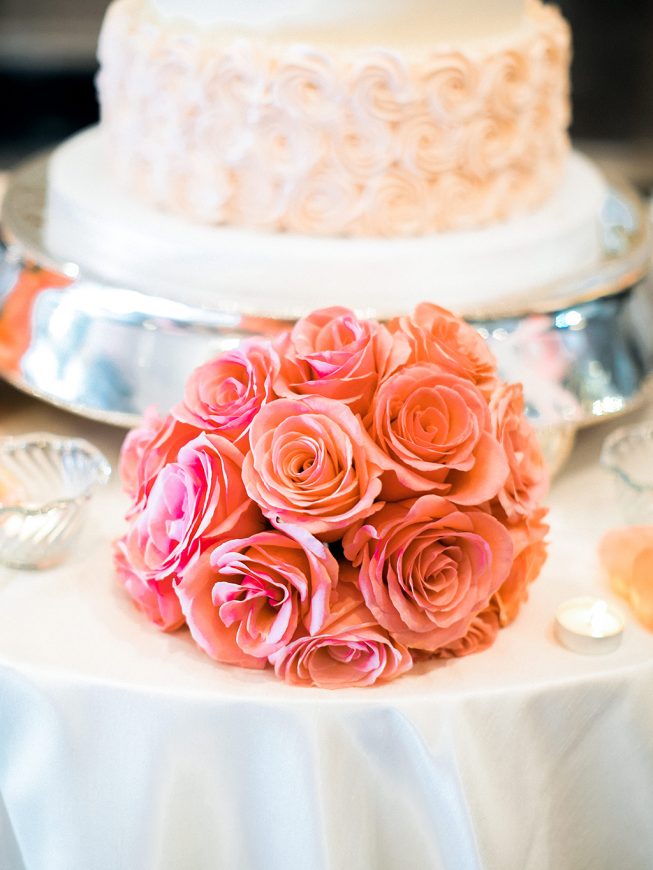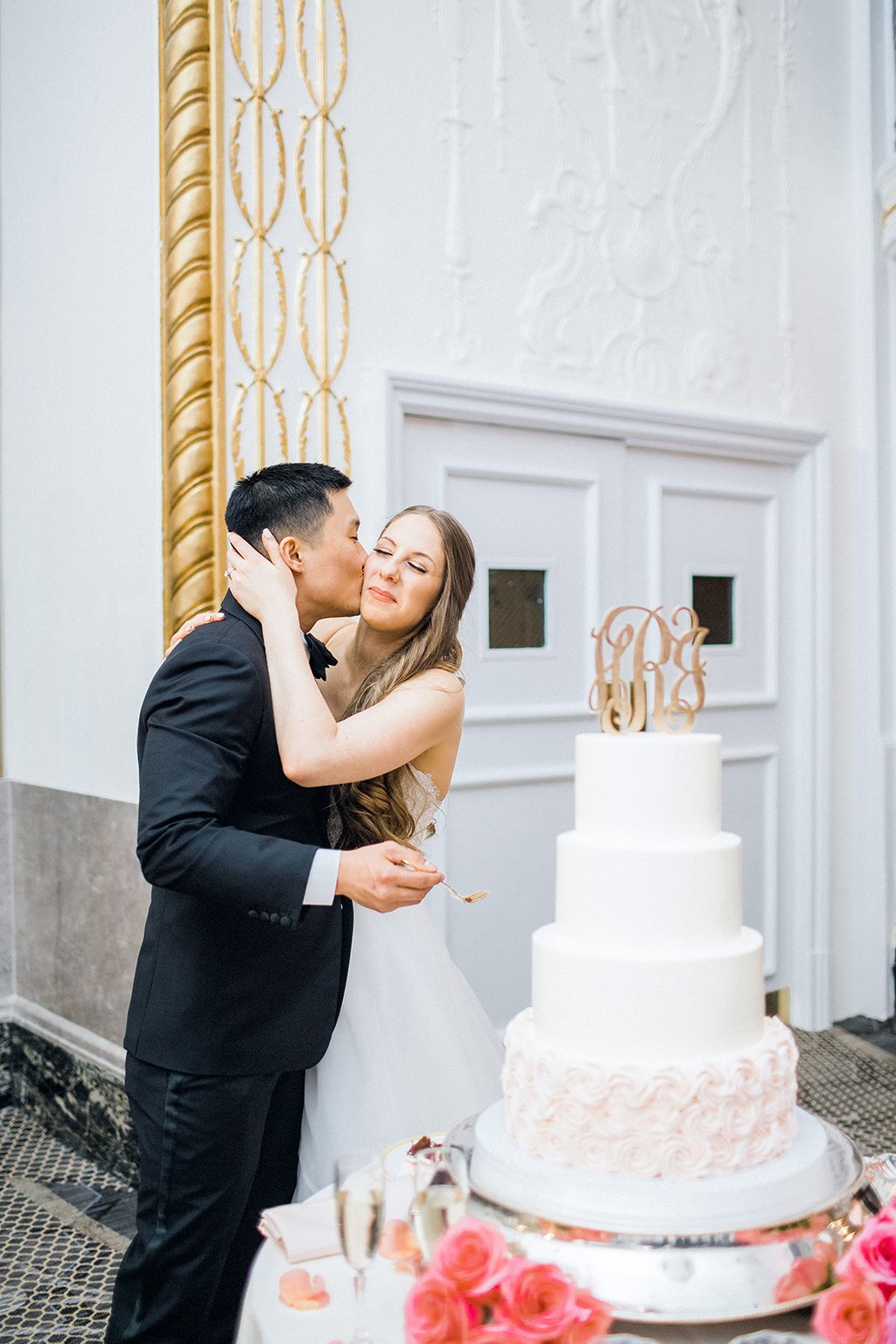 The Details
Venue: Mayflower Hotel | Event Coordinator: Elle Ellinghaus | Florist: My Flower Box | Invitations: Just Ink on Paper | Caterers: The Mayflower Hotel | Cake: Fluffy Thoughts | Hair & Makeup: Ariel Lewis | Bride's Attire: Paloma Blanca from Betsy Robinson's Pikeville | Bridesmaids Attire: Betsy Robinson's | Grooms Attire: Custom suiting remade by Christopher Schafer Clothier | Music/Entertainment: DJ Mike of Dancer Masters DJs | Lounge: White Glove Rentals | Dance Floor and Draping: Event Pro | Transportation: Chariots For Hire