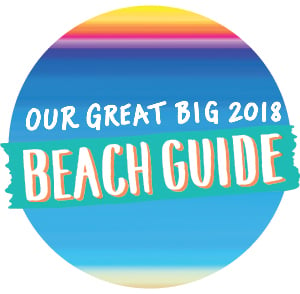 This week, we're rolling out our great big guide to the best beaches on the Mid-Atlantic coast. From the surf scene in Virginia Beach to Ocean City's expansive boardwalk, we found the best bites and activities (yes, even in Jersey) that'll make this summer by the shore your best one yet. Water you waiting for? Dive in. 

The case for: Ocean City is all about fun—sometimes boisterous fun. Year-round, the calendar is full of weekend happenings: Jeep Week, BeachFest volleyball tournament, concerts. Residential Fenwick is quieter.
The case against: If blaring music and alcohol-fueled antics aren't your thing, you might not enjoy yourself quite so much at the southern end of Ocean City, especially in June when high-school graduations beget beach week after beach week.
Also known for: Ocean City is a world-class deep-sea-fishing destination. Its 45th annual White Marlin Open tournament offers nearly $5 million in prizes this August.
Highlights: Ocean City's boardwalk, built in the early 1900s, stretches almost three miles. On it, Trimper's Rides and a Jolly Roger Amusement Park provide thrills, as do the parasailing and other water adventures OC offers. Like to golf? There are 17 area courses—one of the best is Eagle's Landing, an Audubon Sanctuary with beautiful views of Sinepuxent Bay and Assateague Island National Seashore. That boisterous fun in Ocean City includes Seacrets, the 11th-highest-grossing bar in the country. In Fenwick, you can't miss the red barn that's the vast Seaside Country Store, where shoppers wander from cheese-spread tastings to home decor. Nearby, Thunder Lagoon water park and two mini-golf courses—Golf Down Under and Viking Mini Golf—cluster at one action-packed intersection.
Eat: Fenwick standouts that put a value on local sourcing are Just Hooked, which has heavenly corn-and-jalapeño crab bisque, and Our Harvest, a new place with a creatively stocked bar. In West Fenwick, Captain Mac's fish house and carryout features the daily catch and great views. In OC, head to M.R. Ducks for live music and sunsets, or dine with your feet in the sand at Macky's Bayside Bar & Grill.
Rent: In Fenwick, a gently weathered three-bedroom oceanfront cottage goes for $3,300 a week. In Ocean City, a two-bedroom condo with balcony at the high-rise Golden Sands rents for $1,650 to $2,895.
Check in: A pair of Fager's Island boutique hotels, the Lighthouse Club and the Edge Hotel, are luxurious sanctuaries. Also in Ocean City is the vintage Inn on the Ocean, a cozy home away from home.
3 Things to Know About the Wild Islands of Assateague and Chincoteague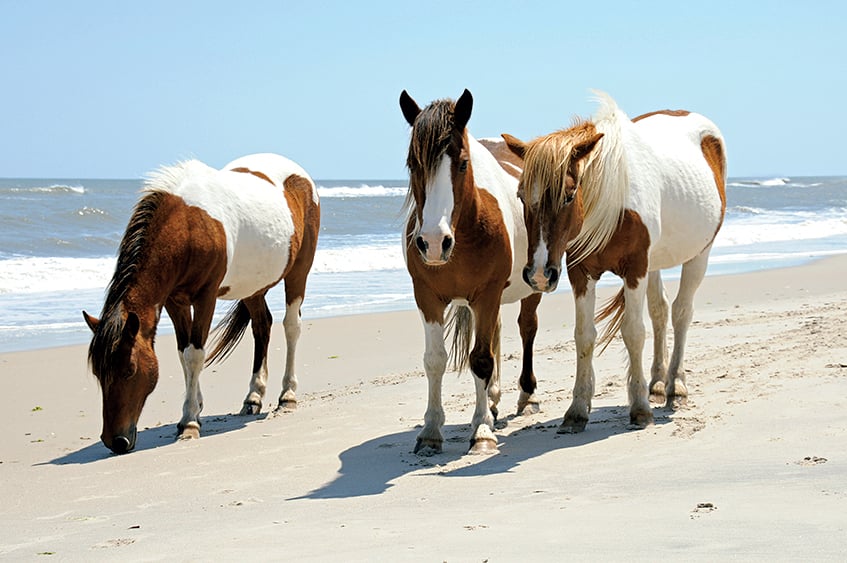 1. What To Do
Of these sister islands, Chincoteague, in Virginia, has the creature comforts: B&Bs, shops, restaurants, ice-cream parlors (Island Creamery is a favorite), and the year-old Marina Bay Hotel & Suites. Meanwhile, Assateague has 37 miles of shoreline and is best for seeing the famous wild ponies. On Chincoteague, aside from the annual July roundup, the ponies are more confined.
2. When to Go
The best times to visit are May and September, to avoid the buggy summer months.
3. How to Get There
Although on maps it looks as if they're completely connected, you reach northern Assateague from Maryland, below Ocean City, and reach Chincoteague from Virginia's upper Eastern Shore. There's no road from northern Assateague to Chincoteague.
These articles appeared in the July 2018 issue of Washingtonian.