Skip the mess and stress while letting a chef whip up your Thanksgiving Day feast. We called around to restaurants that, as of the time of this post, still have availability for Thursday, November 22.
If you want a traditional Thanksgiving meal: The Riggsby
1731 New Hampshire Ave., NW
This Dupont restaurant boasts a retro American supper club feel, and the menu follows suit. Get the turkey plate for the usual suspects like mashed and sweet potatoes with cranberry sauce and gravy. The three course, prix-fixe holiday menu includes all the classics: roast turkey, mashed potatoes, gravy ($55 for adults; $30 for kids).
Or dinner with an Italian spin: Osteria Morini
301 Water St., SE
Thanksgiving is all about comfort food, Italian style, such as burrata with pumpkin seeds or butternut squash gnocchi. The three-course meal is served family-style ($65 per person; $35 for children ten and under).
If you're looking to splurge: Blue Duck Tavern
1201 24th St., NW
New chef Adam Howard highlights the Mid-Atlantic region with the Thanksgiving spread, which starts with a buffet of house-made charcuterie and fresh shellfish. Diners then pick between appetizers, mains, and sides to share such as jumbo lump crab cakes, turkey, prime rib, pimento mac, and more before heading back to the kitchen for buffet-style desserts ($135 per person; $55 for children six to twelve years old; free for kids six and under).
Or looking to save: Crimson Diner
627 H St., NW
Slide into one of this Southern-style diner's booth for an affordable $16 meal starring the requisite turkey and other fall favorites like stewed apples, cranberry sauce, and pumpkin cheesecake. The Thanksgiving special is available from 11 AM to 3 PM.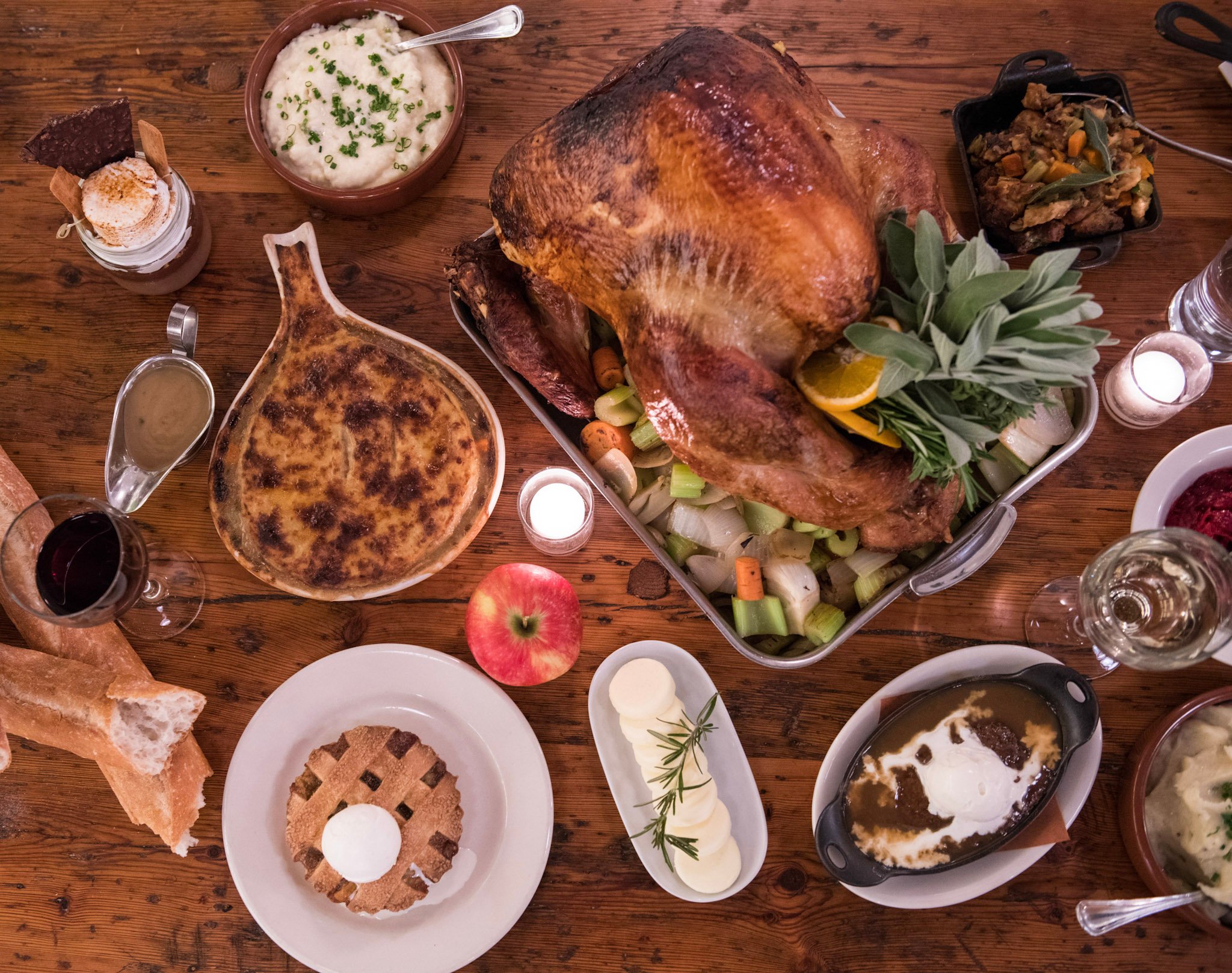 If your holiday is all about the turkey: The Smith
1314 U St., NW; 901 F St., NW
Both DC locations of this New York export are offering a three-course meal with multiple turkey preparations: roasted, turkey osso buco, or turkey pot pie ($47 for adults; half price for kids under 12).
Or is meatless: Succotash
915 F St., NW; 186 Waterfront St., Oxon Hill (National Harbor)
Vegetarians don't have to cobble together a meal of side dishes at chef Ed Lee's Southern restaurants. Instead, they get their own meatless menu with Old Bay-rubbed tofu, butternut mac and cheese, and pumpkin cheesecake. (Both vegetarian and non-vegetarian menus are $55 per person; $27.50 for children 12 and under at F St. $45 per person; $22.50 for children at National Harbor).
If you want a la carte options: Honeysuckle
1990 M St., NW
Pick and choose from chef Hamilton Johnson's Southern/Nordic inspired menu, with options ranging from an Amish turkey dinner with all the fixings, to cider braised short ribs.
Or a big buffet dinner: City Perch Kitchen + Bar
11830 Grand Park Ave., North Bethesda, MD
For the eating holiday that puts elastic waistband to the test, dive into a Turkey Day buffet at this modern American restaurant ($58 per person; $20 for kids 12 and under). Picky kids will be happy to find buttermilk fried chicken fingers and mac and cheese, while adults can splurge with shrimp cocktail, fresh baked goods, turkey, and much more.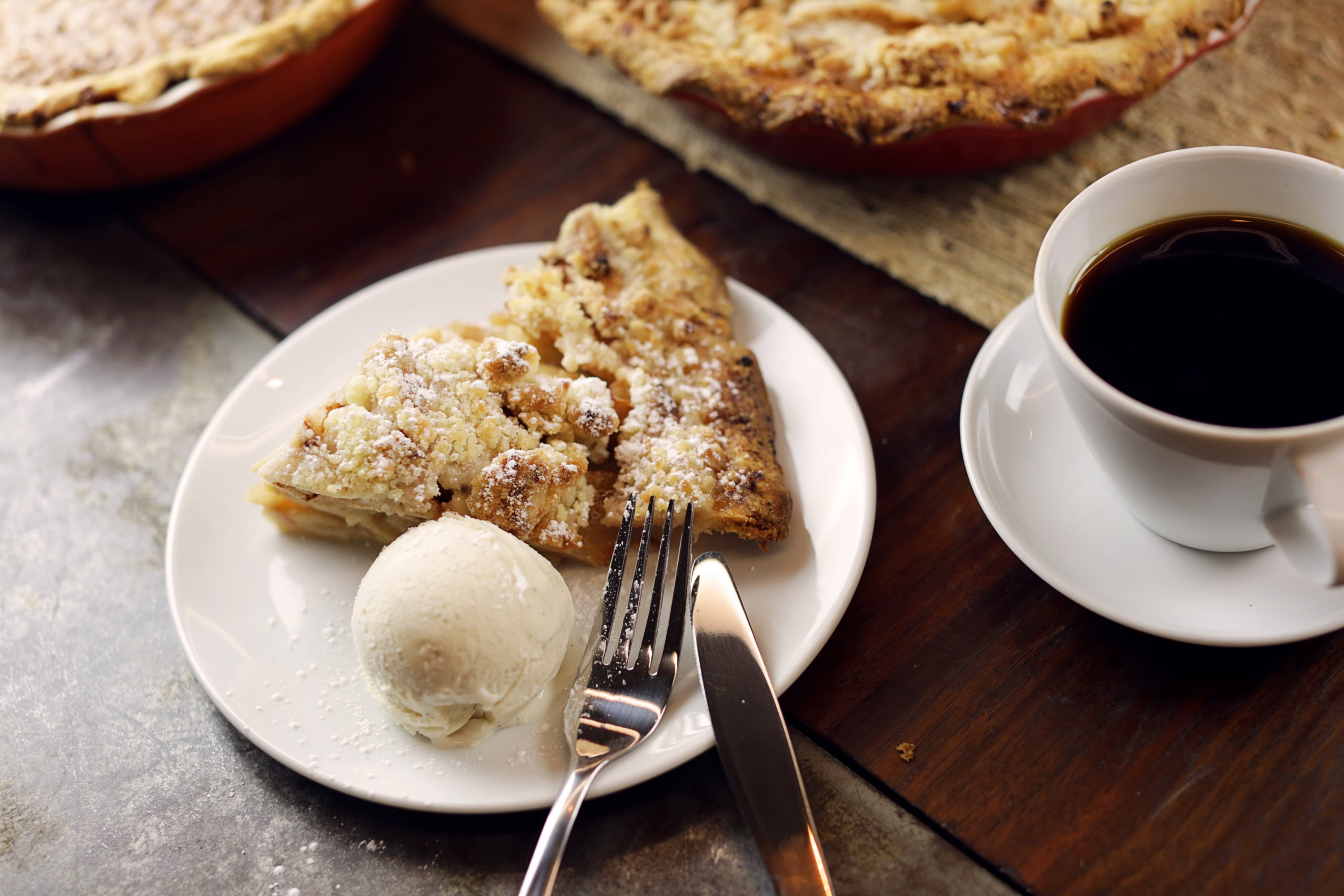 If you want to eat like a founding father: Plume
1200 16th St., NW
The Michelin-starred restaurant inside the swanky Jefferson Hotel is inspired by Thomas Jefferson's Monticello gardens. Dine like it's 1776 and enjoy an elegant turkey dinner with apple chestnut bread stuffing and green bean cassoulet (the three-course Thanksgiving menu is $108 per person; $48 for kids 12 and under).
Or like a founding farmer: Farmers Restaurant Group
Multiple locations in DC, MD, VA
This local American chain including Founding Farmers (DC, Potomac, Tysons, Reston), Farmers & Distillers, and Farmers Fishers Bakers are open for Thanksgiving from 11 AM to 8 PM. While branches vary in decor and menu, all are approachable places with a little something for everyone. For Thanksgiving, start your three-course meal with a cornbread skillet and honey butter, and end with a choice of pumpkin, apple, pecan or chocolate cream pie ($39 per person; $20 for kids 12 and under).