There are a lot of exciting food halls opening around DC—and then there's The Square, a massive indoor/outdoor culinary complex that is taking over an entire downtown block near Farragut Square and will open in late May or June. Former Union Market and La Cosecha culinary strategist Richie Brandenburg and ex-Minibar star Rubén García, along with developer Tishman Speyer, are planning one of the city's most ambitious marketplaces to date. Size isn't all that sets it apart: the slate of local talent going into the food hall is stunning.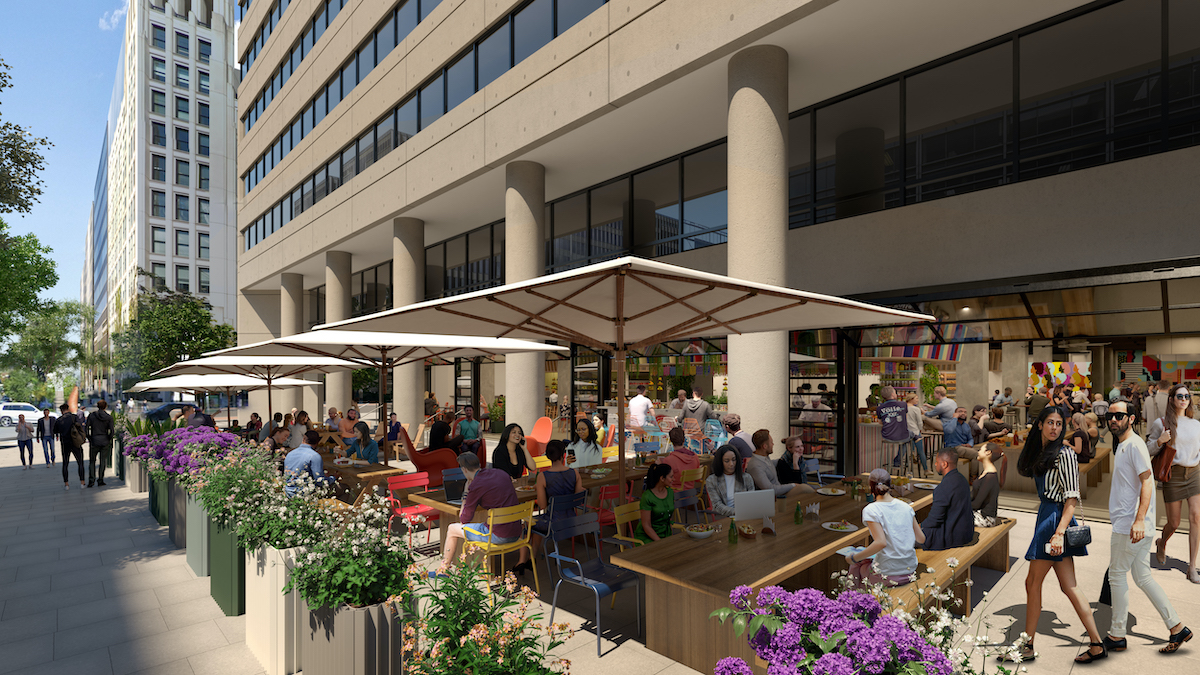 The 25,000 square-foot space will include a full-service restaurant and bar from García (opening later this summer) and three Spanish-style stalls from the founders, who spent years collaborating at José Andrés Group: a jamón bar, a street-food with grilled meats, and a churro spot with soft serve. Brandenburg and García also curated a specialty grocery and spirits store, Shoals Market, stocked with cheffy ingredients, local meats, small-batch spirits, and house-made items from the massive commissary that will fuel the operation.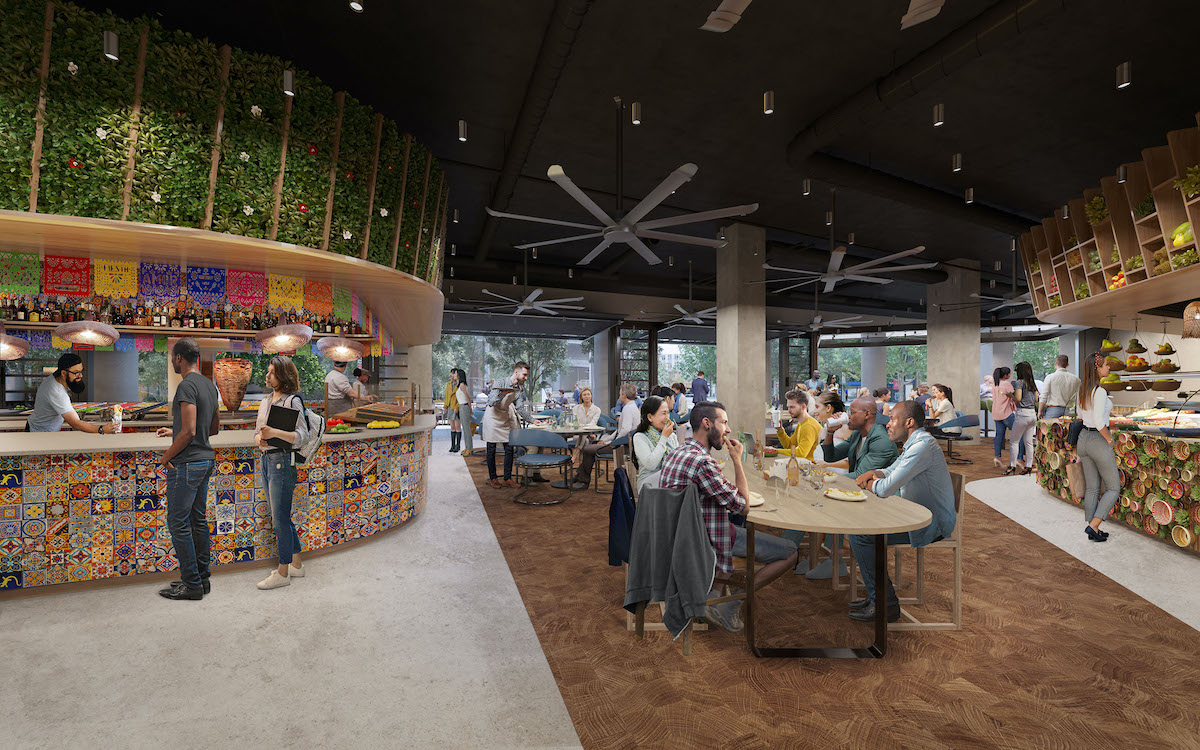 Local chefs and bartenders make up the 16 vendors who will operate individual stalls—all uniquely designed, many with counter seating or bars for interactive dining and drinking. The mix includes veteran restaurateurs like John Fulchino and chef Ann Cashion of the late Johnny's Half Shell and Cashion's Eat Place; rising stars such as chef Carlos Delgado and cocktail expert Glendon Hartley of Peruvian hotspot Causa/Amazonia; and lauded chefs who're striking out on their own, including Masaaki Uchino, who recently departed Sushi Nakazawa after a decade of running the Michelin-starred omakase counters in New York and DC. 
The opening lineup—dates TBA—will include the following, with six additional vendors to be announced:
Cashion's Rendezvous (Ann Cashion, John Fulchino) – The comeback kids of DC's restaurant scene are returning yet again after closing their Adams Morgan restaurant, Los Companeros. Their stall and 12-seat oyster bar will hearken back to the early days of Johnny's Half-Shell, which opened in 1999, with Cashion's crab cakes, oysters, and shrimp and grits, plus crisp white wines and fun cocktails.
Mahal Afro-Filipino BBQ (Jerome Grant) – What started as a pandemic pop-up for the former Sweet Home Café chef has become a full-time passion: a barbecue concept that explores Grant's African American and Filipino heritage through dishes like smoked chicken inasal and pastrami-style Szechuan-pepper brisket. At the Square, diners can feast on barbecue platters along with beer, wine, and cocktails from female and minority-owned brands, or grab bowls to-go. A tasting counter for more snacks and cocktails, Kuwento, will open later.
Cebicheria Chalaca (Carlos Delgado and Glendon Hartley) – Chef Carlos Delgado and Service Bar cocktail guru Glendon Hartley—recently minted James Beard finalists for their Peruvian hotspot Causa— are branching out with a ceviche and seafood bar that pays homage to Delgado's native Lima. Expect a full lineup of Hartley's creative drinks, too.
Jamón Jamón (Rubén García) – The Barcelona native channels the hand-cut jamón bars of his hometown, where prized Iberico pork is sliced for  sandwiches and snacking alongside cheeses and tapas. Jamón will also be available for diners to take home.
Brasa (Rubén García) – Garcia, an avid mountain biker, here takes inspiration from roadside Spanish grills and street-food stalls. Diners can dig into simple, satisfying plates of grilled sausages and vegetables with allioli and pan con tomate.
Junge's (Rubén García and Richie Brandenburg) – The duo are teaming up with local gelato-maker Dolcezza for sweet soft serve and freshly fried churros.
Kiyomi Sushi by Uchi (Chef Masaaki Uchino) – Sushi master Uchi, the longtime face of Nakazawa's Michelin-starred omakase counter, is going a bit more casual for his own venture (though splurges like caviar, wagyu, and truffles will still be on offer).
Taqueria Xochi (Teresa Padilla and Geraldine Mendoza) – José Andrés Group alums Teresa Padilla and Geraldine Mendoza opened their first Puebla-style taqueria on U Street to rave reviews. A similar taco spot—now with a full bar—at the food hall will serve their tasty birria, tacos guisados, street tacos, and plenty of margaritas and palomas.
Flora Pizzeria (Tom Wellings and Camila Arango) – The pastry and pizza talents behind Pluma by Blue Bird Bakery at Union Market are expanding  with a proper parlor for pies (whole and slices), appetizers, salads, and drinks.
Yaocho (John Mooney) – Mooney, the chef who has long operated Union Market's anchor restaurant, Bidwell, is expanding with an island-style eatery. Polynesian flavors range from fried chicken to seafood, superfood juices, and sweet treats.
Shoals Market – The retail hub for the food hall will offer pantry items, local meats and seafood, limited-allocation spirits, and more.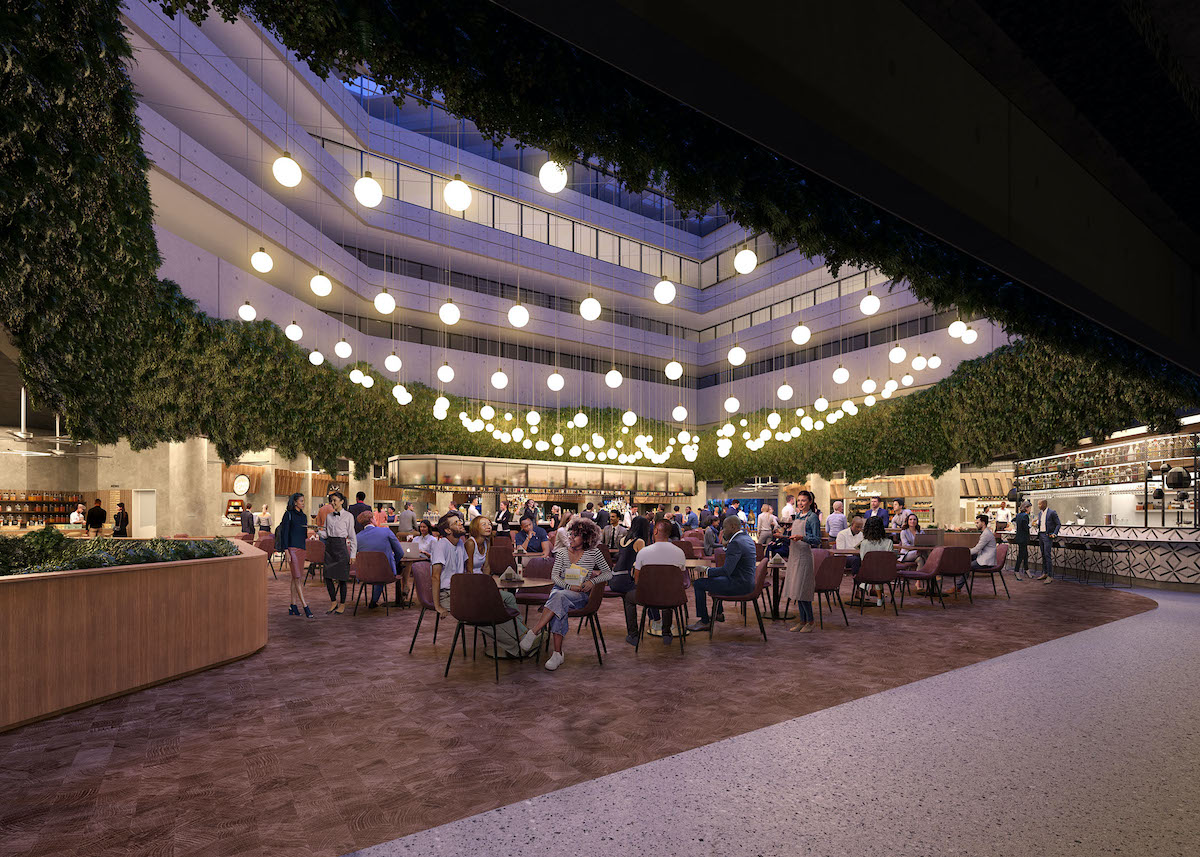 Unlike a lot of food halls that take an every-chef-for-themself approach, the mission of the Square is to be collaborative on every level. 
"We want to create a model here that works for everyone. The idea is volume will bring back the bottom line," says Brandenburg, who plans to operate the business more like a hotel or casino, with efficiencies like collective purchasing, accounting, and shared kitchen resources (a butchery, bakery, etc.) that everyone will use. 
The market will have tons of indoor and outdoor seating, pop-up and event spaces, and also free parking on weekends. Brandenburg and García says the vision is to enliven the downtown DC area—still hurting from pandemic closures and office vacancies—like Union Market transformed its neighborhood.
"There's the same opportunity here as there was there," says Brandenburg. "We have a very large space, plus no nighttime neighbors that'll complain about noise. We want to have some fun."
The Square. 1850 K Street, Northwest.