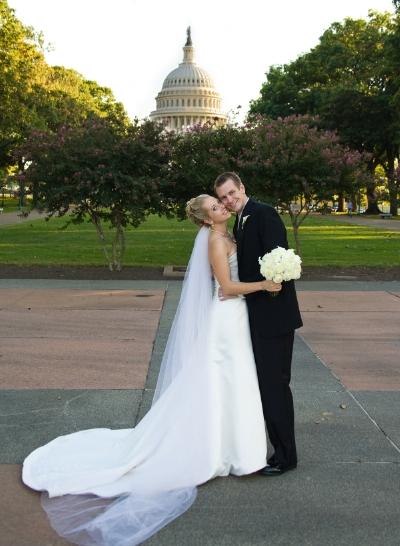 Katie Juhl was sitting with two friends at a bar on Capitol Hill, her back turned to the crowd, her hair up, tapping her foot and minding her own business when Will Telligman walked over and asked to sit down.
She didn't recognize him at first. But as they talked, something clicked.
"You hate asking, 'Have I seen you somewhere?' " Katie says. "But I had to. And he's like, 'Yeah, you were my waitress five months ago at Tunnicliff's when I was an intern here. You got me a pitcher of water, and you were wearing glasses and a tie with little flowers on it."
It was October 2005, and Will—a student at Winthrop University in South Carolina—was back in DC for internship number two. And he wasn't just a smooth talker: Katie, a few years out of college and an editor at ABC News, had been his waitress at Tunni's, a tavern near Eastern Market where she worked on the side.
They talked a little more and discovered more coincidences: The two had a mutual friend who worked on the Hill. They had been invited to the same parties but had never gone at the same time. They had been at the same bars watching the same college football games but had never seen each other. And when Will approached Katie at the bar Top of the Hill that night, he—like Katie—didn't realize she'd been his waitress until after they started talking. He asked to sit by her for another reason.
"I like blond hair," he says.
In Katie, Will found someone just as spontaneous as he is. They went on two dates and decided that was it—they wanted to be together. Last February, when Will was driving through South Carolina and decided he wanted to get married in October, he grabbed his cell phone and proposed. Katie's reaction? She started planning.
After just eight months of pulling things together, the wedding—held at Capitol Hill Presbyterian—went just as they had imagined. Now, flashing back to the very first time they met, Katie and Will think it's almost as if they were destined to meet again.
"When Will was my table, it was his last day in DC before going back to school," says Katie. "I just found out that as he was walking out with his buddy, he said, 'It's too bad I'm leaving DC today. Otherwise, I would have asked that girl out.' "

Engaged or married–and have a Love Story just dying to be told? E-mail me at mconrad@washingtonian.com.
To read more Love Stories, click here.
To read the latest Bridal Party blog posts, click here.