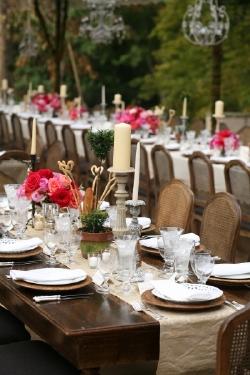 Wedding planning—a piece of cake, right? Except, you know, when it comes time to pick out music and you want to skip the Wedding March. Is that okay? Or wait—go back to that part about the cake. Do you know a baker who will do cupcakes instead? I don't . . . but Allison Jackson, Bridal Party's next wedding chat guest, just might.
Allison came to Washington 15 years ago to intern at the White House but—after that and a several-year stint on the Hill—decided to put her organizational expertise (have you ever managed a senator's schedule?) to work in a different field: event planning. She started Pineapple Productions in 2000 and does about 20 weddings a year.
Allison specializes in event planning at private estates and historic properties, but she hasn't moved totally away from the Hill—her company often does soirees for members of Congress.
So ladies and gentlemen, start your questions! (Especially you gentlemen—I don't think we've heard much from you yet.) Wedding-goers wondering what to wear to the ceremony or bring to the shower or say in a toast can chime in, too. Allison will tackle what you submit, plus what anyone asks live, from 11 AM to noon this Thursday, January 24. Remember, time is running out: After this, Bridal Party has just one more January wedding-planner chat left. As always, details to come.
If you missed Bridal Party's first two wedding chats, click here and here for some very helpful advice.
To read the latest Bridal Party blog posts, click here.